Hey all you sexy things,
Sorry about being a few days late on posting our Reading is Sexy 2010 Calendar Contest. Exhausting week. At any rate, here it is!!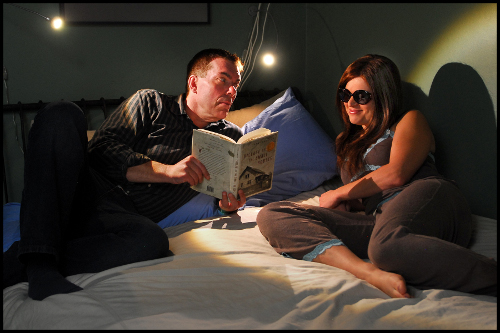 So here are the deets, I am giving away a 2010 Reading is Sexy Calendar to the first person that answers all the salacious shoot questions below correctly, or in lieu of that, to the person that gets the most correct answers.  AND I am giving a second calendar away to the person whose answers make me laugh the hardest – causing laughing is sexy too. And don't worry a donation on both of these calendars will still be going to The International Dyslexia Association, as our friends at Ahimsa Media are chipping in all the donations on the contest and promotional calendars.
The contest is open until our Launch Party and Literary Celebration on Thursday December 3rd.
To enter, just submit a comment below with your guesses.
Now what you've all being waiting for, the Salacious Shoot Questions:
Who bore it all for the camera?
In whose home did we discover a penis piggy (that's a piggy bank – get your minds out of the gutter)?
Who took their pants off, in secret, during shooting, and laughed as the rest of us were oblivious?
Who asked 'where they should put their FILTHY hands'?
Who wormed their way into my shot?
Who did I crawl into bed with (on a shoot)?
Whose bed did I crawl into on the aforementioned shoot?
On whose shoot, did we have joggers hooting and hollering at us?
Whose shoot went all through the night?
Who flashed me on their doorstep in broad daylight?
Whose phrase of 'God Bless their cotton socks' still has Rob and I smirking?
What was polished off whilst shooting Mr. May in the Playboy Mansion?
What tied up Ms October on a shoot?
Who else wore a frilly apron, whilst shooting, aside from yours truly?
Who became a voyeuristic attraction for tourists on their shoot?
Oh and I little hint, most of the answers to the aforementioned questions can be found in our various social media feeds tagged with #ReadingisSexy.  I also fully encourage the harassment of the various models, using twitter, for answers – @somisguided, @iheartgudrun, @hummingbird604, @IanAMartin, @raincoaster, @greenpieces and @monicahamburg.
Kisses,
Emme xoxo