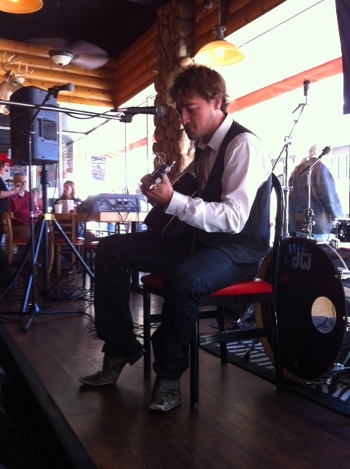 As far as week's go, this past week has been pretty damn fantastic ~ enjoying my first music pilgrimage into the history of Rock & Roll and the Blues in Memphis, discovering some bloody fantastic Blues talent at the International Blues Challenge, cheering Canadian Ross Neilsen on in the Semi-Finals of the International Blues Challenge, and coming home to discover some simply beautiful music that Chris Blake has written for Roamancing.  Now to top it all off, I went to pull the name of a winner for Studio 58's Julius Caesar tickets and was thrilled to pull Kelly Lui's name, who interned with Ahimsa Media this past summer.  To make this especially fantastic, I went to congratulate Kelly and discovered it was her birthday!  Happy Birthday Kelly!
For those that entered, but didn't win, we are entering you for a second chance at the tickets on Roamancing's site.  For anyone unaware of the contest, that wishes they'd entered, you can still do that on Roamancing's site until midnight.  Just drop us a comment with which Shakespeare play you would most love to see as a gender bender (ie. with men and women playing opposite gender role). Here's a little of what you can expect from the play:
Catch this gender bender of a Julius Caesar at Studio 58 in Vancouver, February 2nd – 26th, Tuesdays – Saturdays at 8 pm and Saturdays & Sundays at 3 pm. Tickets can be purchased here.