A Midsummer Night's Dream is the play that turned me onto Shakespeare, when I first saw it on the stage at the Stratford Festival in Ontario during my high school days. As a result, when Studio 58 invited me to Opening Night of their production of a Midsummer Night's Dream, my response (in my head at least) was a resounding Fuck Yeah! (while out loud it may have been a Yes, Please!)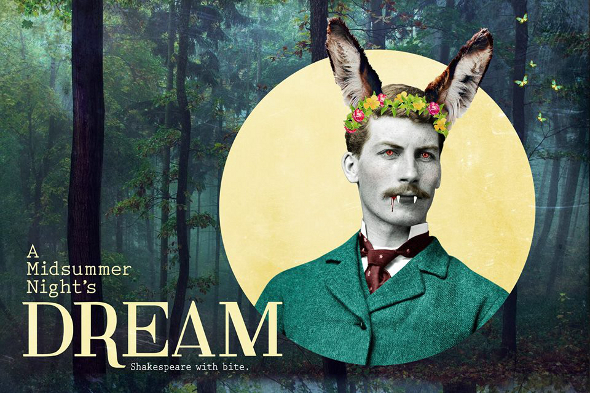 Being invited to a play of youthful memory and delight does pose certain problems, however. Firstly, who to invite?  You can't invite just anyone.  It has to be someone who has a similar appreciation for the story and for theatre, so as to share in your delight and fully appreciate the experience!  That for me was most definitely my old friend, the Cherry Blossom! I believe she even studied A Midsummer Night's Dream with her students in her teaching days.
Now the second problem, how could this, a Langara College student production, possibly live up to my memories, especially as those memories were from the Stratford Festival.  They didn't. They exceeded them!  This was bar none, the best production of A Midsummer Night's Dream that I'd ever seen. And that was not just my opinion, but that of the Cherry Blossom too.  Was seriously impressed by both the Cast and Crew of Studio 58's production of A Midsummer Night's Dream. Wow!  Some serious talent at Langara College, and whatever their professors are doing to inspire and mentor them ~ Bravo!
Now for those of you who are new to the story of A Midsummer Night's Dream, here is a synopsis from Studio 58:
Shakespeare's wild and wonderful comedy about the fickleness and joy of teenagers in love, fairies who vie for power and labourers who long to be actors …. with a new twist. Set in a rural farming village in the Carpathian mountains, circa 1900, these woods are filled with 'vampire' fairies who taunt and terrorize all who wander there. Beware!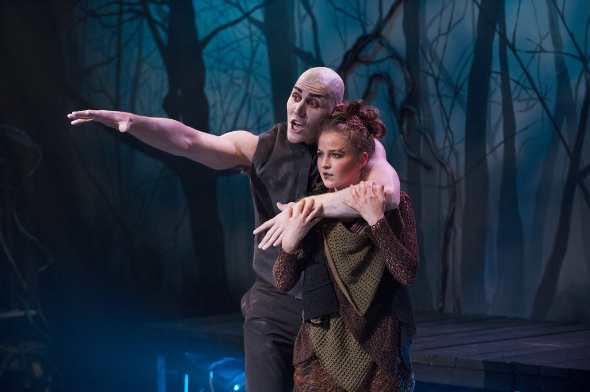 For those of you familiar with the story of A Midsummer Night's Dream, you will remember the fairies in the woods as tricksters, but not vampires.  And to be honest, I find the obsessions with vampires and zombies in our storytelling of the past few years to be overkill.  That said, it actually worked here in A Midsummer Night's Dream, depicting the fairies as their own imaginative brand of vampires, and Oberon's henchmen as zombies.  As it was done in a somewhat more subtle and clever manner, that did not overshadow the story, it added a clever new bent to the story that had me watching with a new curiosity, as I soaked in this somewhat disturbing image of a fairy.  Plus I loved watching Puck and Oberon (played by Dominic Duchesne) dance on the aerial silks!
Now, for me, my favourite character in A Midsummer Night's Dream has always been Puck, and this production was no different.  Initially, I was quite startled to see Puck cast as a girl – Lili Beaudoin, even though she was playing a boy.  Fitting really for a 21st Century rendition of Shakespeare to have women play men, as opposed to men play women.  After my initial surprise, I quickly warmed up to this new Puck, and dare I say, she is by far my favourite Puck yet.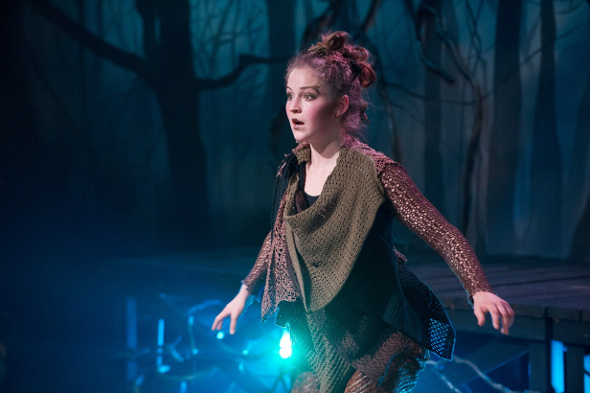 As for the rest of Studio 58th production of A Midsummer Night's Dream?  I enjoyed the singing, dancing and acting by what was an outstanding Cast. When I entered the theatre I was struck by the creativity of the set design (created under the Supervision of Set Designer Pam Johnson), and as the production unfolded before me, I thought how cleverly they had designed it to switch with ease from Village to Wood, and how seamlessly elements, like the aerial silks were woven into the set design. I am quite curious to know if the actual performance space is always set up in the same way, as much like Pacific Theatre, the stage was situated in the middle of the room, with the audience on either side, facing across to each other.  Also like Pacific Theatre, I was most impressed by the blocking, under the Director Scott Bellis, created to play to the audience from all sides.  It was quite wonderful!  I'd actually like to see the production from the other side to get the other perspective on the performance. Tipping my hat (or shades, as the case may be) to the Crew that put some outstanding thought into action in Studio 58's production of A Midsummer Night's Dream!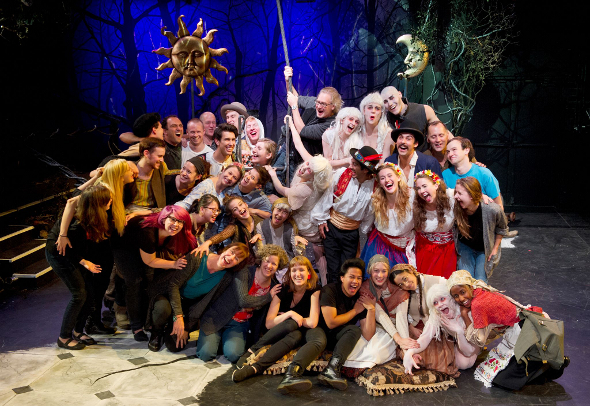 Now to conjure up a bit of fairy magic of my own with a pair of tickets to giveaway to Studio 58's production of A Midsummer Night's Dream on the winner's choice of Wednesday evening, October 9th or Thursday evening, October 10th.
To Enter to Win those tickets …
Comment below with either your favourite character from A Midsummer Night's Dream or your favourite Shakespeare Play.
For a 2nd, 3rd, and 4th entry: Share this contest on Twitter, Facebook and Google+ (one extra entry for each platform shared on), just be sure to include a link to this post, the hashtag #MidsummerNightsDream & my handle (so I am sure to see it). So, as an example:
For Twitter: With a bit of Fairy Magic, you could win #Vancouver tix to @Studio58Theatre's #MidsummerNightsDream from @EmmeRogers: http://ht.ly/pyhYZ
For Facebook & Google+: With a bit of Fairy Magic, you could win ticket to #MidsummerNightsDream at #Vancouver's Studio 58 from Emme Rogers! https://emmerogers.com/2013/10/a-van-sexy-date-pick-a-midsummer-nights-dream-at-studio-58
I will then throw the names of all commenters and Twitter, Facebook and Google+ sharers into a hat, and randomly draw the name of the winner of the pair of tickets, on Tuesday morning at 10 am.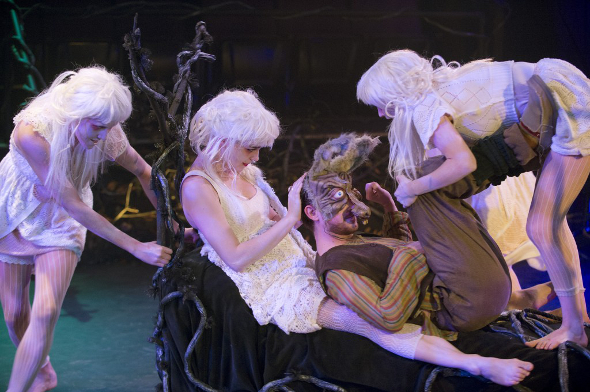 For those of you that don't win, you can still adventure into the Fairy Wood at Studio 58 by purchasing your tickets to A Midsummer Night's Dream at the Box Office. The Show runs now until October 20th, 2013, with performances Tuesday, Thursday, Friday and Saturday nights at 8 pm, and matinees Saturdays and Sundays at 3 pm.
Enjoy!
Emme  xoxo