I am not at all sure what this says about me, but I have discovered this past year, thanks to Fighting Chance Productions' Sweeney Todd and The Lieutenant of Inishmore and most recently the Metro Theatre's Haunted, that I have a real affinity to dark, sinister and morbid comedies.  And to make things even worse, these are amoung my top Van Sexy Date Picks for the past year. So that I don't spend too much time over analyzing what this says about me, let us just assume that this is my infinite wisdom in testing out a man – a) he has to have a sense of humour, b) he should want to protect me, and c) I should want to cuddle up next to him whether I'm scared or not.
So this brings me back to my latest Van Sexy Date Pick: Haunted by Eric Chappell, that opened at the Metro Theatre last night.  Thoroughly enjoyed this!  Director Catherine Morrison made some exceptionally strong choices in her rendition of Haunted from some strong casting, to a superb set (that I wouldn't mind moving into), to some wickedly good choices of music, movement and lighting to set the tone and the mood.  They had me and my date captivated from the get go.
Now I don't want to go to much into the plot, but there were certainly elements of it that I could relate to, as it is about a writer, who having had a bad review is suffering from writer's block and a potential nervous breakdown.  What unfolds from there, may be all a figment of a wildly active imagination or may be one of those things in life that we just can't explain.  Either way, our writer is met with a bit of inspiration, in the form of an artifact from his idol, Lord Byron.  Now I don't know how much you know of Lord Byron, but he was rumoured to be a bit of a Ladies' Man, so amoungst other revelations our writer had, things definitely got a little more titillating.  I should warn you though, despite the ideas that this may put in yours and your date's heads, Lord Byron also believed that men and women shouldn't live together. Obviously a fatal flaw in his character.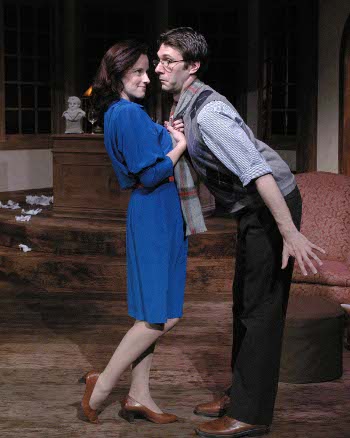 Now I'd be remiss by not mentioning the great cast here – Samuel B Barnes as Nigel Burke (the writer), Emma Drury as Mary Burke, Kevin Sloan as Potter, Lisa Gach as Julia Phillips, Eric Freilich as Lord Byron and Robert Sterling as Turner Gould.  Samuel was an especially wonderful surprise as I saw him not too long ago in Here on the Flight Path when he played a very different character.  He played these two characters so different, that to me as a patron of the theatre, he was totally unrecognizable.  Bravo!
You can catch Eric Chappell's Haunted at the Metro Theatre until June 4th. Performances are on Thursday to Saturday nights at 8 pm, with two Sunday matinées at 2 pm on May 15th and 29th.
Kisses,
Emme xoxo