At times in life we are so busy that we are not even aware of what all of our senses are taking in. It is vitally important to slow ourselves down now and then, to spend time in stillness, and release the extra so we can be open to the new. Inspired by the theme of love and connection in February, I have put together a series of heart opening yoga poses that will help to open us on a mindful level. These shapes are especially important for those of us who spend a lot of time hunched over computers and need a release within our chest and shoulders. Prepare to let go, heal and restore!
The best and most beautiful things in the world cannot be seen or even touched – they must be felt with the heart.

Helen Keller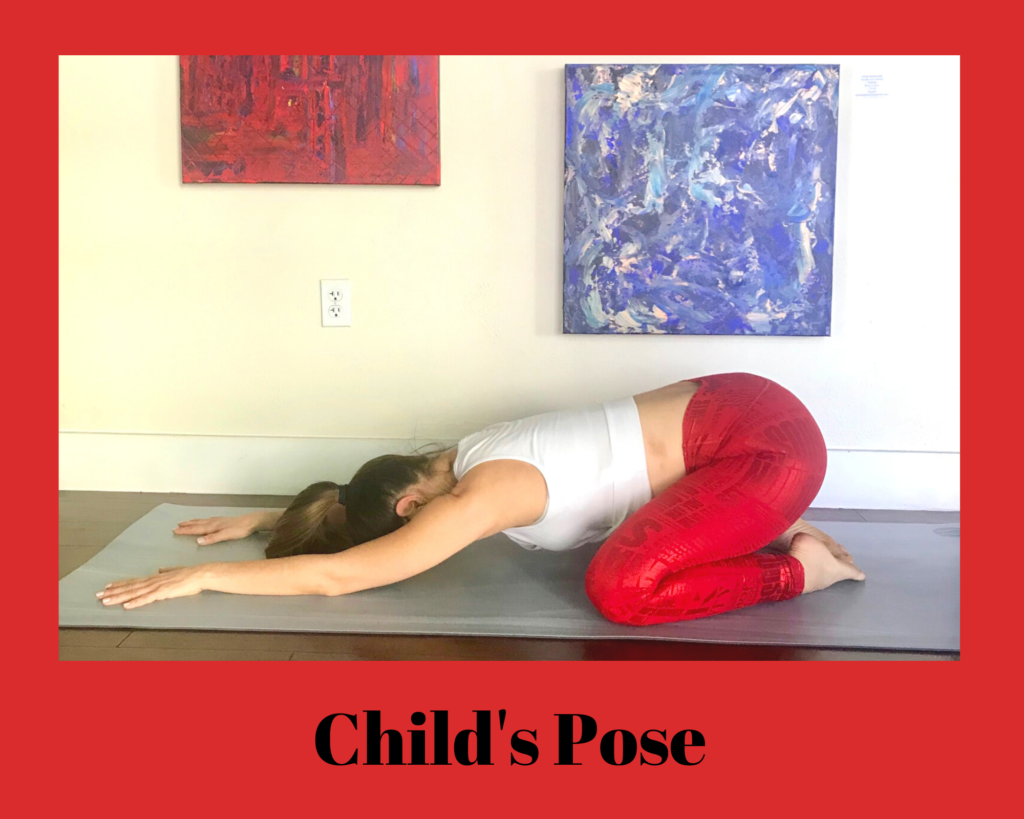 Put on a soothing playlist of your choice and begin on your mat, blanket or towel, in a Child's Pose. Acknowledge that first and foremost, you are here for self-nourishment ~ to grow love towards yourself. Give yourself permission to fully sink into the next chunk of time devoted just to you.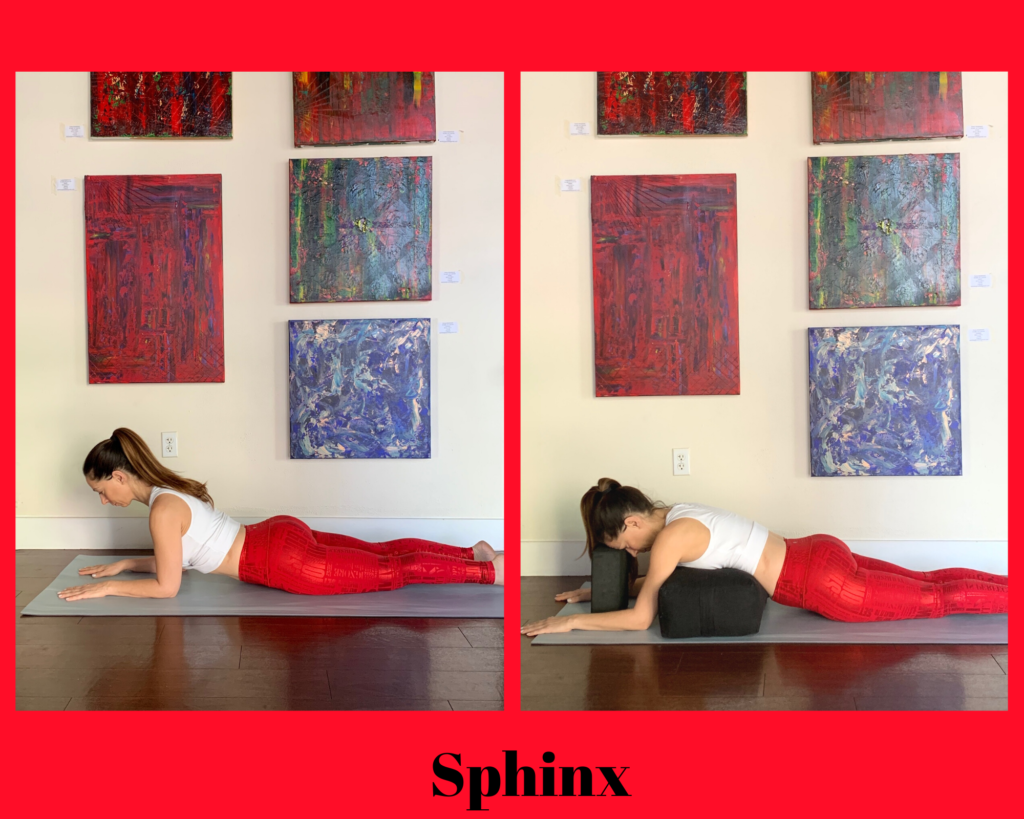 Bring yourself down onto your belly and with forearms bent, press your chest away from the mat. There are two options shown here. The second one being a more restorative version. If you do not have a yoga block or bolster, you can use a pillow (perhaps a couple stacked up) and any little box, (get creative, look around your house and maybe drape a blanket over the top to make it soft.) Hold this and each pose moving forward for 3 to 5 minutes. Spend this time focused on the sensations of your breath. Feel the air as it comes into your nose and as it comes back out. When your time is up in this pose, lift yourself up into a table top position and invite some gentle movement in. If you are familiar with cat/cow movements, do some of those here. Match your movement to the pace of your breath.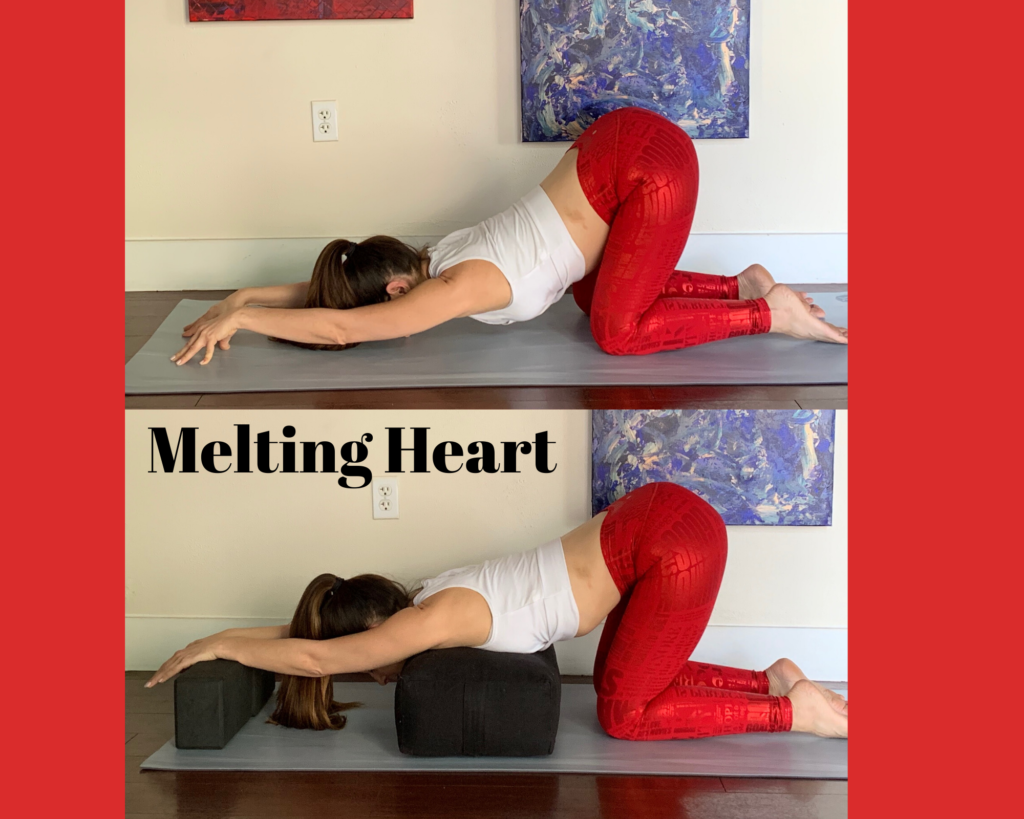 Melt your heart to the floor next. Keep your hips high and sink your chest and shoulders down to the ground. The top version will be more edgy and Yin like, while the bottom one will be restorative. As you spend time here, know that it is normal for thoughts, emotions, memories, and sorts of feelings to arise. We are opening up your heart after all! As you sit in stillness you get to practice getting to know yourself better, while also practicing not reacting. Notice what you notice and then bring your attention back to your breath. When your time is up, lift up to table top again and before moving stop to be aware of what feels different. Bring some gentle movement in through cat/cow again, or your own free fluid flow of sways, rocks or circles.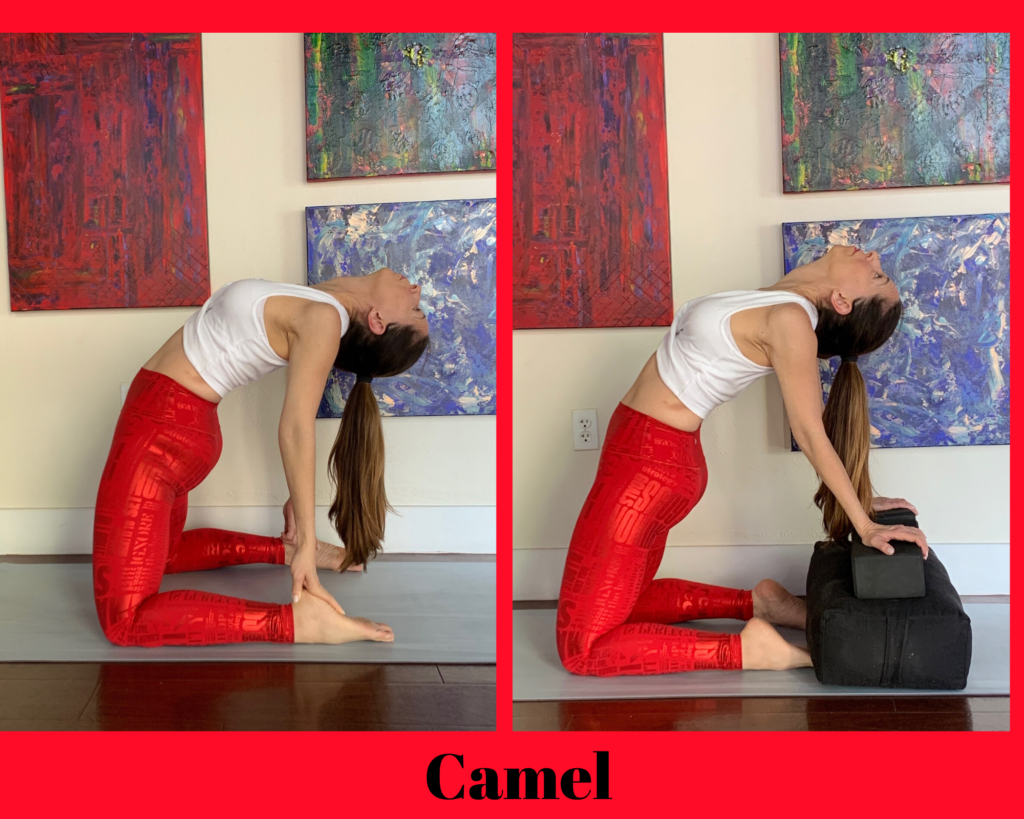 Reach back for your heels for a camel next. Press your hips forward and your chest high. Let your heart shine up to the sky! You will need 2 blocks for the restorative version of this one. Camel is a little more intense so you might want to hold this one a little less than the others. As you come out of the pose, sit down on your knees and notice where you feel your circulation returning. Can you feel a rush of blood flow? Circle your shoulders in both directions.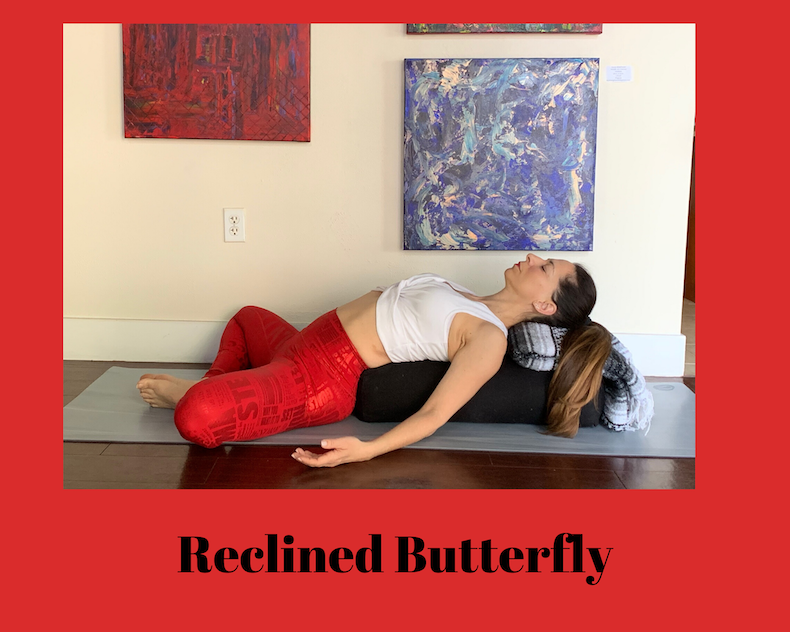 Set up your bolster or pillows lengthwise under your spine, pushing the edge right up into your lower back. As you lay back make sure your head is supported, adding a folded blanket underneath for that extra dreamy sensation. Pull the soles of your feet together and let your knees hang out to the side. Your hips are like a warehouse storage place of stress within your body, so its appealing to open them along with your heart. Let your body melt here. As time passes, your muscles will move out of the way and you will get deep into your joints. Some wonderful gentle movement after this one is to lift your knees up to the sky. Open and close your arms and knees, bringing your arms across your chest for big self hugs of unconditional love! Inhale as you open your arms and knees, exhale as you close them.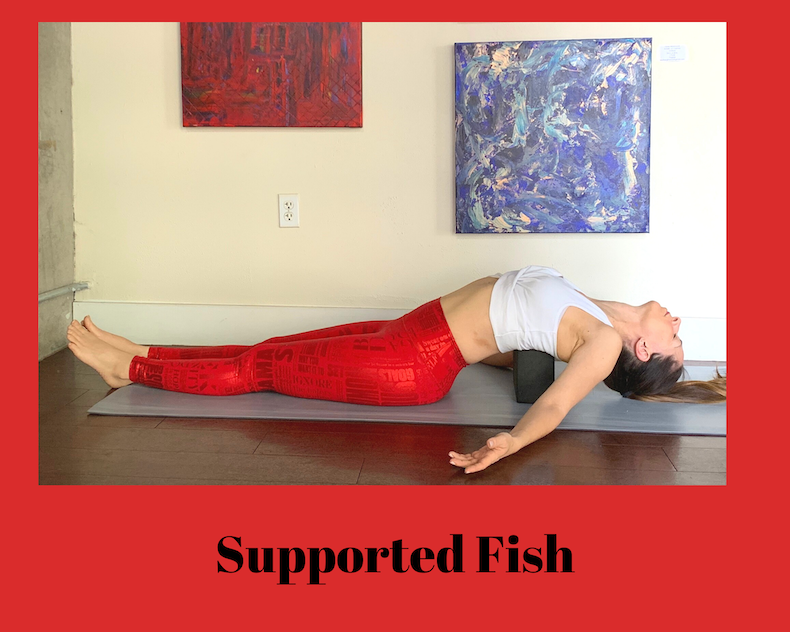 Fish have hearts too! (I doubt they are as emotional as us though) This is a much deeper pose to follow your chest having been opened up by the bolster in reclined butterfly. Align yourself to lay over your block and make sure the top of your head is on the ground. Keep your legs straight for this one and continue with a nice natural breath. No fishy lips mouth breathing! When your time is up, remove the block and lay flat on your back. Hug your knees into your chest and come up into a little ball. Rock and roll around a little.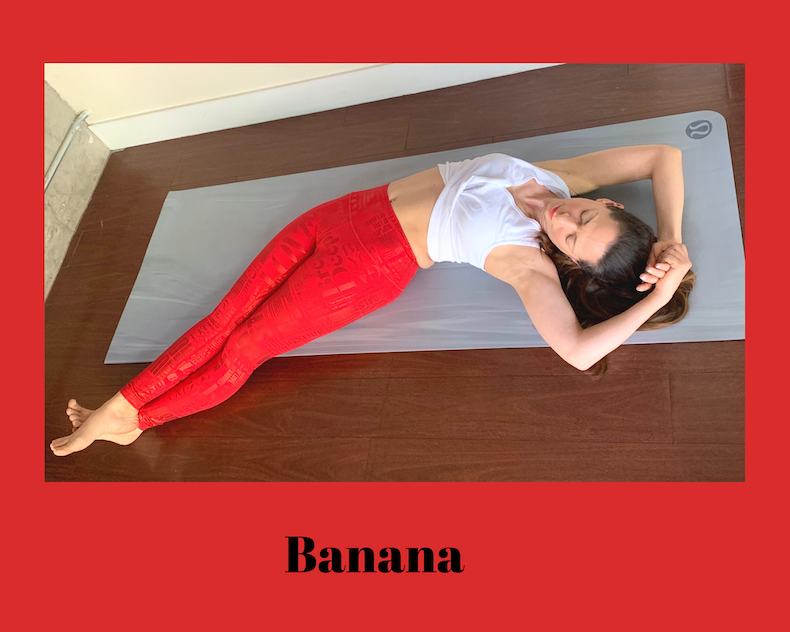 Just looking at this banana pose doesn't make it seem like you will be feeling much of anything, but you will certainly feel the whole side of your body opening up. With your arms over your head, your heart and lungs are open and ready to receive the good loving of your yoga practice. After you hold this for your 3 to 5 minutes, lay straight and feel the difference between both sides of your back. Curve your body into the banana shape on the other side. Following that, bring your knees into your chest once again. Notice the changes within your spine. Take some big hip and knee circles here. They feel so good!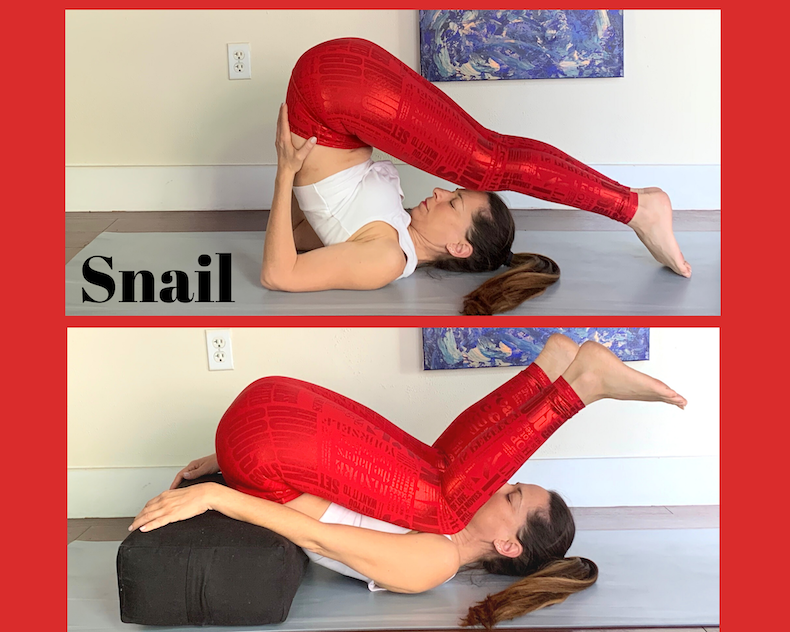 Counteract all that opening with a bit of closing. A chance for your heart to be in a reclined position. Two versions of snail (also called plow), are shown here, the bottom one being more supported. Carefully roll yourself out of this one when your time is up.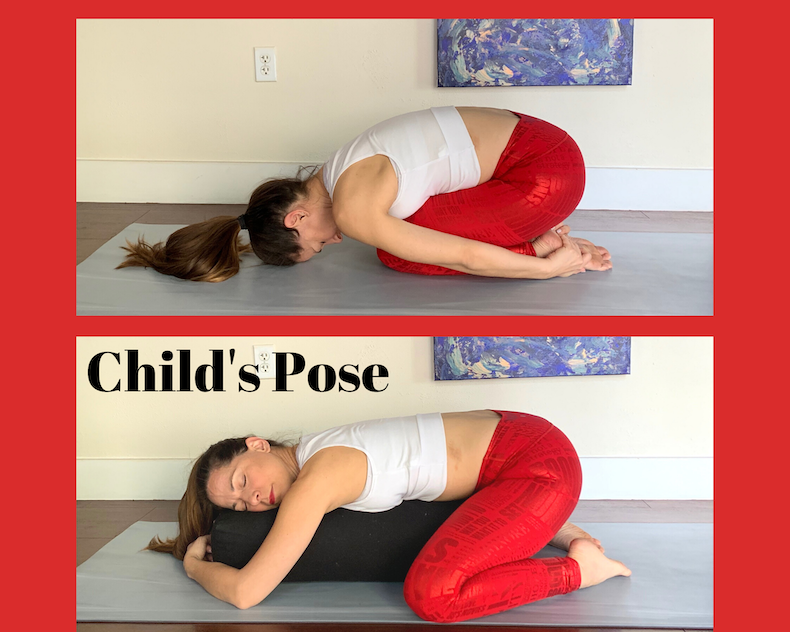 Curl up nice and cozy into a Child's Pose again, but this time have your arms back by your heels like a little bug. For the bottom variation, place your bolster or pillow underneath your belly, chest and head. Make sure that your face is able to be supported. Half way through your time in this shape, turn your cheek to the other side. With your belly pressed up against your thighs or bolster, it is a great opportunity to feel your breath. Notice how your belly expands into your legs or bolster on your inhales, and releases away on your exhales. When your time is up, roll onto your back. Take any little movements you feel your body is craving. Lay out flat on your back for at least 5 minutes of complete rest. This is called Savasana. You don't have to try, you don't have to do anything, you don't have to control anything…you just have to rest! Come out of this slowly by wiggling your fingers and toes, then circling your wrists and ankles. Eventually roll onto your side and sit up. Take a nice big breath and step into the rest of your day with your brand new open heart!
Noteables
I obtained my 200RYT through LifePower Yoga.
For more tidbits and just good 'ol getting stronger together, follow my instagram account, @phoenixmoments
If you are ever in Phoenix, Arizona you can catch one of my yoga classes at Nrysh Yoga or One Tribe Yoga and Wellness.
If you are unable to attend a class, but would like a yoga session, contact me through Yoga's Arc, a mobile yoga company
All photos within this post were taken at Nrysh Yoga