Through the course of adulthood, I've decided I was immune to the mosquito bite.  Well, I'd decided that until I'd spent a few summer nights outdoors in Manitoba and Ontario.  You see I have spent the better part of the last two decades summering on the West Coast of Canada, whereas this year I'm enjoying the heat of Central Canada.  And determined as they are to stand convinced that they have mosquitos in Vancouver, I just don't think that they've met a real mosquito, because let me tell you I've encountered the real deal the past fortnight. Like the kind I haven't seen since childhood.
Now I'm wondering in the course of a decade and a half if one can lose their threshold for tolerating mosquitos bites or if one can become allergic from lack of exposure. I ask as I don't remember the mosquito bites of youth producing inflamed red welts engorged with puss.  This has led to some debate. Kana for one believes me to have ant bites, especially given the central localization of the bites to my feet and lower legs.  This could arguably also be the result of my love for no shoes and showing off my legs in short dresses in the summer. And let me tell you they are really something to show off, red pussy splotches and all.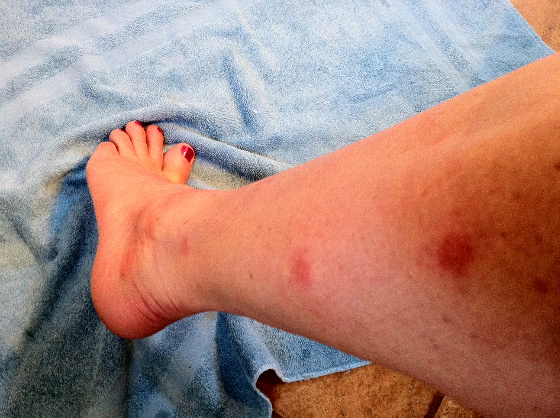 At any rate, the bites finally reached the stage of intolerable in the night and no amount of caladryl or toothpaste would sooth them.  So what's a gal to do?  Take up an MD Designate on twitter. Here's what the research turned up:
Now I do understand receiving my MD means testing and experimentation, in addition to research, so I have donated my body to medical research and am randomly working my way through the list.  So far I've smelt like a fish & chip shop and soaked in cider vinegar.  That was somewhat effective.  Next I tried the baking soda paste. Somewhat more effective than the vinegar, but it flakes off as it dries. Finally I tried Vick's VapoRub, which despite being a bottle from the 70's seems to have been the most successful remedy thus far.  I am tempted to try the aspirin this afternoon though, if I manage to find any in the house.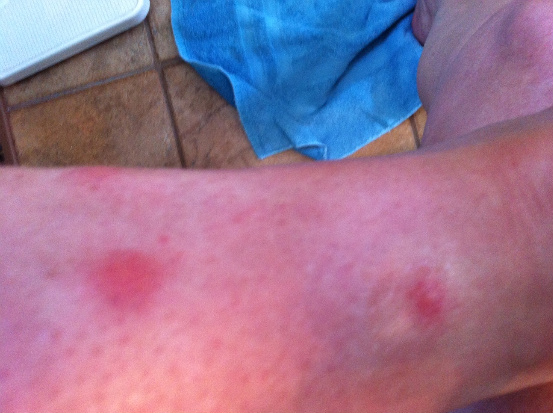 Other Things I Learnt From This Experiment: It is best not to play doctor with yourself in your birthday suit in the backyard of somebody else's house. You never know when someone you don't know might wander right on in.'
Future Preventative Tips: Tea Tree Oil (rub on) and Vitamin A (ingested) are suppose to repel mosquitos. The later courtesy of Meg and the former from 'I can't remember who.'
~ Dr. Twitter MD, Emme Rogers