Upon arriving home with the kids late last night, we were greeted by the mother of all moths right on our front door.  I should say, the warrior of all moths, as this one looked like it was something out of Transformers.  See for yourself!  It just doesn't look like it's made of steel.  Oh, and remember, a photo never does size justice.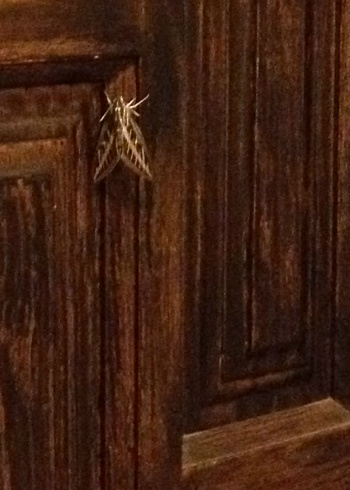 We tried to devise a game plan as we knew that if we opened the door the moth would fly inside.  With the kids freaked out and waiting down in the driveway, I was set to throw a rock at the door in hopes of startling the thing so it would fly away.  As I paused to calculate my plan I heard a neighbour walking by.  I called out to him to come see who was visiting me.  I felt so much better about myself as he exclaimed, "Wow … I have never seen anything like that before!"  Then, he just reached out to flick it off the door.  Unbelievably, the moth climbed onto his finger instead.  He got a good grip and my neighbour couldn't shake it off.  To my amusement he said, "Oh well, I'll just take him on my walk with me."  He left walking up the street, headphones on, music grooving, and his hand held slightly up in front with moth warrior in tow.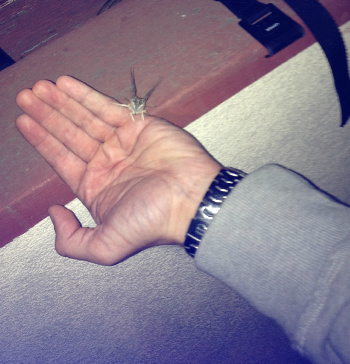 I saw my neighbour again this morning and he told me the moth hung out with him for at least 10 minutes before deciding he was done and flew away.