When Andrea Loewen invites you to see a play she's written or in this case co-written with Dani Bryant, there is only one answer 'YES, Please!'  You see, even though I don't know Andrea well, there is one thing I have learned over the years in my interactions with her and through her productions, she is delightfully quirky in all the best kind of ways.  To her productions she brings a sense of playfulness, humour, cleverness and the totally unexpected.  I never quite know what to expect when Andrea invites me to something of her own creation, although I do know that whatever it ends up being, I have always enjoyed it and smiled to myself, thinking Andrea really is a cool gal – brains, quirkiness, humour, and she always has a smile when she sees you.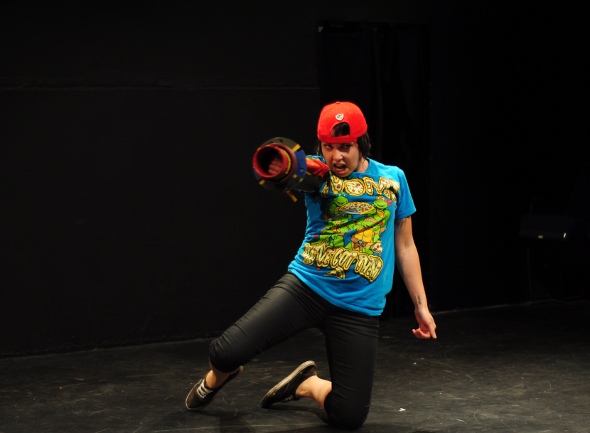 Take her latest production for example, Armed at the Pacific Theatre.  Here's the Shows description:
What makes a man?  Is it a job?  A relationship?  Or maybe it's a couple of small but vital bits of anatomy.  When Joe loses everything that made him a Real Man there is only one thing left to do: compensate.  Thus begins his epic quest to find something – anything – that will give him undeniable strength and power.  Something that will never wither, grow flaccid, or die.  The time-honoured tradition of a luxury car won't do the trick, so what will?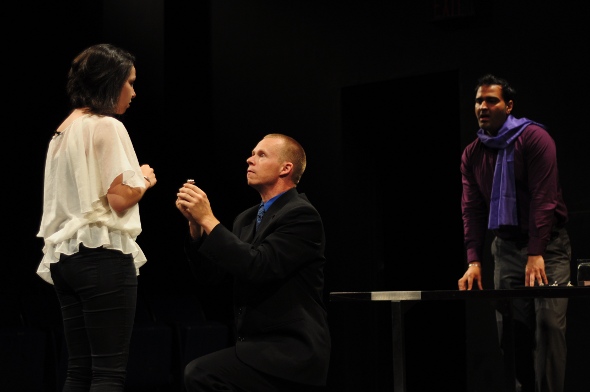 As per usual, I was not terribly sure what to expect from Andrea and Dani, but that's never bothered me, and I do like to be surprised. Best I could tell this was going to be a romantic comedy or relationship piece that I could compare to anecdotes in my own life. Glad to say none of the dark comedic drama that unfolded has inspired a personal, comparative anecdote from me today.  And I don't really want to go into what that drama was, as I don't want to spoil the plot for future theatre goers.  What I will say is that I found it delightfully bizarre.  It was exactly what I needed this week ~ light with lots of laughs (oh, and I did experience the thrill of having the leading man brush up into my legs mid performance, although any quivers that may have caused were rendered mute by personally helping to duct tape a bloody stump later in the Show – to decipher this aside, you'll have to go see the Show). If I had to give it a label, that label would be that it is an Interactive Dark Comedy.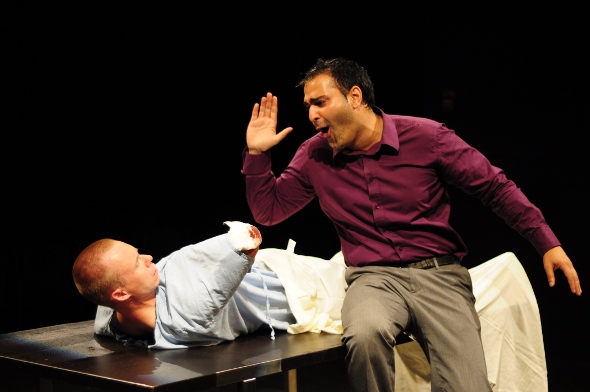 I must commend the cast as it was a high energy performance, especially Darren Boquist, who played Joe, the leading man. Not everybody could maintain the high level of energy that was required of his performance. I was also impressed by Ky Scott's ability to transform to so many different characters throughout the performance.  The man that stole the Show for me though was Munish Sharma, who played all the male roles, other than Joe.  His character transformations were so very believable and a complete hoot. Speaking of which I'll be needing the phone number for the cowboy bartender, as I for one would not mind a Friday night with him.  Will definitely have to make a point of catching more of him in I Can't Believe Its' Not Butter Chicken.
Finally a big thank you to the behind the scenes team:
Francine Dulong, the director ~ from what I saw from the play, she did a fabulous of bring so many different elements and roles together with a cast of only 3
Charlene Crawford, the Stage Manager ~ who made clever use of the space
Darren Boquist, the lighting designer ~ an element that played a very important role within this play and helped create the dramatic tension
Dani Bryant, co-writer, producer, & assistant director ~ bravo
Andrea Loewen, co-writer, producer ~ well done
Curious?  You can still catch Armed at the Pacific Theatre nightly, tonight ~ Friday July 20th, 2012 and tomorrow night ~ Saturday July 21st, 2012 at 8 pm. Here is where to find ticket information.  You can also stay up-to-date on Xua Xua Productions on their website, facebook page, and through Andrea's twitter feed.