I have always loved stories!  I love all parts of them.
As a kid, that is what I did all day.  I came up with different stories, in different ways and enticed my buds to act them out by turning them into games.  No scripts were handed out, as then they'd realize what I was up to, plus to be frank, as an actress I prefer improvising. So there was me and my little gang of boys and without them realizing that we were actually putting on a play, I'd get them making costumes or puppets, and building sets, props and puppet theatres and acting out the play itself, all unaware.
Walking on to the set of Nixon in China at the Vancouver Opera the other night took me right back there, to my childhood.  And that, my friends is a very, very good thing, as I had an absolutely grand childhood filled with stories and imagination.  In fact I think being taking back to my roots is exactly what I needed to refocus myself on what I truly love about storytelling as opposed to the confused spiral of not being sure which direction I've been heading in as of late.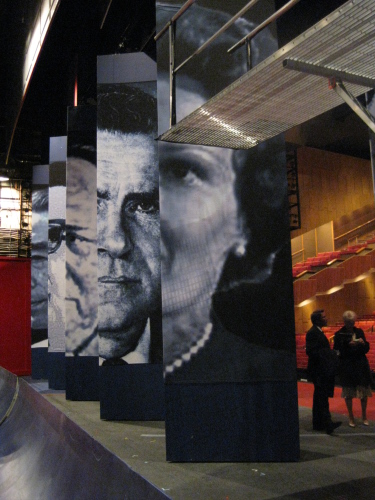 Why did it take me back to the carefree days of my childhood?  Well, initially, it was the set.  The set of Nixon in China is in essence a giant puppet theatre – like the magnetic puppet theatres that you had as a kid.  You know the one that you could lower different cardboard cut out scenes into.  Well these were huge cardboard cut out scenes with high tech apparatus for getting them to dance into the scene at the click of a button – literally.  Can we say kid in a candy store?  My eyes were hungrily popping out of my head.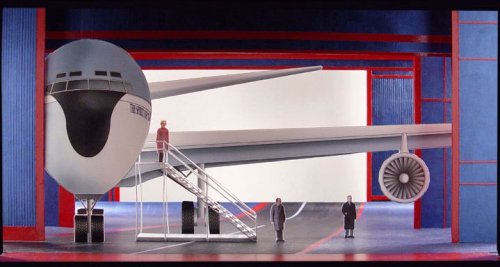 And the performance itself, only excited my mind with storytelling bliss that much more!  The toys and storytelling elements they had to play with were awesome!  I was so completely jealous of the storytellers, and they did such a good job of marrying the elements together.  They had giant screens to project moving pictures and scenery on to, movable 3D scenery, an actual working and filming camera that was seamlessly worked into the story, and then, of course, the players themselves.
And players were wonderful!  Robert Orth painted such a believable Richard Nixon that it was almost comical and Thomas Hammons as Henry Kissinger kept making me giggle.  What great character actors!  And they did it all whilst delivering their dialog in what seemed like ease in an operatic voice. Wow! Perhaps my favourite part of the action though was the Chinese Ballet in Act II.  What an incredible treat! Not only Opera, but the ballet too!  And despite the rather gruesome story that Fei Guo was telling, she was absolutely entrancing to watch.  Brought tears to your eyes, it was so beautiful! And a laugh to my lips every time I saw the clash with Thomas Hammons' antics in the ballet.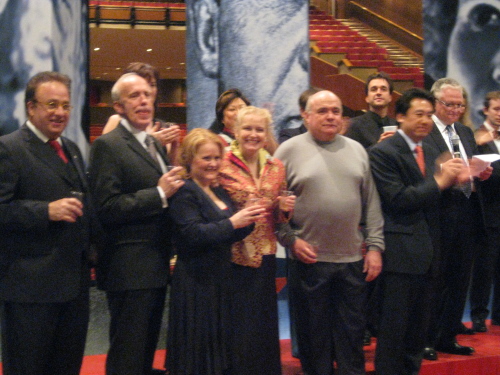 Now at the end of the day, despite the quality of all the other elements, it really comes down to story. So was the story there for me?  Yes.  Granted it was a bit of a different story with no resolve in the end, but it made me think and it told a story of a time in history. I have always loved historical story.  But damn!  Now I have to read up on the politics of  China and the US in the early 70s. Finally, despite the fact that Act III was my least favourite and reminded me somewhat of the drunken elephant scene in Dumbo, it brought up a very real question, one that I have been struggling with as of late.  What is it all for?  What have we really accomplished?
I highly recommend catching a performance of Nixon in China. It will certainly make you think. You can catch it in Vancouver – tonight (the 16th), Thursday the 18th and Saturday the 20th.
For more reviews from my fellow bloggers at the Opening Night of Nixon in China, take a read at:
Stacey Robinsmith Dot Com
A View From the Isle