I feel like I'm living in the midst of Ronald Dahl's book, Charlie and the Chocolate Factory, with 10 gold keys hidden away in Caramilk bars (worth the chance to discover the Caramilk Secret and win $250, 000) and an entire box of caramilks sitting in our office.   Little concerned that that makes me like Veruca Salt, the gal that kicked and screamed until her Daddy bought up enough bars and found her a golden ticket. To avoid such a reputation, I've decided to share and find my ticket the old fashion way, like Charlie Bucket.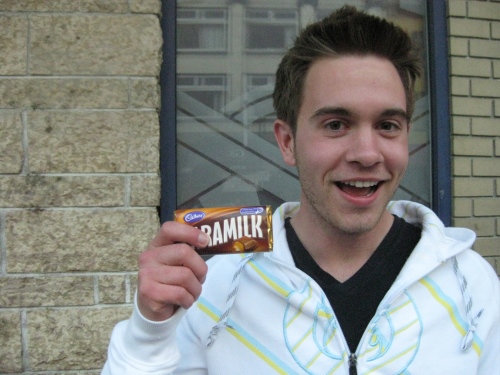 So here's what I am doing with my bars.  If you want one, you must tell the camera what you think the caramilk secret is or what you'd do with that knowledge and $250, 000.  And YES, Nadia and Liz, this means you!!!! No more Veruca Salt temper tantrums from you two demanding gals. If you want another bar, you'll have to smile for the camera.
Two Van Sexy lads who have tried and sadly failed:
(Jason – I may be able to slip you another bar for the co-ordinates to the Whistler Mountain gold)
Kisses,
Emme xoxo
PS For a bar, find me or one of the folks from Ahimsa Media at a Van City Event.  We'll mention on twitter if we are heading somewhere with caramilk in hand.