I now what you're thinking – "no" "of course not" "is that even a question" All I can say is – "HOW RUDE!!!" I was trying to be reflective and introspective for once!  hmph!
A few of you that have been reading for awhile, will know that I have been seeking balance in my life for sometime and have spent the past year working with personal coach, Jennifer Priest, to achieve just that. (because goodness only knows I can't help myself – I say that facetiously, as the reality is that coaching only works if you are willing to help yourself – sort of like going to the gym).
Jennifer has been wonderful and has brought me a long way from where I was a year ago. I now have a much clearer picture of what I'd like in life, my work world is coming together nicely (and although I still work too much, I am leaving behind my days as a struggle artist), I think about what "I" need and consciously remember that things like good food, exercise and sleep are all things that make me tick and that I need to function effectively. And I take time for me now.
Am I balanced though?  Somethings still feel like they're missing and although I'm happy, I don't think I am at the end of this journey.  So Jennifer did a little exercise with me.  She told me to imagine my life as a wheel broken into 8 equal segments.  Each segment represented a different aspect of my life – Physical Environment, Career, Money, Health, Friends & Family, Significant Other / Romance, Personal Growth and Fun & Recreation: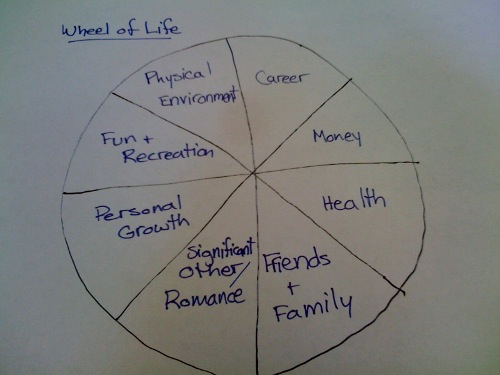 I was then supposed to consider each segment and how satisfied I was with it. Well let's just say that my wheel looked a little wonky. No wonder I was getting where I want to be, as I don't think it could roll: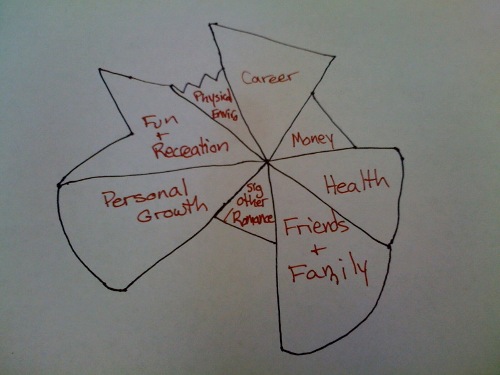 My personal environment was a mess (my Dad would have been horrified) – unpacked boxes were everywhere from a move two years before, dishes were in the sink, I hadn't added any personal touches, and my bedroom still looked like that of a university student (aka no 'real' bed). My career was taking off, but the money wasn't there and I was seriously close to burning out. There were plenty of men vying for my attention, but I had absolutely no interest in being in a relationship (there really wasn't the space for it in my life). And although I wanted fun & recreation and health, the two really went hand in hand, and although I'd have spurts of these, it was in the form of a binge eater, all or nothing.  About the only fully functional segments of the wheel were friends & family and personal growth – so whilst filled with love and challenges, this was not enough to make the wheel roll.
The past five months, I've been tackling this beast of a wheel trying to fix it, which is why my writing has been somewhat spotty from time to time. Here's what I've achieved:
Most of the time now, I don't stress out over friends spontaneous visits to my doorstep, as the house is generally presentable. And for the first time in my life, at the age of 35, I own my first adult bed.
My career is moving in a positive and much more manageable direction, mainly due to finally accepting the help of others and working as a part of a team.
Whilst the nest egg still hasn't been built, financial matters are being sorted and I don't need to keep my fingers in so many pies to make ends meet.
Only just started to augment the regime of fun and entertainment and activities just for me with the onslaught of the sunshine.  Feeling fantastically healthy, as a result.  Very much hoping this is not simply one of my binges.
As for the romance – still working on that category, but I feel more ready.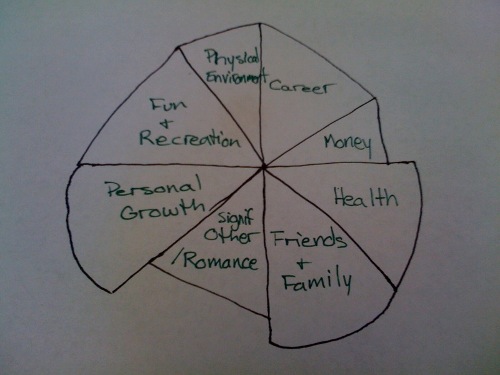 Thank you Jennifer!