The brain is such a sexy thing, at least I think so.  So when one of Canada's most forward thinking citizens was invited by Roots to design his own fashion line, I just had to see what he came up with and garner an invite for what promised to be a most interesting clothing launch.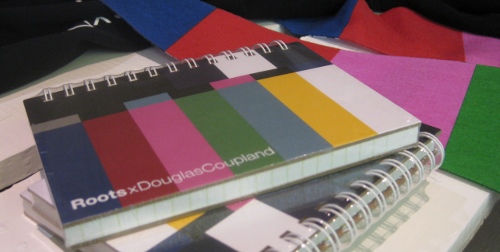 Roots and Douglas Coupland are Canadian icons and arguably have each played a part in defining what it is to be 'Canadian' in the global market.  So what happens when they come together to define Canadiana in 2010, using fashion as the medium?  In the words of Douglas Coupland, "one big fashion art experiment".   Is this even possible, in a vast country such as ours, defined by unique culture in each of our geographically distinct regions?  According to Coupland, Roots has done that in an 'outdoorsy' sense – setting a culture of birch bark, beaver and moose, and I'd tend to agree with that, especially as far as the great outdoors of Eastern Canada and cottage country are concerned.  I'd also, note here that this is part of what I've loved about Roots – it's always represented us in the same way as maple syrup (from the East) or smoked salmon (from the West).
What Coupland wants to define with this collection is the 'indoorsy' way of being Canadian.  I find this interesting.  As it is our outdoors, rugged terrain and extreme climates that define Canada to me – at least the unifying aspects of it, including our art.  It is also the 'outdoorsy' and natural elements of Douglas Coupland's art that appeal to me.  I love Coupland's new orca sculpture that seems to be a giant lego monument to Westcoast Culture, constantly changing with the light and your perspective on it.  Similarly Coupland's WOODEN building blocks make me smile and feel happy inside.  Who knows though, maybe it is simply that lego, building blogs and Roots all remind me fondly of my childhood.  I'd still argue that their outdoorsy elements are just as much a part of the draw for me though, and the simplicity of it all.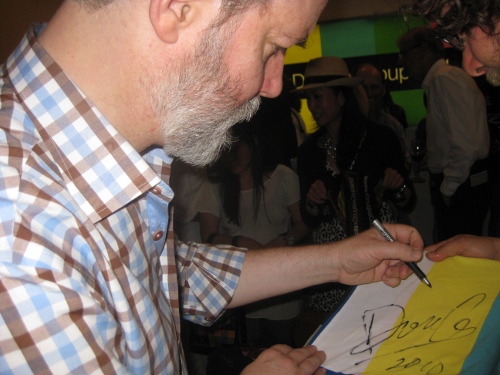 So did Douglas Coupland define what it means to be Canadian, in indoorsy terms?  Well, that dear readers is for you as individuals to decide.  For me this is a most interesting art exhibit in fashion. As a Canadian, it made me question how I would define us as a country and how I'd define myself as an individual.  I highly encourage you all to go take a gander at the collection and tell me, how would you define us as Canadians, fashionably speaking?