The last time Emme called me out for a real mission, it was to head up Grouse Mountain in the middle of the night to catch an early morning sunrise while snowshoeing uphill.  I have to say, she more than made up for that by inviting me to check out the line of clothes at Lululemon Lab.  I didn't even know this place existed! I am a lover of lulu and think their clothes feel so great that I feel uncomfortable when I take them off.  I have been dreaming about everyday clothes making me this happy and Emme brought me to just the place.  On this special evening we were allowed to shop with a glass of wine (thinking of starting a petition to make this acceptable in stores all the time), and with my first item I proclaimed myself a Beverly Hills girl.
Swanky lululemon means I can look like a diva when I leave the house instead of a mom who made sure her kids looked good, but ran out of time for herself.  The designers, who work on site, made us feel pretty great about ourselves as we headed into the fitting rooms to create some new looks.  This is more than I can say for my friend Emme, who told me I remind her of an elf!  In her defense, she claims she meant an elf of the sexy variety, so I suppose I will let her off the hook.  She also discovered my belly piercing for the first time and got quite distracted.  After much bumbling around, we put something together.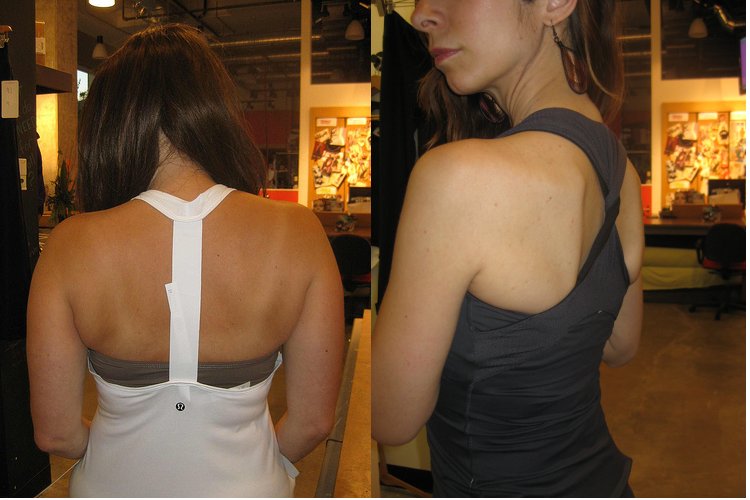 Of course, Emme and I kept everyone late because we just had to try everything.  I realized we were in trouble when we found out they design new items every two weeks.  Guess who will be seeing more of us?!
We didn't overstay our welcome though, because we still got our goodie bags on the way out!  Little did I know, more adventure was in store.  There was a piece of fabric in our bags that we had no idea what to do with.
I spent quite some creative thinking time when I got home and….this is what I did with mine Emme!  What did you do with yours?