I love new experiences!  Especially those that place me in interesting settings and that make me think. My first experience with Pacific Theatre was exactly that.
Situated in the basement of a church, I really wasn't sure what to expect, although there was a certain familiarity to the situation, having been dropped off for summer camps in the performing arts by my grandfather in another church based theatre.  Amazing how similar scents and decor can take you back to the perspective and mind of a ten-year-old in about 10-seconds flat. The actual theatre was not what I expected though.  I'd never seen anything quite like it.  The picture doesn't quite do it justice, but how cool is this: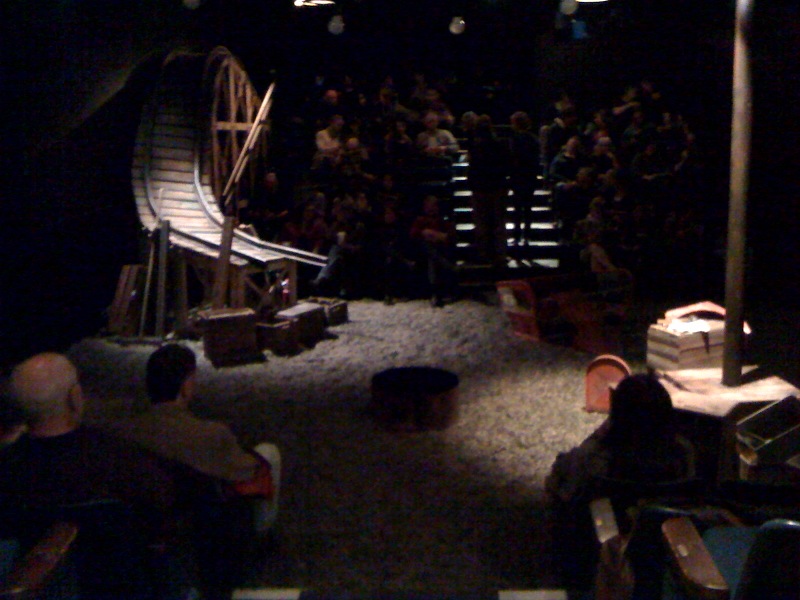 The play in question is Playland by Athol Fugard, an encounter between a black and a white man at an amusement park as Apartheid was coming to an end. I happened to be in South Africa around that time, and just as I wasn't quite sure what to make of South Africa at the time, I wasn't quite sure what to make of this play at first.  It's a thinker.
The actors – Michael Kopsa and Tom Pickett – were absolutely excellent.  They had tough and meaty roles full of emotion and heavy in dialogue and they played them beautifully and with such strength and conviction.  Similarly, the set dec was impressive. Drew Facey should be commended on the thought and creativity that was put into this.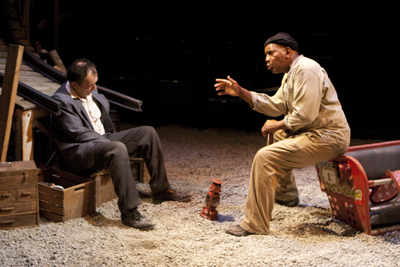 What had me befuddled was the story. The ending is beautiful and touching, but the earlier part of the play is weighty in religious convictions.  I wasn't quite sure what to make of this, especially as I found myself agreeing with Gideon, whom we were meant to hate.  Enough already on the "thou shall not …" and the going to Hell.  First off I don't believe in Hell and second off, we are so hypocritical and omnipotent on the "thou shall nots …".  I mean who here amoung us has never killed a mosquito (who I might add is a mother, as it is the female mosquito that sucks blood, as she needs it for her young) or killed a moth that was munching away on your clothes.  Hypocritical!  You're not sorry about killing that mosquito and yes, it is another living thing.  Yet, the ending of the play was so beautiful and shared such a positive message, whether your religious or not.  Which left me mulling over this all week and hence my delay on this review.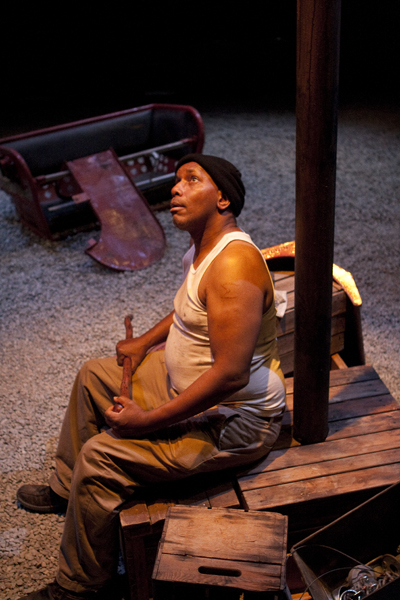 This is a good thing though.  So often, we shy away from dealing with complex issues that are filled with a lot of grey and really make us question our moral compasses.  And as I was thinking of this this week, it made me more open to interesting conversations, one of which I had with an absolutely beautiful man of the clergy. As an East Indian Man of the Anglican faith, he was much more well versed in others religions and believes and respectful of the beauty and messages in all religions, not just his own. He shared with me that he cringed at manys "thou shall not …" approach to religion, life and being.  What he embraced was love and that is how he approaches all that he does in life.  I watched him for awhile.  There was a twinkle in his eye and his smile lit up all those around him. Beautiful!  And I do believe this was the underlying message at the end of the play (for me, anyhow).
So don't be afraid to think.  It's sexy, you know.  You can still catch Playland at the Pacific Theatre. It is on now until November 27th, 2010.