Celebrating the Grey Cup Half time by using my blog to shamelessly brag about one of my friends, Randy Goulden.
My Gal Randy, as captured by Richard Gustin
Was never really a football fan growing up.  Didn't really get the men in tights, slapping each others asses. That's been changed, at least as far as the Saskatchewan Roughriders are concerned.  You see I think those sneaky little Prairie boys and girls have been somehow brainwashing me amoungst my many adventures through their fields of golden wheat.  I can't proof anything, but …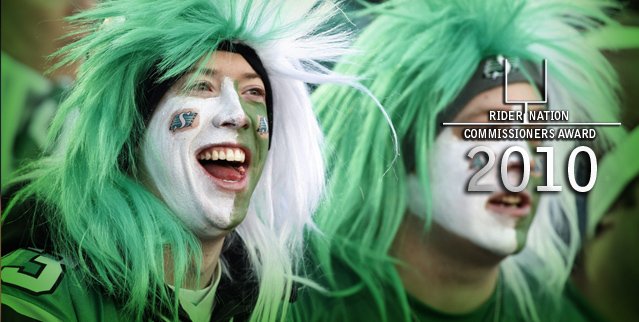 No, in all seriousness, their love of the game is infectious.  And I'm not alone.  After a summer in Regina, it seems to have got a hold of my buddy Richard Yearwood too. For me it's a combination of meeting a local football star (albeit one playing for Edmonton), Graeme Bell, serving drinks at a local Saskatoon watering hole (Winston's Pub – he's no longer there), seeing him treat my 70+ year old friend as the most beautiful woman and most important person in the bar, and the intoxicating infectious pride Saskatchewanites have for their team the Roughriders.  Quite surprised that nobody has called a Provincial Holiday yet to celebrate them in the Grey Cup or to celebrate Rider Nation receiving the CFL Commissioners' Award.  An award that my friend, Randy accepted on behalf of Roughrider fans with her son and granchildren – all Riders fans.  Way to go Randy!
GO RIDERS GO!