For the last week all I can think about is sex and sexual fantasies thanks to the Gateway Theatre's production of Sexy Laundry and Sex for Dummies.  I know I shouldn't want a copy of the book and that ultimately the play made fun of the book, but I do.  Is that so wrong?  Damn actors (Janet Michael and Gerry MacKay) for playing their parts so well!  And yes, I do realize that playing out mine or others sexual fantasies was not the underlying message of the play.  But is it so wrong to ponder those?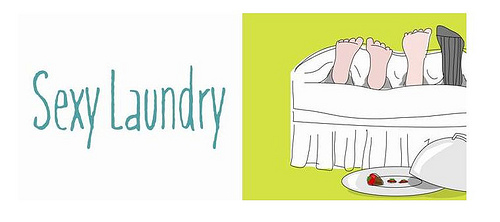 Now twice, I have played out sexual fantasies – once my own, once someone else's. Is that an abnormally low number?  My fantasy: becoming one with the great outdoors and my partner at the time, west coast style (aka on the beach).  Really wouldn't mind revisiting that one, just not anywhere near Vancouver, as there are just too damn many people in the outdoors here.  As for the other fantasy (that was not my own), I could tell you, but I'm not that kind of girl.  That one is just between him and I (and whomever he's told).
Seeing as I am unlikely to muster up the gumption to purchase Sex for Dummies from the local bookstore, help me out here.  What's your fantasy?  Have you acted upon it?
Failing any of you sharing, I'll have to resort to finding an actual boyfriend and trying to convince him to play out Richard Yearwood's book, 52 Weeks, which seems to involve playing out a few fantasies (I cheated and read both the his and hers copies in advance).  That could take me awhile though and a whole lot of planning and work, so fantasies, please!
Kisses,
Emme xoxo
PS I do actually own the pocket sized version of Dating for Dummies thanks to a friend (I do hope that wasn't a serious present).  Did you know it has a Chapter entitled, 'The Predate Warm-Up'?  Am I missing something here, as admittedly, I've never warmed up for a date and wouldn't know where to start.