It is not often that I post twice on the same day, but I was captured by a post on hummingbird604.com that tugged at my heart strings.
Raul is hosting a contest around a Teddy Bear called Finnspiration. Now this isn't just any Teddy Bear, but one designed with the love and laughter of Baird and Sarah Sullivan, who lost their brother Finn to cancer.
Baird and Sarah gave Finnspiration big brown eyes just like their brother, and a touch of pink – Finn's favourite colour. They gave the bear long bunny ears, like their brother's much-loved 'Pink Bear', a soft rabbit stuffie that brought him comfort through his illness, and even added rabbits to Finnspiration's paws to capture Finn's joyful and energetic mantra.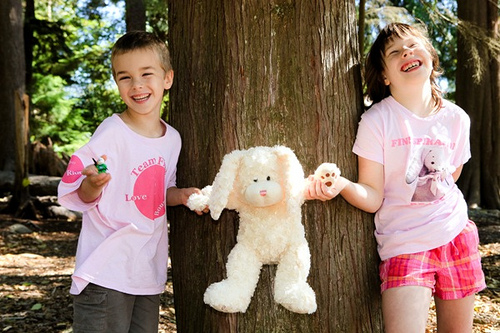 Aside from being a wonderful and comforting reminder of their brother, Finn, Baird and Sarah designed Finnspiration to raise money and awareness to the Starlight Children's Foundation in their goals to grant wishes and create beautiful memories for seriously ill children and their families.
I am not really one for the commercial side of Hanukkah, Christmas and other winter holidays, but I have to say this is one toy I'd be willing to buy for my nieces this Holiday season, especially knowing that the gift gives joy to other families during some pretty rough times.  I wonder how I can share this idea with my nieces, so they know just what a special bear Finnspiration is.
If you want to spread the love and awareness for Finnspiration you can comment on Raul's post with your inspiration (it says the contest closed yesterday, but based on his tweets it sounds like it's been extended until tomorrow, December 7th) or you can purchase a bear for $20.00 at any Toy R Us nationwide or online.
Okay I think I need to go have a little cry.
Kisses,
Emme xoxo