I'm a little late on finding my way out of the closet, but better late then never.  So here you have it:
My ever so gorgeous buddy and hummingbird604, Raul, is hosting a wee fashion event tonight, Fashion's Night OUT in Schools.  Great event!  All proceeds go to combating ignorance and bullying of homosexual youth in schools.  And you know this event is going to be just simply FABULOUS darling!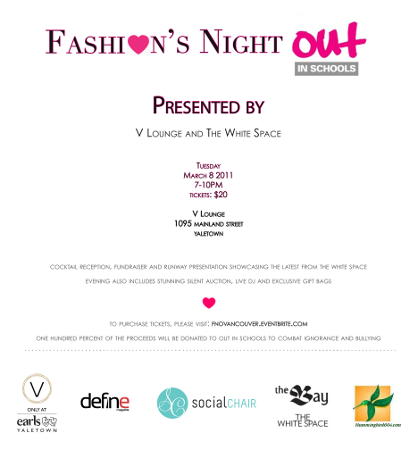 So the deets:
Date: Tuesday, March 8, 2011 – TONIGHT
Time: 7:00-10:00 pm
Venue: V Lounge at Earl's Yaletown (1095 Mainland St)
Pricing: $20
What to Expect: fashion show and short video presentation, a glass of wine for the first 100-150 people or so, cocktail reception, stunning silent auction, live DJ, and exclusive gift bags.
Now the tough question … what to wear? … and who to decorate my arm with?  Damn theres a lot to do before 7 pm!
Kisses,
Emme xoxo