On Friday, Saturday, and Sunday (March 4-6) the Douglas Arrowsmith film about singer-songwriter Ron Sexsmith Love Shines was broadcast on BBC4. The broadcast reached the big audience that Sexsmith has built up over years of releasing records and touring there. But, it also reached a new audience in those quarters, too, in part because of word-of-mouth efforts by many of the fans who already know and love his music.
Reaching new eyes and new ears where Sexsmith's music is concerned is perhaps the main aim of Love Shines director Douglas Arrowsmith. The documentary was shot during the time Sexsmith was working up material for the Long Player Late Bloomer album, Sexsmith's latest record, produced by Bob Rock.
The core of the drama in the film is that of unique songwriting and performing talent Ron Sexsmith, celebrated by a cult audience, striving to get his music heard by more people. During the course of the film, he confronts his own identity as an artist, and is challenged to determine his own definition of what success actually looks like. All the while, the idea of fans championing his cause is pretty central to the soul of the movie.
Some high profile artists count themselves as Sexsmith admirers. Rod Stewart, Michael Buble, k.d lang, and Coldplay's Chris Martin have all recorded Sexsmith's material. Feist is another, and she also appears in the film. Elvis Costello, an early Ron Sexsmith champion, continues to sing his praises in an interview section in Love Shines. Steve Earle, who appears in the film as well, was the producer of the excellent 2001 Blue Boy album, and remarks on Sexsmith's deep musical well. The list goes on.
Where many are familiar with those famous names mentioned, Sexsmith is not exactly a household name himself. Regardless, he's something of a veteran anyway, with a twenty-year, twelve album recording career behind him, and with dues paid before that time as a struggling musician by night, holding down a courier job by day. Long player, late bloomer, indeed. But, partially thanks to Twitter, Facebook, the Ron Sexsmith online forum community, and a new album and documentary for them all to talk about, the perception that Sexsmith is an untested newcomer is changing.
For instance, the broadcast of Love Shines on BBC4 trended on Twitter in the UK during each airing, and internationally too, indicating great viewer numbers and a significant achievement for fans, who were instrumental in spreading the word.  Significantly, this helped to sell records, too. The Amazon charts went from 6-2 in the rankings immediately after Friday's broadcast and the parallel chat on social platforms, with a number of Sexsmith's albums showing in the top twenty.
Not bad for a"cult" artist.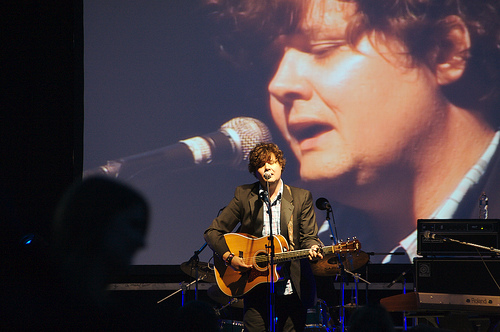 It is a compelling idea that Sexsmith is something of a throwback singer-songwriter that would have been very welcome on '70s AM radio, had he been born twenty years earlier. His work certainly would have fit in with that of artists like Harry Nilsson, Carole King, Elton John (yet another documented Sexsmith fan), Jackson Browne, Bill Withers, Joni Mitchell, and Todd Rundgren.
Yet, in other ways, Sexsmith being championed by so many voices all at once online can't be easily dismissed. It has been these online communities championing Arrowsmith's film, and Sexsmith's music by association, that has really pushed Sexsmith's exposure to that wider audience so far. It's important to note that Love Shines director Douglas Arrowsmith is a fan himself, with the same goal shared with the very active community of fans on social platforms: to get Ron Sexsmith's story told, and to get his material heard, bought, and celebrated. This concerted effort between artist, filmmaker, and fans is a very 21st Century phenomenon.
This is another layer to be found at the heart of the film; that the artist's struggle to be heard by more people is actually also the very welcome and joyous struggle of those who already appreciate his work. This core of the drama goes beyond the interest of TV broadcast numbers, licensing, and international boundaries. It becomes something that great art was always intended to be; a shared and transformative experience.
Read more about the upcoming premier of Love Shines at SXSW in Austin on March 15, 2011 at 6:15 PM, where an even larger potential audience will be reached.
Also, be sure to become a fan of the Love Shines Facebook page for frequent news and updates that pertain to the film.
And thanks to Emme for allowing me to publish this piece on her site!