If you haven't heard the news yet, I have recently been brainwashed by an amazingly inspiring talk and decided to venture into the world of vegetarianism. As someone coming from the land of good food (i.e. China), my initial instinct is to jump onto Google and Yelp, searching for the Vancouver vegetarian restaurants collection. Diving into the world of good bagels and tasty salads, something unique caught my eye – Gorilla Food; raw, organic, vegan, and live foods only.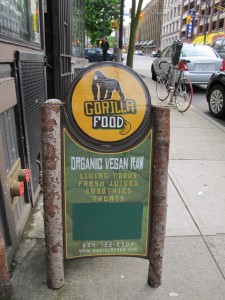 I don't know what your initial reaction is, but a picture of a huge bowl of grass and leaves suddenly popped up in my head as I was reading this. In fact, Gorilla Food has quite a positive review on Yelp. But coming from a background where no food goes uncooked, I wasn't convinced. Now, there is only one way to find out – try it out myself.
Gorilla Food is located at 436 Richards Street, downtown. I parked my car in a nearby parking lot and headed towards the dim, semi-underground room that looked almost like a pub. For a restaurant with such a well developed website, I was sure expecting a bigger space. But the yellowish light, the tree decoration, and the interesting paintings around the walls made Gorilla Food small, but intimate. I heard people at the other table discussing science and philosophy. As we took our order by the counter and sat down, I felt like this indeed was a good place for some profound, intimate, and philosophical conversations.
Before I let go of the big secret of how I liked the food, let me first tell you what my expectations were. To be honest, I came here expecting to eat like a cow. I was expecting a variety of unusual salads with mysterious dressings and odd-looking leaves. With maybe a banana for dessert. I have had some good experience with Vegan desserts by now, but nothing so far was entirely raw. After all, how can you substitute bread?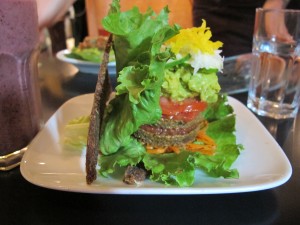 As it turns out, you can. There are a variety of different raw bread recipes you can find online, which basically involve mixing a bunch of vegetable pulps together before dehydrate them. It's not an easy process, but it's do-able. And I have to say it tastes very different, in a good way. Plus it's not only green and organic, but also healthy and low fat.
So how was my dinner? I must say, if gorillas eat like this, I wouldn't mind being a gorilla. Frankly speaking the dishes don't usually have the best looks, but they do have some one of a kind tastes. I ordered the GO Veggie Burger and my friend ordered the Green TACO (the capital letters confused us too). We didn't leave a seed behind. Although the only ingredients I could identify in the burger were tomato and lettuce, it had such a rich taste that beats many of the dining places I am used to – the ones which serve well-cooked meat dishes that make you schedule an extra hour of workout for the whole week to burn off the additional fat.
For me, the best part of a meal is always dessert. And Gorilla Food has the best apple pie I've ever had. Seriously. Remember the usual apple pies you get from restaurants where they're either too sweet or too sour or both? But because the apple here was uncooked, it was sweet to just the right degree. With a hint of coconut milk, it was the highlight of the meal.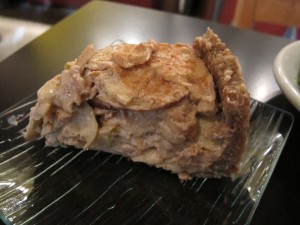 I guess now the question becomes: will I go raw? The answer is, sadly, no. But though I'm not confining myself to a life of eating cow food, I will definitely come back in the future to try out other dishes at Gorilla Food. Humans mastered the secret of cooking with fire after thousands of years of raw eating. Interesting how thousands of years later, we're developing ways to cook without fire – all for the same reason, to survive. If by eating more vegetables than meat we can make the planet a little better, I'm willing to try it. If with food as good as Gorilla Food, I'm willing to try a bit harder. And yes, I will order the apple pie next time again.
Love,
Summer