It was by sheer chance that I recently stumbled upon some really powerful articles arguing about how, if we eat less meat, the world will become a better place, at least for farm animals. In fact, they were so powerful that I have made a decision I thought I'd never ever consider – I'm becoming a weekday vegetarian.
"Wait a minute," I can almost hear you say, "a weekday vegetarian? Is that even allowed?" Let me begin by saying that there are two types of people in the world: ones who live perfectly happily without meat, and ones that can't, and I belong to the latter. So that is why I have never considered the possibility of me doing something like that until I came across this amazing TedTalk by Graham Hill, the founder of TreeHugger.com.
Graham Hill proposed an interesting idea of being a weekday vegetarian, saying that if all of us become part-time vegetarians, it's as if half of us have become full-time vegetarians. Very appealing proposal for someone who barely knows the names of a handful of veggies, like myself. And that's exactly what I'll do. Starting today.
My breakfast today was an apple turnover at Blenz. Not the healthiest choice, but with bacon sandwiches and ham croissants out of the picture, this was the best I could get. Did I mention I am rather picky about food? In fact one of the main excuses I had for not going veggie was that I hate green peppers and carrots. Strangely enough, these are among the most popular must-put-ons for pretty much any veggie dish I've seen. Am I worried? Yes, but since people survive with peanut allergies or lactose intolerance or diabetes, I figured disliking green peppers and carrots probably wouldn't kill me, or my veggie devotion.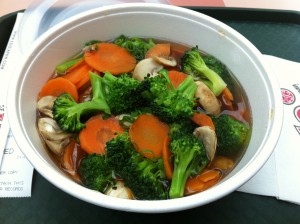 And then, here comes tonight – the first challenge I must conquer before I can put that "gone green!" label over my forehead.
As a newly-pronounced weekday veggie, I have yet to discover my secret collection of the "that tastes so much like meat but it's actually made of tofu!" places in Van city. Don't worry, I'm not starving yet. I know this one place on campus that makes amazing bagels. Last time I had a mixed-fruit bagel toasted with butter that totally brightened my day. (Butter! I know! But as a beginner I haven't gathered enough courage to try vegan yet. Maybe later.) Only this time, it's closed.
If you are a student like me, you'll probably know that there aren't a ton of places to eat during summer time. There was a good pizza place close by, but their only veggie pizza was practically covered with green pepper. I had a real struggle with my id over whether that pineapple-and-bacon pizza was okay – there were only few slices! – and somehow managed to step away. Victory!
Without too much winning spirit, I walked to my last resource before having to go to class with an empty stomach – Starbucks. Hardly sounds like a dining place, but they do make Panini's that at least look pretty good. Unfortunately, there weren't any veggie ones. I thought about starting with an "I'm vegetarian but I sometimes cheat with fish because fish don't feel pain (which, by the way, is not true)" attitude just to get the momentum going, but then decided having tuna for dinner on my first vegetarian day wouldn't be very encouraging. Being not the biggest fan for yogurt (I said I was picky), I went for fruit salad and lemon raspberry loaf.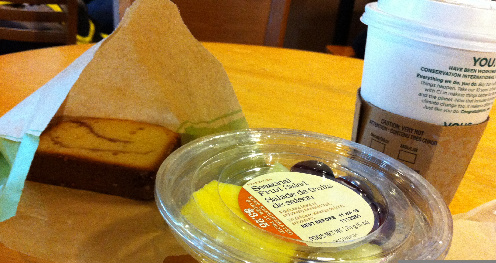 Now, here's the first day of my green life. Not the biggest success one can expect, but I'm getting there. Will I be strong enough to continue, or will I surrender to temptation some day? Most importantly, will I ever find my secret collection of restaurants that are both green and awesome? We'll see about that.
Love,
Summer