So I was taking my life-sized self-portrait painting back from the studio – the product of me trying to train the artistic part of my brain by taking an introductory-level art class. It was two days before recycling day at school, and I almost left it there to be pulverized for the good of the planet. But then I figured I should probably keep it, if only for a while, since I had worked on it a long time and taken pains to finish it. I knew that at least my mom would like to see it. So I tucked it under my arm and began my journey home – by bus.
This much I can say: the ride was very, very embarrassing indeed. I didn't have anything to cover the portrait up with so I sort of had to cover it with my body – only the middle part, of course, since I was carrying it sideways. But it was a nice day, so even this did not spoil my mood too much. I dropped my U-pass as I entered the bus, but the driver kindly picked it up for me. It all started well.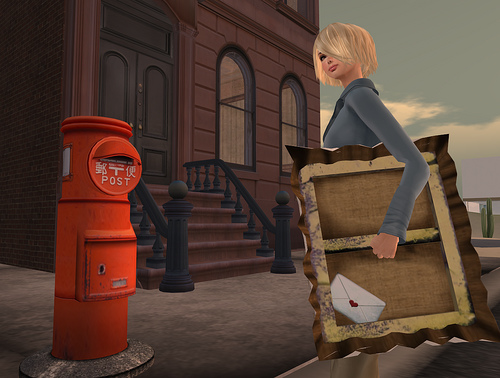 Just before the bus took off, this guy got onboard. He was in his 40s or 50s. As he sat down next to me, I could tell he was peeking at my canvas because I had it leaning with the painting side towards me. "Well, people get curious," I thought. That's normal. Incidentally, we got off at the same station. He got off first but slowed his pace so he could talk to me. I was expecting a compliment on my work from him, but I was in store for more than that.
"Is it… your mom?" he asked. Not a perfect start.
"It's me." I smiled and held it right side up so he could see. We were still in the middle of a sidewalk so I didn't hold it up long. I wasn't all that upset about his comment since at least he could tell the subject was something resembling myself. I added helpfully: "It's a real-life sized self-portrait."
"Wow, that would be my second guess. Really well-done. Did you paint it from a picture?" "Yes, I did use a picture." It was true. A friend of mine had taken a picture of me which I then used to paint from. I smiled a little more as he kept mumbling "really well-done" and "very good". I have to say I was very much flattered.
He went on: "So do you do wall-paintings or something? Could you paint on a wall if I gave you a picture?"
This was going in an unforeseen direction, and a rather strange one too. I hesitated but kept my smile: "I've never done that, but I suppose that it's possible."
Then, he said: "Well, do you…do you work as a painter or something? Can you do a painting from a picture, if I give you one, you know, like a wall painting?"
These were all the thoughts running through my head at the time, in order of occurrence:
1, Are you serious?
2, If I say "Are you serious?" would it sound like I'm interested in actually doing it?
3, This is 100-level visual art, and I'm barely keeping my mark above 70%. Is he trying to pull some sort of a scam, or is he just a really nice guy who doesn't know much about art?
4, Was I missing a huge opportunity for an amazing story by saying "no"?
5, I'm not trying to be an artist here, you know.
6, I've been thinking too much and thinking off track. I should really say something now.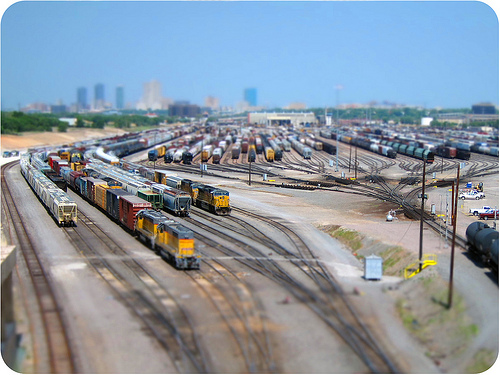 All right. To be honest, I don't remember exactly what I said afterwards. I guess that's what shock does to your brain. Plus I was having like 5 trains of thought running on at the same time in my head, which was probably a handful for both my working memory and long-term memory. But anyhow, I said something like "I really don't think I'm good enough." I guess the train-of-thought number 3 was most dominant at the moment.
He said: "Well, I think you are. But if you rather not do it, I suppose that's fine."
And I thanked him yet another time and departed.
Then I think my trains of thoughts just crashed into each other. I have no recollection of how I walked through the remaining streets and hallways of my apartment building and got home.
You know, to be honest, I don't think I'm a modest person. If I think I'm good at something, I can hardly hide it. But in this case, I really, truly, sincerely, don't think it has something to do with any tendency to modesty that I might have.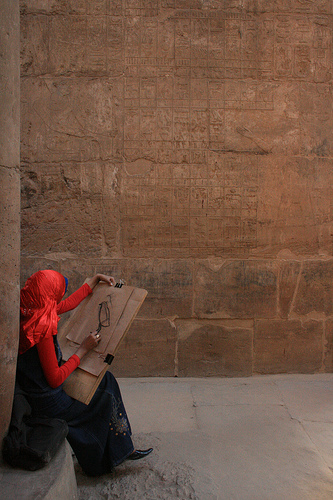 Here's an example to explain myself better: my mom looks very young for her age. All the salespersons are shocked when I call her "mom" in stores. It's happened so many times now that we hardly feel anything but "here we go again," when it happens. I mean, as a woman she feel happy when people think her age is 5 years less than her actual age (which I won't tell here, promise, mom). But occasionally we encounter people who are either trying very hard to please her, or are extremely bad at guessing someone's age – they'd say to my mom: "you look like you're in your 20s!" Now, I promised not to talk about her real age, but I can also promise you that it's way over 20 – she's my mom, after all. At times like these, she just gives a really awkward smile and nod in reply. After one of these encounters told me that it sounded so  . . . so far-fetched that she doesn't feel flattered any more when someone compliments her in this way.
Well, that's what I felt today. The praise I received was so over-the-top that I couldn't really take it as a compliment.
No doubt I was happy and that the man totally made my day, but come on. I was taking the introductory visual art course, and still barely keeping up with the class average. Yet here was me: a B-student, carrying a canvas on one of the most embarrassing days of her life, taking the bus, bumping in to this guy by chance — and then being offered a painting job to do?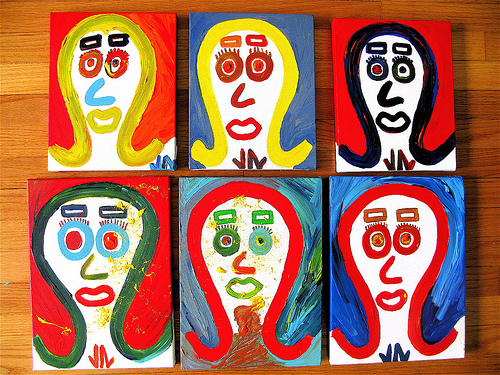 Okay, all right, I might be taking this more seriously than he expected me to. Chances are what he meant wasn't a serious "job," and all he wanted was a random piece he could hang in his living room while pretending to be artistic (sorry, Mr. Man, but picking me really made me doubtful of your sense of art).
But here's the real reason I'm writing this post – well, one of the real reasons, aside from keeping a record and showing off the amazing day I was asked to paint for someone – is to ask a question: am I being too dogmatic about what makes good art? I mean, although art is an acquired skill, and the grade I received in the course suggests that I was no where near mastering it – does it mean that it is impossible for me to produce a good piece of art? Even if my piece is to be artistically horrible, as long as someone likes it, and enough to hang it in his own living room, who cares? I'm not pretending to be a master artist here – so even if I happen to sell a painting, completely by accident, it's not like I'm cheating right?