As I walked towards the counter, looking at the hundreds of colorful files behind it, I felt a knot tighten in my stomach. I watched my sister disappear behind the frosted glass doors, which may as well have been a thick black curtain, as I couldn't see the other side of it at all. I thought this may have been in consideration to people like me, anxiously waiting in the room designated for that purpose. Who would want to witness the going-on on the other side anyway?
I sat down, waiting patiently for my sister to come back out from that hole to hell. The strong smell of this entire place hit me. It was quite a familiar yet frightening smell – the smell of a dental clinic. Kind of like the mixture of plastic and lysol; overall, not very pleasant. Then, I saw a man in a light green uniform emerge and walk back and forth from the room to the counter. As soon as I saw his face, several memories, good and bad, flashed across my mind.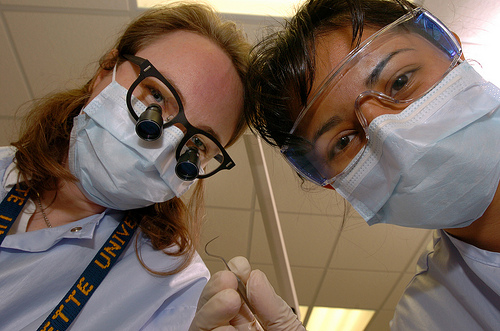 Soon it was my turn to go into the bloody chamber, which I had unfortunately seen many times before. After I submit to having my teeth cleaned, they put two pieces of spongy materials along my teeth and asked me to have an x-ray scan. That sounds like fun, eh? But let me tell you this: having something wrapped around your gums and teeth is not entirely enjoyable. I was just glad when it was over! However, here came the bad news: "Kelly, I think you may need to get rid of your wisdom teeth. They look like they are growing at a problematic slant."
They waited for a reply, but I was speechless. Wouldn't you be, when they made it sound like pulling teeth was like a walk in the park? So they asked for my mum and told her about the situation. She agreed to have them pulled out – of course she would, they weren't her teeth — and so I was due to be back in the clinic after a few days.
As you may have gathered, I have never liked going to the dental clinic. The images of tools and the high-pitched drilling sounds creep me out. Whenever I go to one, my whole body becomes a robot. Every muscle tightens up, and I just cannot relax even though I am lying down. This time was no different.
Looking up – the only direction I can look in the dentist's chair, come to think of it — I could see this huge, powerful round light above me; just like a big hot sun. Before I put on a pair of dark glasses to block out the intense light, I caught a glimpse of all the dreaded tools laid out on silver tray: a little knife, a little drill like tool, a clip, and some needles.
I forced myself to close my eyes and to stop thinking about those ominous implements. From previous experience, I knew that the dental tool which shaped kind've like a spoon could reflect what was going on in your mouth. If I opened my eyes even for a moment, I might see them drilling a hole and blood splashing everywhere. Even so, there were times I just wanted to take a peek (maybe the same perverse desire I sometimes have to peek during a horror movie…) Very soon, I could feel the dentist's plastic gloves on my lips. Then, a stink of painless numbness spread through my oral cavity. I could feel my lower lip just slide uncontrollably to my chin. (That could be a rather funny image, I wished someone would just snap a picture of that. Oh well, too late now.)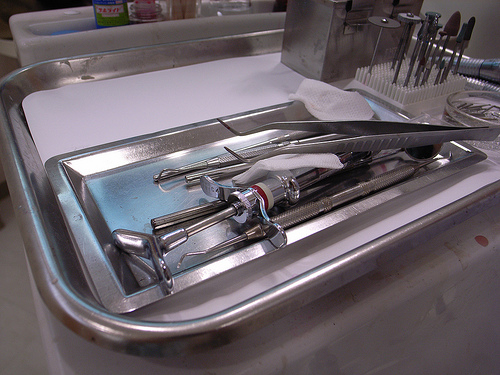 In my altered, anesthetized state, I could hear the dentist picking up instruments from the tray, spraying something, that I'm grateful I could not taste, into my mouth. In came the suction tube — the sound was definitely the most unbearable part of the process. I felt like the dentist imagined my gums and teeth to be their construction site. His job was to drill and hammer, making an electrical buzzing noise.
After a while of telling myself to relax, relax, relax, I finally started to – just in time for the dentist to start pull out my teeth. I could feel him using his muscles to pry them out. I was surprised to find that it didn't hurt; I just felt like someone was dragging my tooth out; similarly to how I drag my dog away from sniffing at other dogs' behinds at the beach.
When the show was over, the dentist showed me my huge wisdom tooth. He was surprised how gigantic it was too. I almost asked him whether I could keep it, but he told me that what I was looking at was one part of my ex-wisdom tooth, as he was not able to pull the whole thing out at once and broke it into two pieces. Next time he promised he would try to pull a completed one out, so that I could keep it.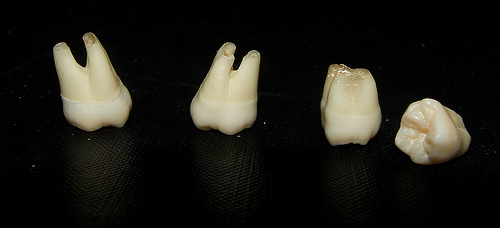 Yes, despite his deadly instruments, and only in retrospect, my dentist is a pretty nice guy. I murmured something to the effect on my way home. My mum responded by telling me that he is pretty cute too. I guess no matter how old you are or whether you are married or single, you will still check out guys. I wanted to laugh out loud as I heard what my mum said, but the anaesthetic effects were not over yet. I trust my laughing muscles will be back in action soon enough, though.