The opening night of Bare: A Pop Opera was my first experience at a Fighting Chance Production. I'm not a die-hard fan of musical theatre for its own sake, which may be because my experience of it is pretty much limited to classics like The Producers, Don Giovanni, and Singin' in the Rain. Though I enjoyed them, I would occasionally sigh and wonder why oh why do they have to have another song there, when it does little or nothing to deepen or further the story. (To be fair, hypoglycemia or whether or not I knew the language may have contributed to said annoyance, but nevertheless, en route to an evening of musical theatre, I usually have a whisper of worry that it might be overwhelmingly, redundantly — well, musical.)
That said, I've been wanting to watch a Fighting Chance Production for some time now, and having heard such good things about their musicals, that any such pre-emptive worry while riding the bus to the Waterfront Theatre on Friday was at a minimum. Also, I was looking forward to Bare, John Hartmere Jr. and David Intrabartolo's play, as it's subject matter was of special interest to me, having spent high school in a setting similar to St. Cecelia's Catholic boarding school where the play unfolds.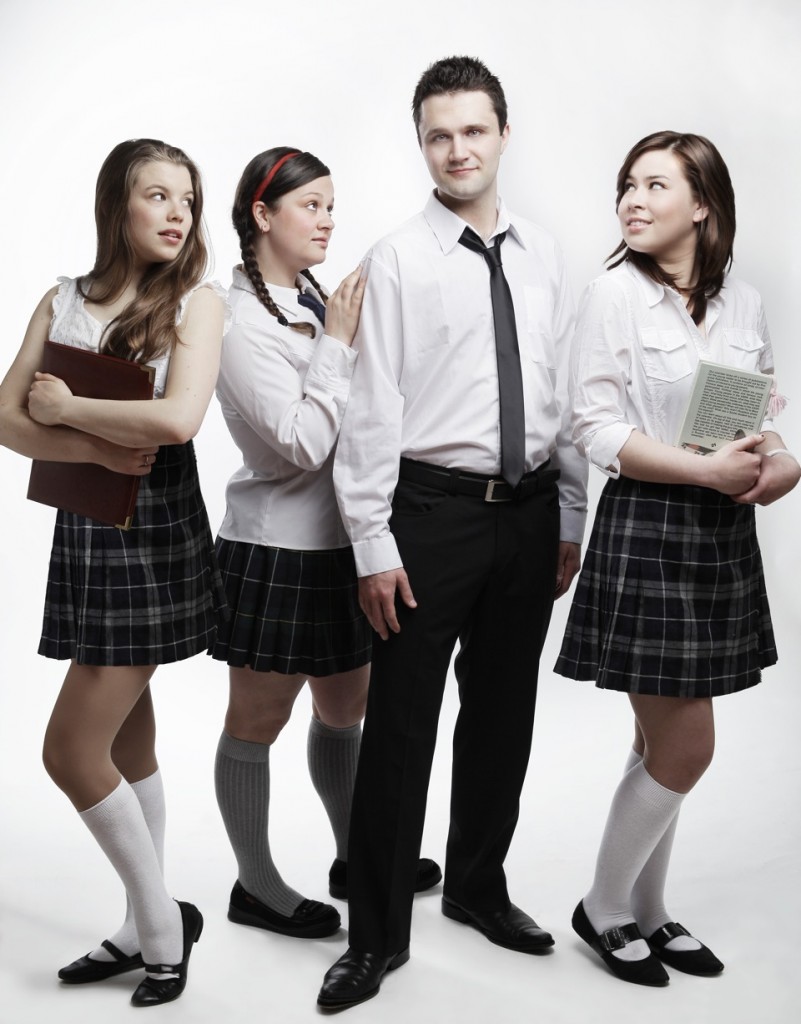 I could really empathize with many of the play's senior-year protagonists, who struggle to reconcile themselves and their sexuallity with the categorical "rights and wrongs" handed to them in their religion, and who are left ashamed, confused and unsettled by the advice they are given to purge themselves of wickedness with self-denial and discipline. Bare addresses the students' dilemmas in a highly entertaining, emotive way  — I especially loved the the surprise appearance of spunky, soul-singing Virgin Mary, with her backup-singer angels in attendance.
Though the play deals with serious, even tragic issues, the story is wrapped in the infectious exuberance of the youth, who push boundaries despite any fears of punishment, mortal and divine. Even while mulling over the larger concerns of the play, you gotta love them for their never-day-die spirit — secret rendezvous, pot brownies, 'borrowed' cars and all.
Finally, about the music I was so wary of: I loved it. Though there was pretty much music and lyrics instead of dialogue, I loved every minute of it. At no point did I ever feel it was tiresome, or over-the-top — on the contrary, I could only admire the amazing singing talent of the actors, and marvel at how they do both so well, and at once (perhaps I'm just learning to appreciate musical theatre, now). The story being told in song really deepened the emotive aspect of the play, and gave the effect of the characters really laying out their souls in song — bare. And their honesty is touching.
Thank you Ryan Mooney and Caitlin Hayes for directing a great performance!
You can see Fighting Chance Productions' Bare: A Pop Opera by Hartmere and Intrabartolo until August 13 at the Waterfront Theatre on Granville Island. Shows run between Tuesday and Sunday and start at 8 p.m.