Ah, British comedies. It has been awhile since I'd seen one, not counting low-res episodes of Fawlty Towers that I seek out occasionally in dark but pleasant corners of the internet. The opening night of Eric Chappell's play, False Pretences at the Metro Theatre was a full dose of that dry, absurd humour that I will always look to British comedy for. There's nothing like it on a day I want to chuckle frequently, think very little, and watch some light entertainment with someone in a similar mood.
Of course, not all British comedies are alike. False Pretences was written by one of the most well-known sitcom writers in the UK: Chappell wrote several of the most popular  TV-shows of the 70's, 80's and 90's. There is something light and sit-commy about False Pretences — I could envision the play as part of a series, with the characters getting into new and hilarious scrapes each episode.
("Scrapes" and "nutty" — my, I really am in the Brit slang mood).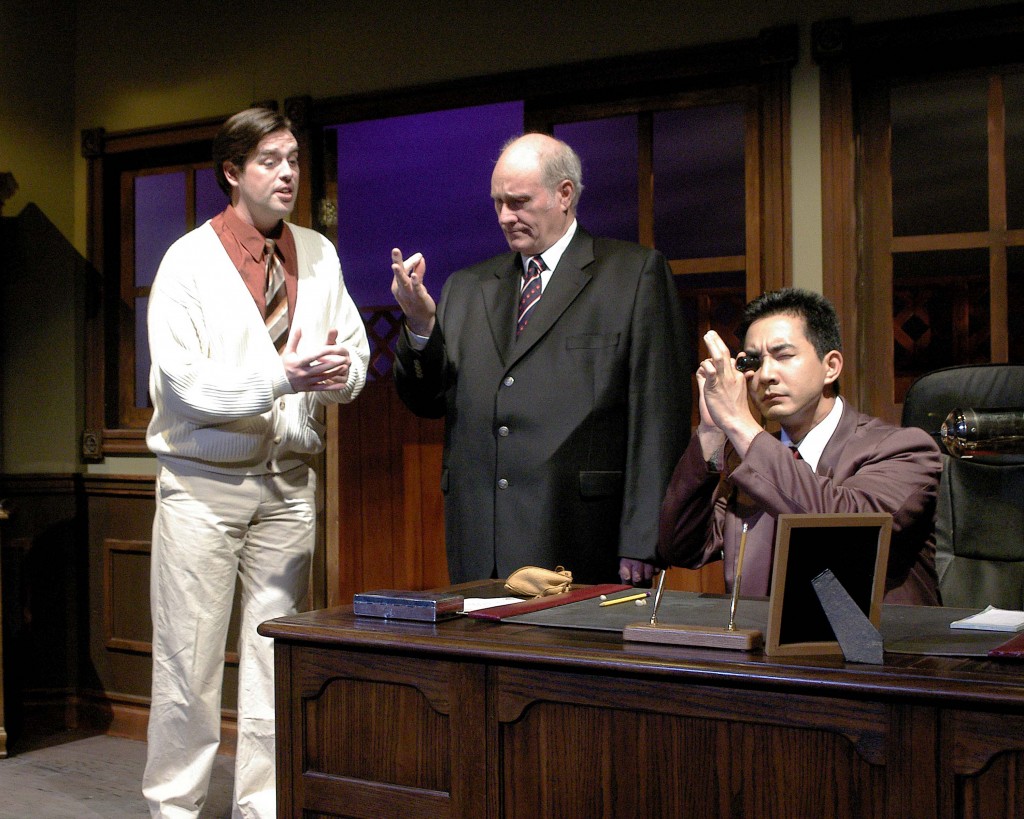 The Metro Theatre is a big fan of Chappell's work, and has performed several of his plays in the past (one of which Emme wrote about back in spring). They plan to include more of his work in their upcoming seasons — productions I'd be interested in, as it would be cool to see how one theatre company's take on a playwright's style may vary from play to play.
To whet your whistles, here's a bit about the story. All is well in a house in a middle-class suburban neighborhood until a "silver-tongued" someone is finally returning home from prison. Someone turns puce making objections to the new arrival, but the cheery jailbird isn't going anywhere. Stories are improvised and schemes are laid…at some point another ex-prisoner staggers onto the scene, but disguised under a very different profession than con-artist. I can't say more about him except that his wonderful name is Soapy Simpson (which he changes for the benefit of his dupes, of course).
Other dramatic ingredients include: diamonds, with wild plans to steal, re-steal and un-steal them that go awry, threatening bankers that turn into comic gas-bags within a short scene, priceless lampooning of UK private school snobbery & silliness, a treasure map, plenty of jokes about sex and marriage, investors' greed, a lady being wooed, a surprising plot twist, and a flamboyantly improvised tribal dance.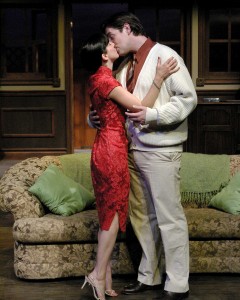 Thanks to director John Hedgecock, and the cast for many memorable performances: Sarah Arnold (as Valerie Bunce), Tracy Labrosse (as Lucy Myers – pictured above), Christopher Dellinger (as scallywag extraordinaire Victor Blake), Tom Kavadias (as Soapy Simpson, his artful accomplice),  Rob Gillespie (as Tank Turner), and James Rha (as Toby Rogers). A special thanks to Robert Sterling (as Kevin Bunce), who — I am certain — can turn several shades of puce at will. Thanks and bravo also to Tracy Labrosse who acted in the play in addition to producing it.
You can see Eric Chappell's False Pretences at the Metro Theatre until Sept 24, 2011. The show will run Thurs-Sat at 8 p.m., with two 2-p.m.  matinees on Sunday Sept 4th and Sept 18th.
For those who'd like to see it, here is a video teaser of False Pretences, from the Metro Theatre's YouTube channel. I'm off to search for some British comedy of the more ridiculous kind…
…don't say I didn't warn you about the video quality!