While taking a break from my unpacking, I stumbled across this fun youtube video on the art of Japanese t-shirt folding.
I watched it over and over, trying to figure out the technique and then I found it in English!  I had an Oprah 'AHA' moment and realized that if I mastered this method, it might open up a whole new world of closet and drawer space.  I got out a stack of shirts to practice with and after a few hand-tangling attempts, I got the kind of praise a shirt folder longs for: "Mom! Those look just like how they display them in the stores!"
I did a little experiment to determine if my new-found art form would really make a difference.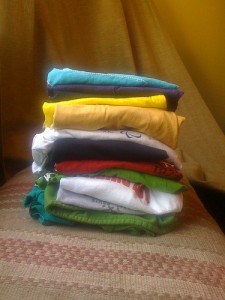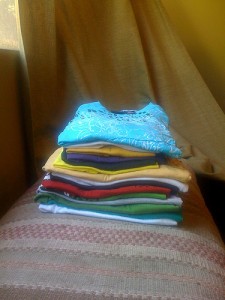 I have to say, I was impressed.  I never thought I would catch myself having this thought, but I'm actually looking forward to doing the wash!