2011 has been a sad, sad year with the loss of many a great individual and friend.  For Canada as a country, we could not have a greater loss than the incredibly sad news we are all waking up to this morning, the loss of our Great Leader Jack Layton.
My heart goes out to his family and I thank you for sharing him with the rest of us for so many years.  He gave us a sense of hope and pride at a time where there was none coming from the Prime Minister's Office.  He was a man we could all be immensley proud of and scream from the roof tops proclaiming "I am a part of Jack Layton's Canada."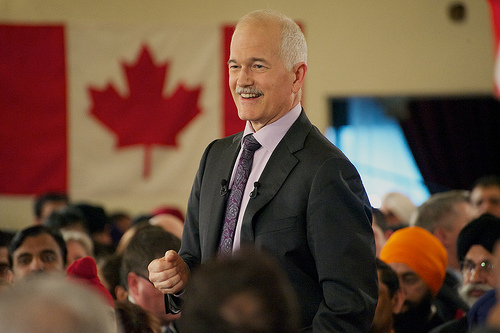 I never had the great pleasure of meeting Jack.  My brother did and he has proudly showed off his picture of him and Jack to all whom have entered the house since. Neither of us are NDPs, but we were both proud to call him our leader and to boast that he is a part of our country.
Canadians let us not let Jack's legacy die.  It is our turn to make Jack proud.  It is time to stop the fighting between the NDP, the Liberals, the Bloc, and the Greens. It is time to unify and work together to create a better Canada, a Canada that Jack can be proud of.
Thank you Jack for all that you've done for Canada, for giving us a leader to be proud of, for giving us hope for the future, and just being an all round great guy!  We love you Jack!