I just hate waking up in the middle of my sweet dreams. Why do people need to be so cruel to text or call someone in the morning?
The other day I was again woken up by a text message from a friend at 4 am in the morning! I was going to just hang up on her. However, remembering she was living in Hamilton, Ontario at the time, I just did not want to be a meanie. I glanced at her text which just completely brought all my wandering soul back into my body. She told me that she saw a flying blue caped man just outside her house. Originally she thought that someone was going to break into her house as she heard a lot of noises from her frontyard. She quickly grabbed her hockey stick as a weapon and looked through the window and saw the blue caped man flash across the window. Although I am a big fan of superheroes, I am not inclined to believe that anyone in the world actually has the ability to fly.
Very soon, she just climbed back into her bed to sleep, as the man who could have been a thief had left. I, too, was satisfied with this decision, even though I kept on thinking about this superhero. When I woke up later in the day, I got an email from her, which revealed the mystery of this blue caped man:
Sorry for waking you up so early in the morning.

Apparently, the man is not a superhero. His name is Blue Box Man. He is just a crazy person, wearing a blue cape that checks out what kind of stuff goes into our bins. He was not flying around in the yard; he just got excited by my mum's work of dividing all our stuff and putting them into the right bin, so he sprinted off to grab us a golden box, as a reward. You know what, when she got the golden box, she grinned like the Joker. Okay, that was a bit yuck! She grinned like she was wearing a gold Olympic medal. Insane, eh? Now my mum is trying to keep up with her good work; it almost seems like she is back to kindergarten again, making an effort to get a prize from her teacher.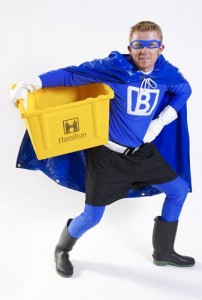 That was a little excerpt of her email. I was quite interested in the appearance of this golden box and what was going on, so I went to dig out a bit of information on google. Ha! I then found out the truth. The blue caped man was rewarding the residents in Hamilton with a golden box for properly sorting the stuff into their bins. For example, food scraps should be placed into the green bins, paper and cardboard should be in one of the blue boxes, and bottles, cans and jars should be in another.
The blue caped man was indeed a hero, even if my friend did not say so, because he was trying to encourage people to recycle and to make this world more sustainable for us to live in. Isn't that every superheroes goal; to protect people from harm?! I really like how this hero stirred up this green recycling wave in the city, so now people who have a golden box will be proud of what they have done and act as a role model, encouraging others to do the same. Maybe it is time for Vancouver to do something similar? Now let's have a green hero in the city to create an environmental friendly vibe and make everyone get excited by the idea of recycling.