Our family are Canucks fans.  Having lived in Vancouver the last several years we 'caught the fever' and had many commercial Canadian hockey moments, especially last year during the Stanley Cup Finals! We have watched games at home just the 4 of us, watched games at parties and friends houses, and of course my husband and I have watched them at sports pubs.  During the finals last year when we watched the games at home, my daughter would yell updates off our deck to all the people on the street.  We have painted our faces, adorned our jerseys and initiated spontaneous neighbourhood parades with the local kids.  One thing was missing though, we had never seen them live.  Tickets are crazy expensive and really hard to get.
Who would have thought that when we moved to LA all that would change for us?  Los Angeles is home to the LA Kings hockey team.  This week the Canucks came out here to play them and we were able to go to the Staples Centre and watch the game! We weren't even stuck in the nose bleed section, we had 3rd row seats in the 200 level right behind the goalie net.  The price we paid would shock Vancouver fans.  We were able to go for only $45 each!  There were plenty of tickets available on StubHub, many were even below the $20 range.  At these prices, Vancouverites could fly out to LA, see a game, and enjoy a great California weekend for less than a ticket to 1 game at home.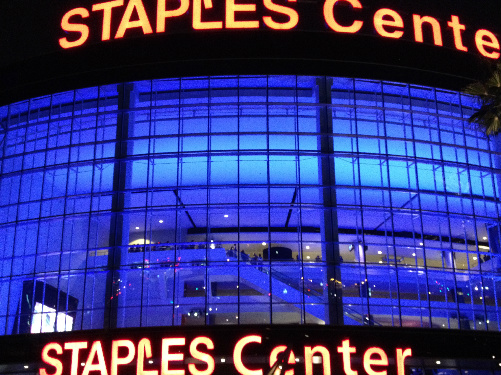 I was a little nervous going to this game though, because we all wore our Canucks jerseys and the kids brought their giant #1 foam fingers they carefully packed in our move.  I didn't know if the Kings fans would appreciate that.  As it turned out, we walked into an arena almost half full of blue white and green! Then it hit me…I remembered someone had told me that LA is Canada's 3rd largest city.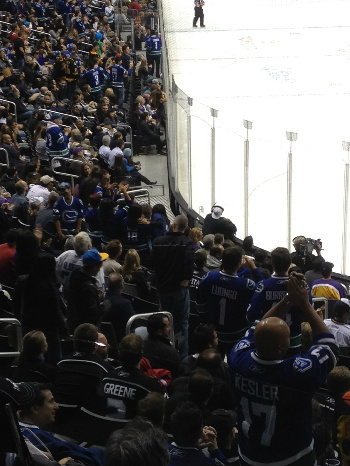 When the Canucks scored the cheers were so loud you might have wondered if they were playing on home ice.  The game itself was really exciting and having the chance to be so close to Roberto Luongo kind of had my heart pumping too!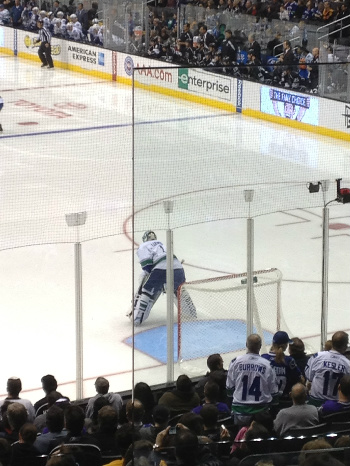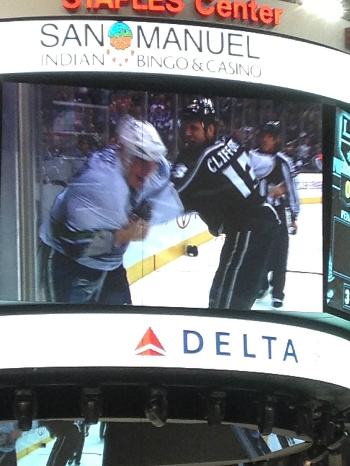 Our interactions with the Kings fans were pretty decent.  The guy sitting beside my husband took a big bite out of his hot sandwich and cheese sauce squirted out all over my husband's pants.  We all laughed about it and the guy commented on how he  loves coming to games when the Kings play Canadian teams.  He said if he had squirted cheese sauce on a Philly fan there would have been an all out brawl!  In the end the Canucks won and only then did we get told off.  "Go back home where you have pot and free health care!", some young kids yelled at us.  Hmm … jealously gets you nowhere my friends!