Last week I was fortunate enough to meet Craig Hall, Rumble Productions' Artistic Producer and soon to be Vertigo Theatre's Artistic Director. Craig is producing his last show in Vancouver before heading for Calgary, a favourite play of his called Snowman by Greg MacArthur. This is Part 2 of that interview, focused on discussing the theatrical phenomena of Hive and the Fourth Wall of the Theatre.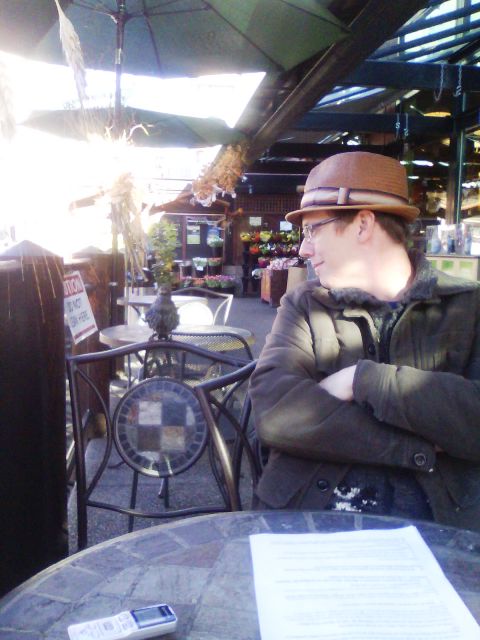 Hive for those of you not familiar with it was a collaboration between 12 theatre companies with 12 distinct performance and a whole lot of social thrown in. Think party, theatre-style. The Fourth Wall in the Theatre is the imaginary wall at the front of the stage.  In Hive this wall is removed by the audience becoming more of a participant within the performance.
As you read the interview below, the lines in bold are my questions and the chunks of elegant prose are Craig's answers.
I notice that after your becoming Artistic Producer of Rumble, the theatrical phenomenon of Hive began. What was the inspiration behind this project?
Hive was an event, but the predecessor of the event was a thing called Progress Lab, which was the brainchild of Kim Collier, the woman who runs The Electric Company. Kim had this idea that there was no conversation happening, that we were all stuck in our little companies, doing our thing and toiling away. She got tired of not being able to have a conversation about the problems she was having or sharing her successes and so on, so she started Progress Lab. It was a very informal thing: it was just an opportunity of every once in a while, getting together and quite honestly, drinking a bit and eating a bit and in a semi-structured kind of way we'd talk about what everybody was doing.
Well, you do that and inevitably, it leads to some ideas. So Hive was an idea that bubbled to the surface one night out of this collection of (at that time) eleven companies' artistic directors, artistic personnel and even administrators and managers. Everyone was so inspired and inspiring. I could not tell you the gist of where the seed of the idea came from, I don't think any of us could tell you that. And like Progress Lab it was an opportunity for us all to do something together. To give ourselves the opportunity to just do something outrageous or completely wrong, with no pressure of extended runs and everything else. We just had the chance to make these beautiful little tidbits where we could do something outrageous and see what happens. And one thing we didn't realize was that each of these companies had a limited reach for their audiences . . . well, you put eleven companies together and that reach is massive.
Kunaka Marimba band plays at Hive 2. Image from buzzbuzzbuzz.ca.
We didn't even advertise the event and it just sold out, because the buzz was out there. . . "What are they doing? Why are they doing this? Where are they doing this?" The buzz swept across the country, in the theatre communities at least. The second Hive we did at Magnetic North. They caught wind of it and asked us if we could do that again. For them it was a way for them to come to town and actually profile the work of eleven companies when they generally would only do two or three. That was another big success that sold out. Then with the Cultural Olympiad, they came back and asked us to do it a third time.
It seems that Hive dissolved the fourth wall a little bit, because it made the process of going to the theatre more participatory, drop-in and mingly.  Was the goal of Hive to make theatre that was more like that?
Yeah, I say I don't know where the seed for Hive came from, but in a way it sort of came from the desire to have a big party, and to have theatre be a part of that party.  Like you went in and you got a menu of what you'd get to see and as an audience member you had to actively work to make sure you could see the one that you wanted to see, and had to figure out how to get in. So it was very participatory, and some of the little shows were more participatory than others, but generally the feel of the whole event was very participatory and social … hugely social in fact, in a way that theatre generally isn't. You're usually stuck into this cold room, they turn the lights out and you sit there by yourself, anonymously. And in this event, there was no being anonymous. Partly because of the intimate nature of the work and partly because you had to interact with other audience members to figure out how they got to see this or that show.
Linda Quibell of Felix Culpa performs at Hive. Photo from buzzbuzzbuzz.ca.
What do you think the audience was receiving from Hive that made it so attractive to them and popular? Do you think there was some intimacy in the theatre offered with Hive?
I think there's that, and because of the nature of the theatre in Vancouver — Vancouver's always had really site-specific theatre where you have to go to this strange place [to see a show]– we don't have a lot of venues. I think that because of that the audiences here are used to participating a little bit and being thrown a bit of a curveball. I think the possibilities that Hive offered of a) being able to have a drink b) the fact that each of these shows is about ten minutes long c) if they didn't like it, they could go find the next one. They got this sort of taster menu, and people love taster menus at restaurants, because they get to try a little bit of everything. And I think in some ways these people could come to this event and try out the work of twelve different theatre companies, and then from there decide which companies they liked. Our hope always was that they would follow up with the companies that they did like and go to their other shows. I think the social aspect of it was what people really got off on.
In an earlier interview, you express how you're not a fan of the view of  'theatre as medicine', or something that's done as a chore. I've read that one of the purposes of theatre is to disturb the comforted and comfort the disturbed. Do you think this is what theatre should be? What do you think theatre does?
I think there's all sorts of kind of theatre. I mean there's pure entertainment — I'm about to take over a company in Calgary that really sees itself as a popular theatre. In the same way that murder mystery, as a genre of fiction, is seen as the junk food of fiction, well that's what murder mystery is in theatre as well, people like to come and have fun and be entertained and then to leave, to not have to challenge their political views necessarily — maybe subversively sometimes, but it's primarily about the entertainment of it. There's agitprop theatre, or theatre with a political bent and some people really like that — they like something that challenges the way they look at the world. I think theatre-makers make theatre for different reasons, sometimes to challenge the staus quo, sometimes just because it's like they have this really funny joke that they want to tell for an hour. With Canadian English Theatre, there is no real history or culture of it in our society. People get introduced to it, but there are very few people that grow up with it as part of their regular lives, so I think very often people are dragged there by someone who does go to more theatre — very often by their girlfriend or their wife, to be honest — and they're forced to sit there and take this thing in, and it's generally kind of boring and they don't necessarily understand the language and it's not really that relevant to their lives — at least I think that's the preconception that they go in with. But I think theatre in this town is rarely that anymore, and if it is it's Bard on the Beach or the Playhouse. But other than that I think theatre now is a much more rigorous, fun and engaged activity in the way that music is or fashion is — but I don't think we've managed to convince people of that just yet.
Craig Hall's last production in Vancouver for the time-being, Greg MacArthur's Snowman, opens this week and runs from November 4th – 19th, 2011 at the Arts Club Revue Stage on Granville Island.
Stay tuned tomorrow for Part 3 of the Craig Hall Interview and a look into the rehearsing of Snowman.