I was invited to 'mingle under the stars' at my first LA house party.  I knew by the invitation that it was going to be outside at night, but I had no idea how adult contemporary, rich and fabulous it was going to be!  Contrary to what many people think about California, it gets really cold at night.  There is no humidity to hold down the heat from the day, plus at this time of year the days are much cooler as well.  I suited up for this party as a proper Canadian girl…dressing to look hot and stay hot! Check out the sexy boots I wore (think ski bunny!).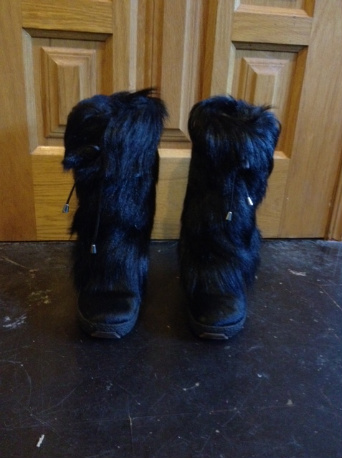 I also brought the fun with me in the form of a barrel of glow sticks.  After all, it was a girlfriend's birthday party and we all need to live it up on our special day.  As I walked up the driveway to the house though, I knew this was going to be a different experience.  Candles lit the walkway, which led around to the back of the house where a blue-lit pool with a red-lit hot tub let off a sensual fog that filled the yard.  There were swanky lights strung around and groovy music playing.  As soon as my eyes took in all the people I realized my fashion faux pas.  I was dressed for an outdoor night time party complete with a tuque and bohemian braids, while everyone else was dressed in designer cozy sweaters and high heels or slinky boots.  Most of them were gathered around a bonfire having very sophisticated conversations.  This was not your typical backyard bonfire either, it was a glorious architect designed bowl with gas flames.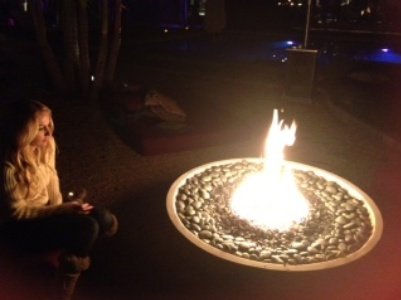 Now  I had two choices here: I could quickly ditch my coat and leave the glow sticks by the side of the house, or I could stay true to myself and inject some fun into this party.  I went with choice #2.  I took two glow sticks out for myself, wrapped them around my boots and spiced up the conversations.  Oh I definitely got the 'I'm better than you', and the 'We are too grown up for that now' looks, but I could tell they were all cold and wishing they had warm boots like me! I do admit though, I was secretly pretending this was my fab house.