Having once been a newcomer to the city and slow to make friends, I have often mulled over our 'eternal-iPod' culture, and thought about how isolating it can be for those of us who call the city home. During many solitary walks and bus rides, I contemplated how strange it is to feel lonely in a crowd — and such a common experience, when nearly everyone is plugged-in, and effectively miles away from one another while sharing the same space.
Joel Stephanson's Corridors: A Podplay, is among other things, an artistic response to that very experience: of being alone in a crowd, occupying the space of a million different people and stories, many of which are never brought to light.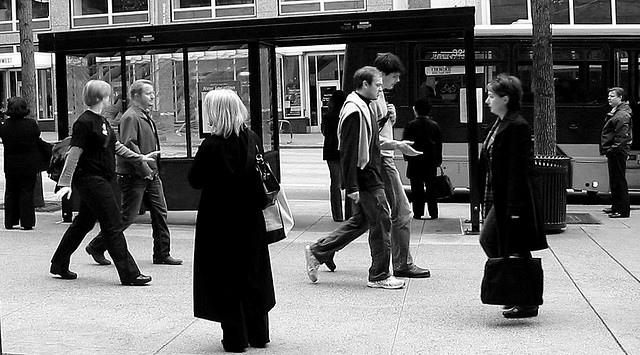 Quiet Hum Theatre Company's experimental offering uses the very same 'isolating' technology create a certain intimacy: through the iPod, we hear the stories of others, while a narrator guides us through the spaces they occurred in, many years ago. In Corridors we gather personal histories through our headsets, by way of overheard conversations and confessions between certain Vancouver residents long ago, while at the same time wandering the ancient Chalmers Heritage Building — also home to Pacific Theatre and The Holy Trinity Anglican Church.
I'd never experienced a podplay before Corridors, and so was slightly taken aback by its unconventional format. After being given an iPod, a prodigious pair of headphones,  and shown which the Pause/Play button was, I was left to wander Chalmers Heritage Building only loosely supervised, with the narrator gently guiding me to various nooks and crannies in and around the building. It was surreal to experience a play in which the only "special effects" were auditory, and where I was imagining the invisible characters at the very spot I was standing, many years previous, having the conversation I was hearing.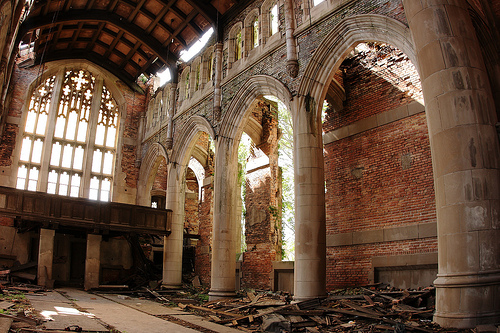 While I was listening, it was business as usual in the Pacific Theatre lobby, as Box Office attendants and other staff were getting ready for other performances. Just like in the real world among iPod listeners, they paid me no mind, and the general, unobtrusive bustle in the lobby added a whole other dimension to my experience of the play. Although most of the play takes place in more solitary parts of the building, there is a constant reminder that the present is continuing in Chalmers Heritage Building, even as we are trying to consolidate the snippets of the building's past as we hear them in Corridors. It is almost as if the present is jostling with the past for our attention, washing over it, and making it blurry, more distant and harder to picture.
Many characters in the play are aged, and struggling to recall their past, as they are having trouble finding their bearings in the modern — and changed — Chalmers building.  Being surrounded by both the stories from the past and the present in Corridors, we can understand their struggle to organize the information surrounding them as we listen to the play.
My favourite part of this play was that I was able to explore Chalmers Heritage Building in what is probably the most curious and imaginative way possible — Corridors is like a dramatic tour within a play. The narrator leads the listener outside the building, up stairs, into a chapel,  a sanctuary, a defunct gym, an elevator, a parkade and several other spots in the building — many of which are nicely furnished with comfy couches for easy listening.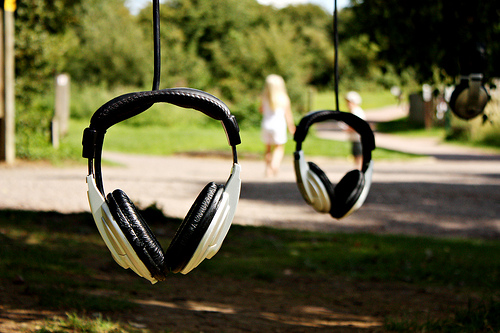 A couple of times I thought I made a wrong turn, so rewound and replayed the instructions, marveling that I could do that — stop the play and listen again that is — until I was sure I got it. Not something actors would take kindly to, I'm sure. Corridors is in many ways the opposite of what you'd expect at a traditional evening at the theatre: instead of a stage and an audience, all the world's a stage (or at least the ancient building is), and instead of a numbered seat in among many, there is only you, mobile audience of one.
Corridors offers the strangely haunting experience of being able to occupy many different times at once. It also provides us with little- known histories (and fictions) that evoke a Vancouver very different from the one we know now. And being a solitary, but interactive play, makes me think about the many forms of solitary-but-social media that fill our world now, and wonder what that means in terms of the forms that theatre, history, learning, and interaction can take. Big questions I know, but that's a credit to the play — it is a bold experiment that raises many questions, specific to our present historical moment.
 Corridors: A Podplay is written & directed by Joel Stephanson, and presented by Quiet Hum Theatre Co. You can see it in the Chalmers Heritage Building — the same place as Pacific Theatre and the Holy Trinity Anglican Church. The remaining shows run on Dec 16, 23 and 30. Since Corridors ends before Pacific Theatre's evening show commences, you must arrive sometime between 4-6 pm to see it. See Quiet Hum's website for details.