I met a wonderful woman on the subway.  She was on her way home from a Lakers game and was clearly a huge fan, as she had all the gear and the glow that comes from a great win.  She shared a story with me about her night at the game.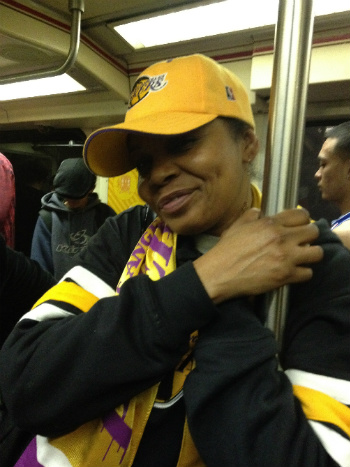 Having been a season's ticket holder with her husband for many dedicated years, this was the first game she had ever gone to by herself.  She thought about just staying home, but decided to go down to the Staples Center with the great intention of giving her tickets away in a random act of kindness type of moment.  To her surprise, no one would take her tickets.  The gift was too great and people felt it must be some suspicious trick.
Unwilling to give up, she made the choice to go inside and find two fans sitting higher up and offer to trade tickets with them.  While grabbing a bite to eat she met a father whom she thought would be elated to give his child the experience of sitting in prime seats, but he declined.  He also did not trust the situation.  She kept on trying to give and it took until the second quarter for her to have a taker.  A very lucky young man heard, and believed her when she said that she was at the game alone sitting in incredible seasons tickets seats and that she had an empty seat beside her available.  He decided to join her and he was the most grateful person for the gift he had received.  An ear to ear grin and a slowly whispered "Thank You" was the perfect end to her night.
We chatted passionately on the subway about the state of human nature.  Is it that we don't give enough so people aren't used to receiving?  Is it that scams do happen so often making us reluctant to trust anyone? Do we trust some people and not others based on appearance, age, or other factors? The way fellow fans reacted on that night left her feeling that a bit of the latter was true.  Before we parted ways she revealed to me that she has wealth beyond comprehension including jewels, incredible cars, and a high heel shoe collection to die for!  She stressed the importance of being kind to every single person you meet because you never know their story.  We shared a big hug and I have been thinking about her story ever since.