For me Valentine's should not be a one day affair or simply about couples.  Valentine's should be an on-going philosophy of remembering to tell the people in your life that you love them and showing them that on a regular basis.  Saying "I love you"  when you get off the phone or bid them adieu, giving them hugs and kisses when you see them and leave them, and doing thoughtful things for them.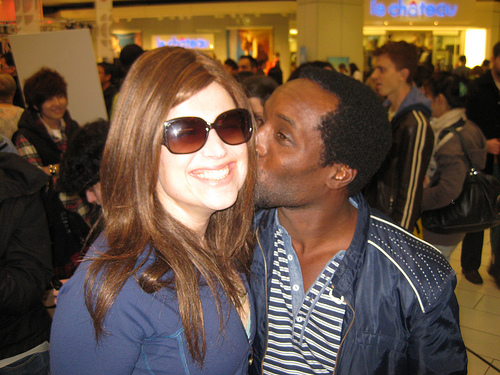 These are not simply the ramblings of a gal that is single on Valentine's Day.  I actually generally prefer my single Valentines, as more people tell me they love me and I am never met with disappointment.  Plus Fuzzywiggle Furrypants Roo makes the best damn Valentine's cat that there ever was.  She gives even more kisses and hugs than I do (and I'm pretty liberal with mine).
No, this is a philosophy instilled in me thanks to my parents.  And thanks to them, it is the reason that I know where I stand with my family, close friends and many of the people who I work with (who I consider to be family and close friends) ~ they love me and I love them (Hell, at  Ahimsa that seems to be one of the long term prerequisites ~ do they have talent and do we love them ~ necessary after all, when we do long hours, all over the World).  And as I get older and have sadly started to lose some of the people in my life that I love, it is for this reason that I always know the last thing that I said to them ~ I  love you! (and despite saying these words often, every day of my life, they are not hollow words).
And with that, I send all you lovely readers some hugs …
With smooches to Ian MacLatchy for posting this video on our producer, Erica's, facebook wall, where I spotted it.
Love and Kisses,
Emme xoxo