Been enjoying my return to the Vancouver theatre scene, and more specifically that of my beloved smaller theatres that always make me feel as though I am being welcomed home with open arms.  Not only are these spaces of love for me, but also that of inspiration, where I am constantly amazed at the creativity and talent that we have here in Vancouver.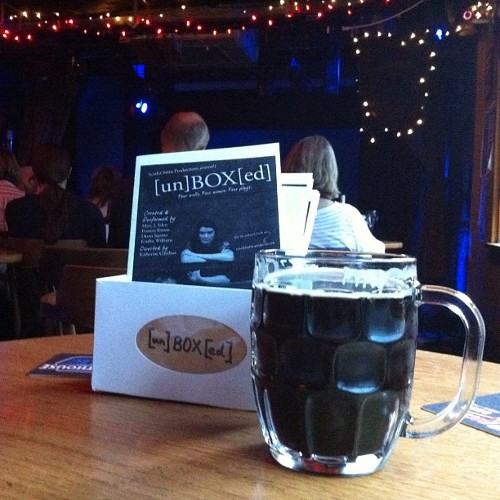 Most recently I attended [un]BOX[ed], a 4-women, 4-play, 4-walled show.  Really had no idea what expect, but I was admittedly intrigued, on a number of levels – by the content and format, by the players, and by the venue.  I'll start with the last first. For those of unfamiliar with the Railway Club, it is this great character bar at Seymour and Dunsmuir in downtown Vancouver, featuring a fabulous selection of beer, staff with a sense of humour, something interesting to look at every which way you look and a stage!  Now the Railway Club is somewhat famous for the music acts that have played on that stage, as a number of very notable names (k d lang, Tragically Hip, Blue Rodeo, Barenaked Ladies … to drop a few) have played to a rather intimate section of the bar. Plays, however, they are not known for, but have started to invite into their home.  [un]BOX[ed] a play ignoring that fourth wall of the theatre (the imaginary one that exists between the audience and the stage) and embracing the audience as a part of the Show, has been the most elaborate play at the Railway Club yet.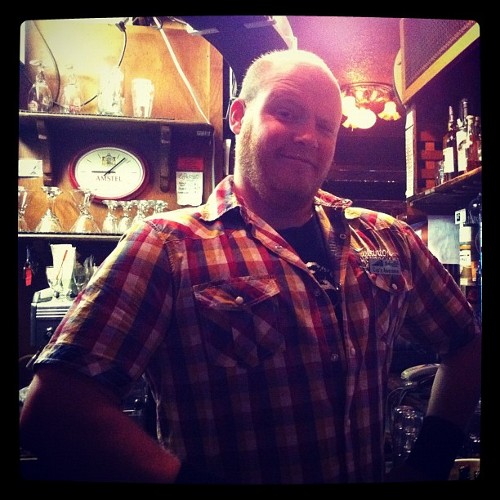 So who is Scarlet Satin and what exactly is [un]BOX[ed]?  Well, Scarlet Satin is a Production Company after my own heart aimed to mentor, empower and spotlight talented and creative women in the theatre, all while crafting unconventional, intimate theatre experiences (including ones that have taken place in a laundromat and someone's home). I could simply purr at the thought of it, and must congratulate Diana Squires, the mastermind behind it.
I believe [un]BOX[ed] is Scarlet Satin's third play. It features 4 very talented women actors and playwrights, enacting 4 short plays, each written by one of the women.  The plays themselves are wonderful short stories that made me both laugh and think. I saw women before me that I knew only too well, and was invited into their lives by talented actors that moved in and out of the audience, making us feel as though we were a part of their stories – stories of our day-to-day lives and comradery; stories of women who were not real and I shall never understand, and I may be guilty of having made fun of in my prose (explored through bathroom humour!); stories of our loss of community within cities and cyberspace; and stories mental illness.  Each story completely transforming the women before us, illustrating their incredible range as actors. Wow!  Well done ladies!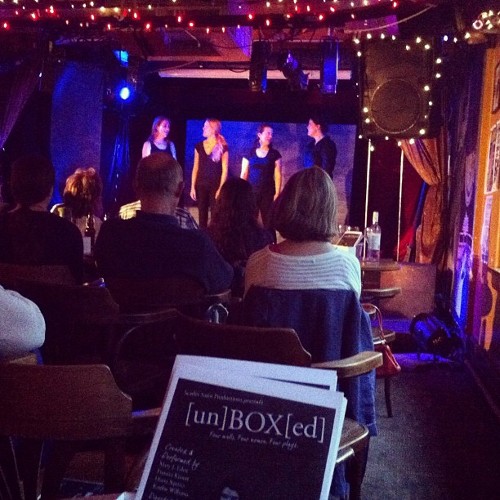 So who were these talented actors and playwrights?  Mary J Eden, Frances Kitson, Diana Squires, and Kaitlin Williams.  And equally talented are the women that supported them, and helped to bring them and their plays to life so seamlessly ~ Director Katherine Gauthier, Composer and Sound Designer Julie Casselman, Lighting Designer Alta Stephen, and Stage Manager Annie Jang.  A cast and crew of beautiful and talented women, who should know that my date opened the program to The Company Page and exclaimed, "Wow! These women are all beautiful!"  Thank you ladies for a most enjoyable evening!
There is still time to catch [un]BOX[ed] at the Railway Club, tonight Friday July 6th, 2012 at 7:30 pm or tomorrow Saturday July 7th, 2012 at 2 pm and 7:30 pm. Tickets are $20 and can be booked at brownpapertickets.com or (I believe) purchased at the door (tweet at @ScarletSatin to be sure).  The Box Office opens at the Railway Club half hour before each show. I recommend getting there early to grab a seat in the first or second row, or in one of the high tables at the back for the best viewing.
PS. In Full Disclosure: As always, the opinions and thoughts shared here are my own and honest ones. I am bought out by no one. In the spirit of disclosure, it should be noted that I was invited to Opening Night as media.