It's that time of year again where I get all excited over the upcoming 2011 Burnaby Blues and Roots Festiva and start sharing music from the line up, in anticipation.  I am especially excited as it is a pretty darn interesting and unique line up this year, including Indigo Girls, Jimmie Vaughan, Amadou & Mariam, Meshelle Ndegeocello, Kelly Joe Phelps, The Deep Dark Woods, The Washboard Union, and No Sinner.  'My' music afficinado, Rob Jones, was so excited when it was released, that I received a message within seconds, asking if I'd secured us tickets. Pleased to say I have! Thanks Burnaby Culture!
I thought I'd start with the musicians coming from the furthest away, all the way from Mali, and whose music I find particularly interesting and rather fitting to how I'm feeling with our HOT Summer Nights …
Steamy nights aside the musical duo of Amadou & Miriam are married and both blind. They met at Mali's Institute for the Young Blind, where they both performed at the Institute's Eclipse Orchestra, directed by Idrissa Soumaouro, and found they shared an interest in music. Interestingly enough, neither were blind at birth, but rather became blind in their youth ~ Amadou at the age of 16, and Mariam at age 5 as a consequence of untreated measles (reminding me once again, how lucky we are in Canada, that everyone has access to health care).  Amadou has since given back to the school by running the institute's music programme.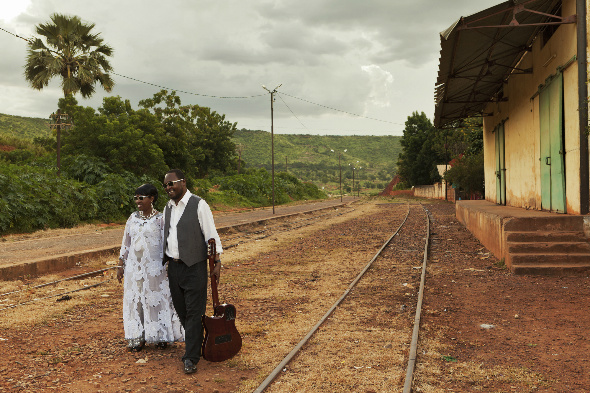 The sweet music they make together would be termed the Afro-Blues, mixing their traditional Mali sound with rock guitars, Syrian violins, Cuban trumpets, Egyptian ney, Indian tablas and Dogon percussion. I'll be sharing some more of their music videos on Roamancing, as many of them make wonderful travel vignettes on Africa. In the meantime, a tune the soccer fans might recognize, Celebrate The Day from the 2006 FIFA World Cup …
Now somebody just needs to tell them that they are on a North American Tour, not a US Tour this summer, as Montreal, Edmonton and Burnaby are all proudly Canadian cities, while our friends down can catch them this summer in Washington, Boston, New York, Chicago, Madison, Minneapolis, San Francisco, Los Angeles and Salt Lake City (yes, this is a US city, not a Canadian one, as they have marked).
Sultry Blues Kisses,
Emme  xoxo
PS. In Full Disclosure: As always, the opinions and thoughts shared here are my own and honest ones. I am bought out by no one. In the spirit of disclosure, it should be noted that Burnaby Culture gives me a few Blues & Roots tickets each year, allowing me to celebrate my birthday in the best possible way.