Since I have been back in Vancouver I have been time and time again impressed by great performances and plays offered by the small theaters in and around Vancouver, showing off what wonderful creative talent we have in this city at affordable prices.  Last Saturday night was one such night, as I attended The Spitfire Grill with one of my best gal pals at the Pacific Theatre.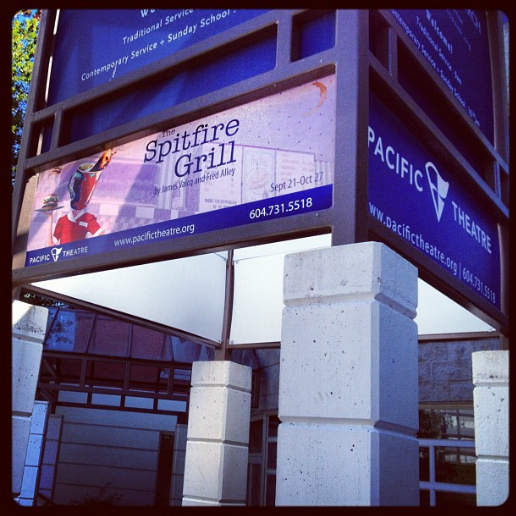 Based on the description on the playbill …
A young woman leaves prison, only to learn that a second chance isn't easy to come by. From the beloved film, an uplifting and inspiring story of personal redemption and the reawakening of a small Wisconsin town.
… I was expecting a rather sobering and thought-provoking night at the theatre of introspection.
That is not what we were met with.  Rather instead, what we were rewarded with was an uplifting production celebrating the comradery of a trio of women, at the beginning strangers, that become the best of friends, as they help each other to overcome the mental obstacles that are holding each other back from truly embracing and enjoying life. Even though I call this one of my 'Van Sexy Date Picks' as it would be a good play for a date night, it is equally as great a play for a gal's night out, and I have to say I was glad to be enjoying it with one of my best gal pals, who I had not had any 'just us' time with for over a year.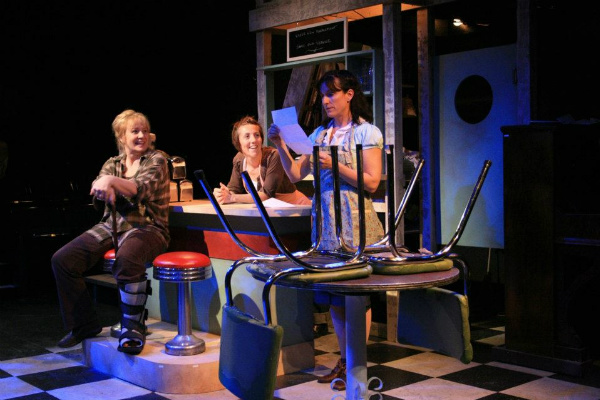 Another surprise to us was that this was a musical of simply the song variety, rather than song & dance, and the cast pulled it off in a wonderfully inviting conversational manner that made me feel like a fly on the wall of the diner, getting a front row seat on the performance of their lives. Lives that you wanted to cheer on, the way you would a hockey match, as they overcame their internal obstacles to happiness. Obstacles that really many of us face in some form or other, reminding us it is important to forgive ourselves and others, to stand up for ourselves and not be afraid to tell others what we want, and to not be afraid to let those we love grow.  Facing a few internal obstacles myself, as of late, these were enlightening reminders. Not my obstacles, mind you, but empowered me to try and figure mine out, even if the answer for me is simply giving myself time to process and to further strive towards balance.
My applause to the talented artist that put this play together, beginning with the Lyrics and the Book by Fred Alley, and the Music and Lyrics by James Valcq.  Bravo to the talented cast (and might I add musicians), who truly were each strong performers and brought all sorts of wonderful quirks to their characters that made you fall in love with them and their town ~ Julie McIsaac as Percy (Piano & Violin), Barbara Pollard as Hannah (Percussion), Caitriona Murphy as Shelby (Violin & Guitar),  Steven Greenfield as Joe Sutter (Piano & the Musical Director), Damon Calderwood as Caleb (Clarinet), Sarah May Redmond as Effy (Accordion), and Gordon Roberts as the Visitor (Piano 2 & Percussion).  Further applause to the other musicians ~ Stephen Bulat on Guitar and Mandolin, Franki Lemon on Cello, and Shayna Jones on Percussion (Percy's Understudy).  My congratulation to the hard working team, behind the scenes that makes everything on stage seem so seamless ~ Kerry Van Der Griend (Director), Steven Greenfield (Musical Director), Francesca Albertazzi (Set, Costumes & Props – adding in here that it was a cool set and made good use of the space), Stephen Bulat (Sound Designer), Ian Schimpf and Ian Giles (Lighting Designers), Andrea Loewen (Movement Coach), Melanie Thompson (Stage Manager), Jess Howell (Technical Director) and Frank Nickel (Production Manager). Bravo!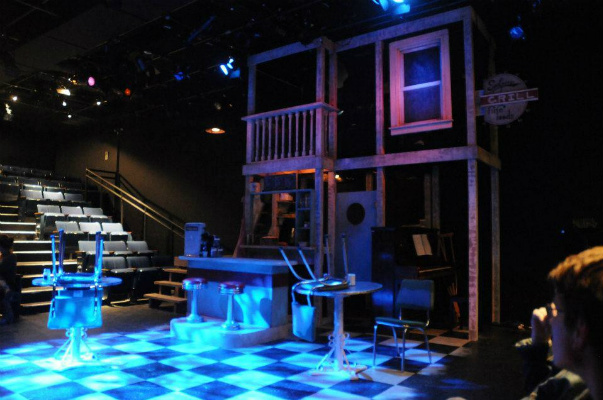 You can catch this Midnight Theatre Collective Production at Pacific Theatre, now until October 27th, 2012 with performances Wednesday – Saturday nights at 8 pm and matinees at 2 pm on Saturdays.  Click here to go to the Box Office.  And if you are quick about it, you can even take advantage of the first week discount of 15% (if you go today) by using the magic word 'buzz'.
As a side note, bring a bit of cash with you, as the theatre has a raffle on the go with some great prizes, and the night I was there they had homemade apple pie and good cheddar cheese for sale by donation during the intermission.  Hoping they continue doing that, as it goes well with the hot tea I usually get at intermission there. Hot tea, that I might add, that you can carry into the theatre with you for the second act.  Very civilized if you ask me, not requiring guzzling during the intermission between running to the washroom.
Enjoy!