After my accidental thievery last week, I thought I should share a good mom story I am really proud of!  I just hosted an amazing birthday party for young Master Mason!
The reason I am most impressed with myself is because my party planning faced two great challenges.  First, in today's age of over the top birthday parties it is becoming increasingly difficult to meet the expectations of the invited guests.  Secondly, with the current economic times, my budget would require me to do some real creative thinking.
I decided to do a throw-back to the old-school days and have a house party, complete with games.  I'm calling it a kind of fusion party because it blends the simplicity of the past with the faster pace, more demanding present day.  Here's what I did: I took Master Mason shopping at the dollar store to find items he would think 'cool enough' for his friends.  Then we went to the candy store and loaded up on specialty treats. We came home and set prices for everything, wrote up little signs and set it all aside.  You see, his friends would be playing games and doing fun tasks, earning Monopoly money along the way, which they would get to use at the end of the night to shop!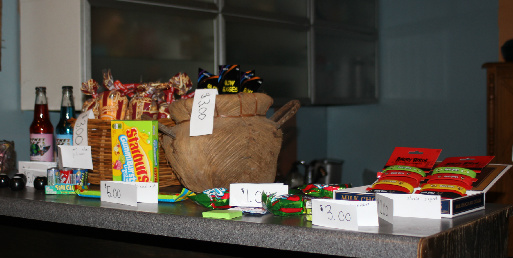 For the games and activities, we simply looked around the house and creatively made use of what we had.  I wrote up a menu type of sign so the boys knew what was going on all over the house.  You really could do anything, but the options to earn money at our party were:
Write your own song for the birthday boy and sing it to him,
Beat a challenger in building with a deck of cards,
Win a round of a Wii game,
Draw a picture and write something on a group collaborative poster for the birthday boy,
Drive a remote control car around the obstacles set up and get a faster time than your challenger,
Win an air hockey game, and throughout the night,
Get the highest score on our Bob It game.
This ended up being one of our best parties! The boys were busy with excitement and friendly rivalry.  Our variety of choices ensured money for everyone! Of course, I just kept pumping out the food all evening, but with how busy they were, I was able to keep it pretty simple as they really could care less about what they were eating. As I felt things starting to wind down I announced a final 10 minute blitz.  That was hilarious! Later, I kept the shopping time organized by giving each boy a basket (also purchased at the dollar store), and having two of them buy at time with a limit of three items.  We just kept cycling through this way until everyone had a few turns and all the goods were gone!  The best part was, they took their full baskets home, doubling as the 'goodie bag' so I didn't need to spend anything further on that! I heard the boys telling their parents on the way out, "Mom! That was the coolest party! It was so much fun! We should have done that for my birthday!"