What would you do if invited to a night of intrigue with only an address, where upon arriving you are handed a single black card and whisked away to be 'initiated'?  Well, if you're me, you jump at the opportunity!  HELL YES, please!
That is exactly what happened this past Tuesday night, when I was initiated into the Electric Company Theatre's Initiation Trilogy on Vancouver's Granville Island. A single address and a single card to enter a night of mystery with the Initiation Trilogy.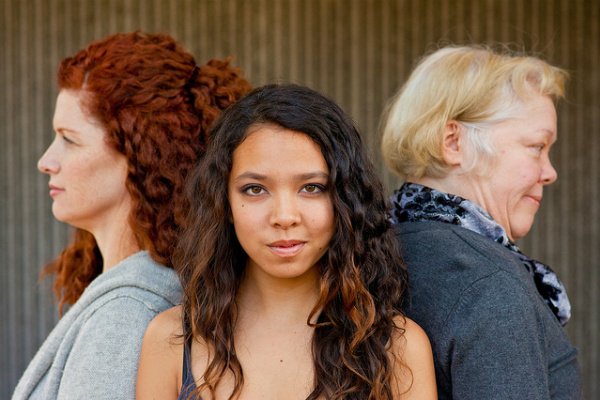 So I know I am being very vague as to what exactly the Initiation Trilogy is, and I am going to continue being vague, as I wouldn't want to spoil the mystery for others.  Let's just say now that I've been initiated, I know what's behind the red door, toyed with my sexuality, gained 33 sisters, gone to Hell and back, and yes, I've drank the special punch.
Am I infuriating you yet?  I do hope so!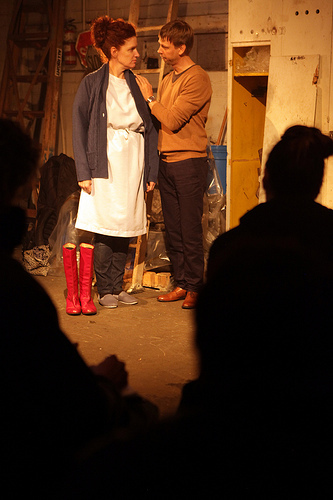 Sufficed to say, the Initiation Trilogy is what would be termed immersive and interactive theatre.  The kind of thing that would very much tickle the fancies of the team I work with at Ahimsa Media, as it is what we do, although for the stage, as oppose to the digital verse. Enrapturing you within the folds of the story itself. *cue a sinister cackle*
So how to describe what to expect?  Well, if you were to ask The Electric Company Theatre, here is what they would say …
"… Encounter people in the middle of a major personal transformation. An old identity is left behind as a new one emerges. Poetry has the power to explode such transformations – to get inside an emotionally charged moment of time. It's like a fragrance that transports you to a memory, not necessarily a set of events or story, but a time dense with feeling where you re-encounter a deep sense of who you were at your core.  The choice to enter this moment of change is thrilling and terrifying, but no one is alone. We find ourselves in each other. …"
I'm not quite so eloquent, so here is how I'd describe it …
One Hell of a fun night filled with intrigue, questions, curiosity … oh yes, and a bit sexual titillation. (Sorry couldn't help myself with that last one.) But really what it all comes down to is this: don't you want to know what's behind that alluring red door?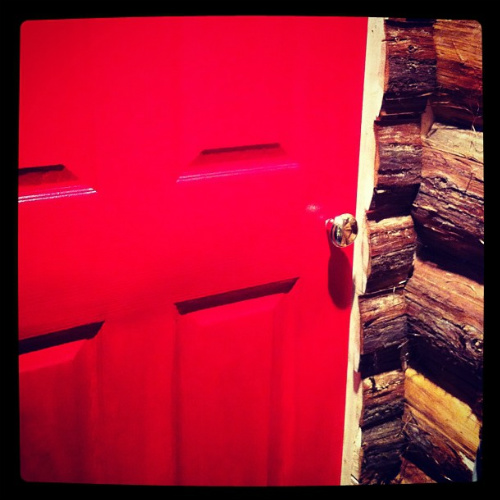 My adulation to the talented team of artists, storytellers and puppet masters that created this most interesting of pieces. That roar in the night could be many things, but at least part of it is my applause for the Creators ~ Naomi Sider, Kevin Kerr and Anita Rochon ~ the Players ~ Emme Lindsay, Wendy Morrow Donaldson, Jennifer Paterson, Haig Sutherland and Colleen Wheeler ~ the Producers ~ Nathan Medd, Jesse van Rijn and Jennifer Swan ~ and the Crew ~ Director Anita Rochon, Scenographers Pam Johnson and Naomi Sider, Lighting Designer Jonathan Ryder, Projection Designer Cande Andrade, Sound Designer Owen Belton, Costume Designer Naomi Sider, Choreographer Natalie LeFebvre Gnam, Stage Manager David Warburtnon, Assistant Stage Manager Stacy Sherlock, Apprentice Stage Manager Linsey Callaghan, Technicians Jeremy Banks and Carey Dodge, Technical Director David Warburton, Production Manager Jessie van Rijn, Production Assistant Linsey Callaghan, Publicist Diana Squires, Specialty Props Rory Gylander, Assistant to P Johnson Stephen Beaver, Assistant to N Sider Megan Matichuk, Choreographer Assistant Lisa Goebel, Scenic Painter Louise DeGagne, Front of the House Manager Roanne Ward, Box Office Coordinator Shizuka Kai, and Audience Shepherds Resounding Scream Theatre.  So as an aside, after that big mouthful of the talented team that put this experience together, I want to do something where there's a line in crew list with an 'Assistant to E Rogers'. There I said it, I have no humility.
Dying to be initiated?   Well don't waste any time.  You only have until October 28th with performances October 19, 20, 23, 24, 25, 26, 27 at 7pm, and October 20, 21, 26, 27, 28 at 3pm. Get your tickets by clicking here.  Oh and dress warmly for the weather. This is Show takes you indoors throughout outdoor spaces.
Kisses laced with the 'special' punch,
Emme  xoxo