I have to admit that I have taken a particular fancy to comedic thrillers, especially for a date night, because really it gives you all the ingredients for roamancing (not in your dictionaries?  that's because this is a verb created by yours truly), sharing a few laughs together and screams of terror, throwing you into his arms or requiring an arm around you. So maybe it didn't happen quite like that at I'll Be Back Before Midnight at Vancouver's Metro Theatre. I mean there was the laughter and squeals of terror, just not the throwing myself into his arms or him wrapping his arms around me. Still an enjoyable evening and date night nonetheless.
I mean after all this Peter Colley Play does combine what British playwrights do best in the theatre ~ humour and murder!  Oh, now I'd like to add, not just one murder, but I won't, as I wouldn't want to give away the plot.  Just sufficed to say there is gore, or at least the illusion of such.  As for the premise of the story?  It's a bit of a psychological thriller.
A couple rents an old farmhouse with the hopes that the peace and quiet will help the wife recover from a nervous breakdown, but the old owner tells them tales of murder and ghosts … <cue foreboding music>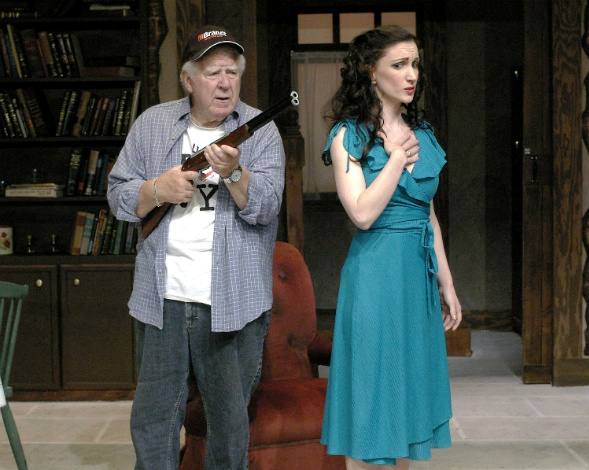 There were 6 people that stole the show for me.  The two supporting leads, Harry Seddon as George Willowby and Melanie Preston as Laura Sanderson. These two played their roles perfectly, reminding me of real life character I know only too well ~ a crazy, but lovable uncle and an exe's sister, that knew exactly how to manipulate to get her own way. Each carrying out their parts oblivious to the humour they were ultimately creating on stage.  Equally as wonderful were the Set Designer ~ Heather Stewart, the Lighting Designer ~ Miles Lavkulich, and the Sound Designers ~ Les Erskine and Don Glossop.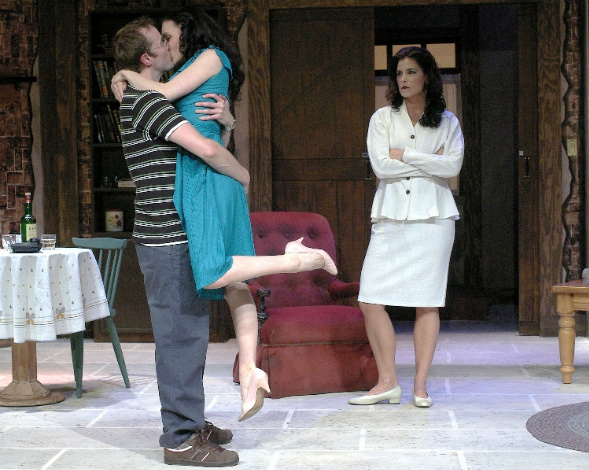 Sets at the Metro Theatre often impress me, as they really are quite elaborate and well thought out for the players, this one especially so with the sense of depth it created.  The latter thanks in part to sounds effects and lighting, including some well placed shadows.  In talking to the Director Don Glossop, I learned that lighting was an especially tricky element in this play, as some of the play happens in the dark, and as sets are designed and rehearsals are held in a separate space, the actors only got to  familiarize themselves with the stage shortly before the Opening Night. Some of the issues associated with this were solved by the clever use of flashlights.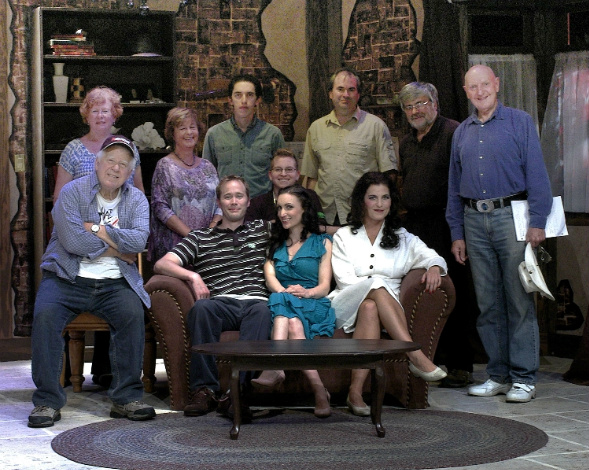 Thank you to the entire cast and crew for an enjoyable night at the theatre.  In addition to the 6 mentioned above, that includes James Behenna as Greg Sanderson, Alice Howell as Jan Sanderson, Production Manager Elaine Walton, Director Don Glossop, Assistant Director Joan Glossop, Stage Manager Shay Cameron, Assistant Stage Manager Heather Abrahamson, Costume Designers Judy Ruttan & Sheila Dempsey, Technical Director Les Erskine, Head Carpenter Dwayne Campbell, Set Decorator & Scenic Painter Tracy-Lynn Chernaske, Properties R. Todd Parker, Wardrobe Manager Sean Ullmann, Publicity Steve Dotto, Publicity Artwork Linda Sharp, Photographer Brian Campbell, Hair & Makeup Rob Walters and Programme Compiler Johnny Duncan.
Catch I'll Be Back Before Midnight at Vancouver's Metro Theatre now until October 27, 2012. Performances are on Thursday, Friday & Saturday Evenings at 8 pm, with matinees on Sunday Afternoon at 2 pm October 14 and 21, 2012. Click here for tickets.