For those of you that have been reading here for awhile, you'll know that my love of the theatre was fostered at an early age, thanks to my grandparents and parents, who were huge supporters of the theatre and the arts.  As a result, I was absolutely thrilled to take two of my nieces to the theatre for the first time a few weeks back. In a day and age when I think many North American kids are spoiled with too much stuff, outings like this (and books and money to their education funds) is exactly the type of present I like to give my nieces.  I'd rather create memories of experiences together, than to add to the pile of gluttony.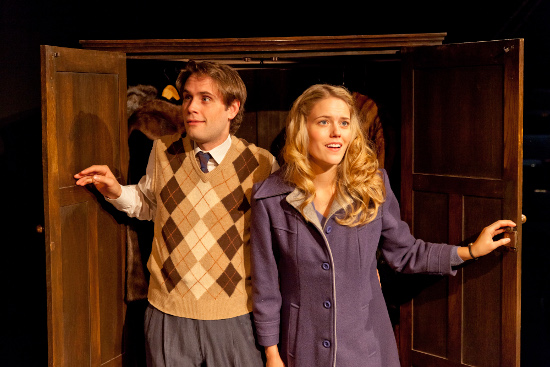 Not only was I taking my nieces to a play, for which I was so excited about, but it was the play of a story that was ever so special to me.  So what was the play, you ask?  Pacific Theatre's Touring Production of The Lion, The Witch and The Wardrobe by C.S. Lewis ~ a story I dearly love.  Now I know that some criticize this story for religious undertones from Christianity, but get over it people, whether Christian or not, this is simply a good story.  And for me, this was the story that finally got me excited about reading to myself, overcoming previous obstacles with dyslexia.  After finishing this book, I voraciously took on the rest of the Series, not noticing any of the religious undertones in those books either.  The reality of a good read though, is it weaves in elements from history and cultures around the World.  Just look at many a great author, like Susan Cooper (who weaves tales around Druids) or Philip Pullman (who includes many religions in his tales, with a clear agnostic bent) ~ these are simply good stories that encourage us to think and learn about others.  Just as I think it is wrong of certain, hard core religious groups to burn JK Rawlings' Harry Potter Series, so too do I think it is wrong to damn stories, such as CS Lewis' The Lion, The Witch and The Wardobe, for it's religious symbolism. We don't after all do that with classic tales, like that of King Arthur.  Besides which, books should be about learning and exposing oneself to different ideas, to get us thinking.  Thinking though, that as it is the exceptionally good stories, like The Lion, The Witch and The Wardrobe and Harry Potter, that illicit fear from others, that should be taken as a compliment to the author, as clearly others fear that they are change makers.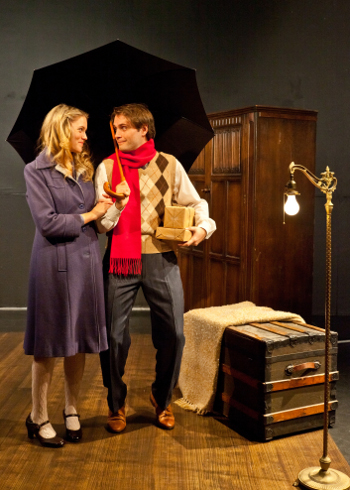 As I previously mentioned, The Lion, The Witch, and The Wardrobe for me is simply a beloved story that got me excited about reading, that I was excited to share with two kids I loved.  This did mean though that I had high hopes and expectations from the play, as I have been disappointed before by seeing childhood stories I have loved on the stage or the screen.  I am pleased to say that Pacific Theatre did not disappoint in their telling of The Lion, The Witch and The Wardrobe. It was a delight, providing for a fantastic experience for both me and the girls!
One of the amazing things about this production of The Lion, The Witch, and The Wardrobe was that the whole story was told from just the perspective of two characters ~ Mack Gordon and Kaitlin Williams playing the parts and telling the tale through the eyes and minds of a more grown up Peter and Lucy.  This worked out brilliantly well, giving the play the innocent feel and wildly imaginative nature of a tale told by two children.  My utmost of respect and compliments to Mack and Kaitlin, who not only did a brilliant job of playing Peter and Lucy, but that of each of the other characters they described too ~ both from Narnia and the world of humankind.  Wow!
That 'Wow!' is equally meant for the clever minds behind the scene too, who made this production seem so seamless ~ Director Kerri Norris, Stage Manager Laura McLean, Set Designer Omanie Elias, Lighting Designer Lauchlin Johnston, Costume Designer Naomi Sider, Sound Designers Corina Akeson and Jeff Tymoschuk, Technical Director Jess Howell and Production Manager Frank Nickel.  I always love how cleverly they use the space of Pacific Theatre's two sided stage, which in this case created the warmth of the room where the wardrobe sits, while so believably opening my mind's eye up to the various settings in the World of Narnia. And my compliments on the brilliant use of the coats in the wardrobe (along with the actor's voice and body language) to instantly shift between characters.  All so very clever and most enjoyable to watch.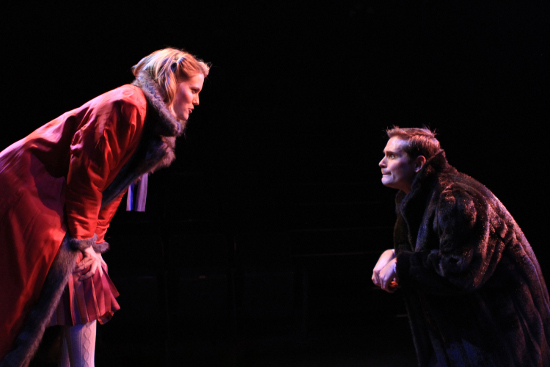 If you want to catch Pacific Theatre's Touring Show of The Lion, The Witch and The Wardrobe this Holiday Season with loved ones, you'll want to be quick about it, as it is only on for two more nights at the Evergreen Cultural Centre in Coquitlam ~ tonight (December 21, 2012) at 8 pm and tomorrow (December 22, 2012) at 4 pm. To get your tickets, call contact the Evergreen Cultural Centre at 604-927-6555.
And not to worry, if your weekend is too crazy just now, you will be able to catch this Show again in April, with performances April 21-27, 2013 at the Presentation House Theatre (604-990-3474) in North Vancouver, and April 28th-May 4th, 2013 at Kay Meek Centre (604-913-3634) in West Vancouver.  Teachers can also contact Pacific Theatre to make a personalized bookings for their class, including post-show talkbacks, workshops with the actors, backstage tours, and teacher resource guides. Simply contact Kaitlin at 604-731-5483 or kaitlin@pacifictheatre.org for more information.
Hope you enjoy it as much as I did!
Kisses,
Emme  xoxo