I feel the need after that title to emphatically state, "No, I am not pregnant.  Or at least not unless, unbeknownst to me, I have been artificially been impregnated by aliens."  And I am fairly certain the latter has not occurred.  What has occurred, however, is that I have been introduced to a few rather bizarre, but bloody divine food combination these past couple of weeks.
The first for those of you that have yet to enlighten your taste buds, is peanut butter and blue cheese on toast.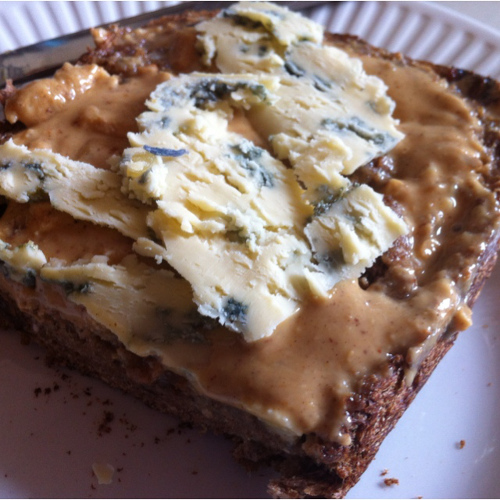 This was inspired by a picture of a rather gooey peanut butter, blue cheese and bacon sandwich from Nat & Tim of A Cook Not Mad (rather fitting name, based on the current food discussion). Now while, I didn't have bacon in the house, I did have a fresh loaf of bread, peanut butter and blue cheese, and after one of these, this became my lunchtime go-to for a week, it was so scrumptious.
Since sharing a pixengo of this, I have been told that the following combinations are also quite tasty:
"A Peanut Butter, Bacon and Tomato Sandwich (PB BLT)" ~ Ralph Talmont
"Peanut Butter and Egg on Toast" ~ Monica
Will definitely have to try those once I've made a trip to the bakery and the butcher.  Just have to ask Monica, what style of an egg.
My second rather scrumptious oddity is chocolate pudding made from avocado of all things.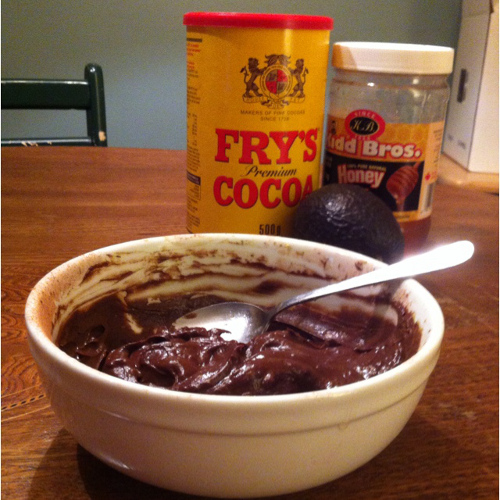 This tantalizing recipe was shared with by Kana Yamashita:
Whip together 1 avocado with 3 tablespoons of cocoa powder and 1 tablespoon of honey.
Now according to Kana this makes enough for 1 serving, but personally loving it, but finding it quite rich, I'd say that makes approximately 4 servings.  Perfect for a small dinner party!
Enjoy!
Let me know what you think, tell if you have modified concoctions of your own, or let me know of other food oddities that you enjoy. Thanks!
Kisses,
Emme   xoxo