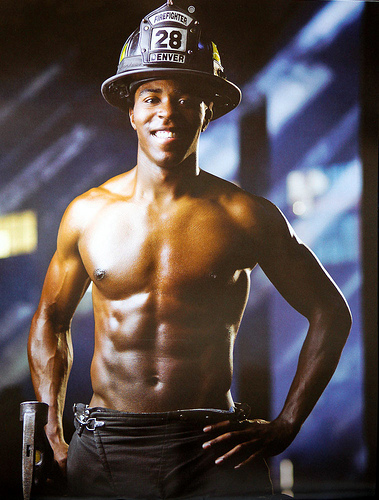 I'll admit it.  As a woman, I can't help, but smile at the suggestion of a fireman.  Not sure if this is due to the brainwashing of pop culture ideology, or the stereotype that fireman are buff (and look good with their shirts off), care about helping others, and are fabulous cooks.  I mean really, what woman wouldn't smile at that!?! It is after all the female fantasy for a MAN!
Relationship fantasies is exactly the theme of The Girl in the Frame, which had it's Canadian Premiere at Studio 1398 on Granville Island with Intimate Theatre Productions last week, just in time for Valentine's Day.  I went to the Media Opening Night on the Friday with a gal pal.  Yes, it was indeed another dateless Valentines for me, and as such I have to say, this was the perfect piece of romantic comedy for the week ~ laughing at our relationship conundrums.  And I would harbour a guess that a couple in a long term relationship would have found this equally as amusing as my single self.
You see it played on the idea of our relationship fantasies actually coming true ~ would you pick the fantasy or real flesh and blood mate?  Just imagine that girl that perfectly cooked your favourite dinner every night, happily watched sports with you, and was picture perfect in the white sundress. Or the guy that happily cleaned the bathroom without being asked, fixed everything around the house, road a horse, and enthusiastically played out your fantasies in the bedroom … Not to shabby, huh!?!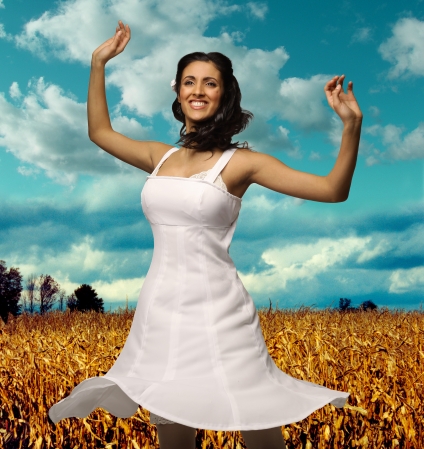 Now, while admitting that I smiled from ear to ear at the introduction of the shirtless fireman, (and would very much appreciate a man to clean and fix), I was far more attracted to the 'real' man in the scene, the one that was a little bit of a nerd. Now, I know that was ultimately what the moral message of the play was, to show us that really it was people's imperfections and quirks that we fall in love with, but this thought went through my mind immediately after the initial grin for the fireman.  Plus I have never cared for what in my mind's eye, I see as artificial or manufactured beauty, and that was just it with the two fantasies, they looked manufactured (purposely so, I am sure).  Loved that they actually expressed this utter boredom and distaste for the 'role' they had to play in life, when talking with one another.  So either the play did a real good job of driving their moral message through, quite early in the play, or I secretly (or not so secretly) fantasize about nerds.  I suspect it's the latter, as there is nothing that excites me more then a warm soul and creative mind.
A huge thank you to the cast and crew of The Girl in the Frame for helping me to realize my ultimate fantasy ~ Jeremy Desmon (Book, Music and Lyrics), Aarom Lau (Artistic Director), Chris Adams (Associate Producer and Sound Designer), Joey Herbison as Alex, Robyn Leigh Johnson as Laney, Synthia Yusuf as Evelyn, Paul Almeida as Tomas, Julia Tomaino (Director), Wendy Bross Stuart (Musical Director), Kim Rosin (Set Designer and Painter), Adam Volk (Lighting Designer), Chris Sinosich (Costume Designer), Tami Sinosich (Assistant Costume Designer), Christina Dao (Props Designer),  Melanie Thompson (Stage Manager), Chelsea Ramos (Assistant Stage Manager), Ashley Ho (Assistant Stage Manager), Jaime Kopeck (Assistant to the Director), Joey Herbison (Vocal / Dance Captain), Alex House (Head Carpenter), Neil Pickup (Trunk Painter), Megan Simpson (Marketing Director), and Jessica Stuart and Don Scott (Pre-Show, Intermission and Post-Show Music).
You can catch The Girl in the Frame now until March 2nd, 2013, with Wednesday – Saturday performances at 8 pm, and a special performance on Sunday February 24.  Get your tickets here!