As Canadians we love to talk about the weather, and this summer has given us plenty of interesting weather to discuss, including the heat, something not all of us Canadians deal well with, myself including. As Canada's heat wave hits Vancouver, I am left chasing the shade around my deck and fantasizing about the refreshing drinks and cool outdoor atmosphere of Grain Tasting Bar.
Last week I got to enjoy a leisurely afternoon of nibbles and cool beverages at Vancouver's Grain Tasting Bar, thanks to an invite to a business lunch with Spectacular Ink. Two things instantly appealed to me: the open air atmosphere of this second floor restaurant and the unique selection of cocktails.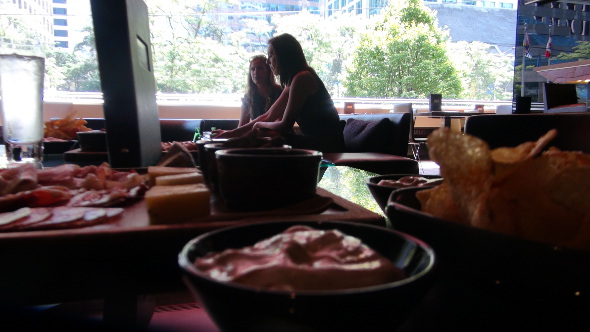 For those of you that have yet to experience Grain Tasting Bar, it located one floor above street level at 655 Burrard in the Hyatt Regency Vancouver.  Due to having a retractable glass wall that slides away, Grain turns into an open air lounge during the summer months. Quite brilliant I have to say, as it gives the feel of being on a patio, but with shade, none of the noise and dust of being at street level, and the comfort of a lounge. Rather enjoyed this!
But on to more important things … the drinks! For any of you that have been hanging around here for awhile, you may have gathered that I have rather an affinity to new and unique experiences, and that my friends is exactly what Grain Tasting Bar's Cocktail list offered me, and more specifically my palette, a mixture of new-to-me thirst quenchers! And as, I knew I didn't need to work that afternoon I tried several of them. …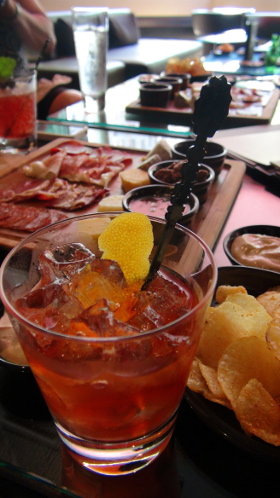 Grain Tasting Bar has 5 new cocktails to enjoy this summer:
Eastern Sunrise: zubrowka bison grass vodka • campari • sweet vermouth • burnt orange simple syrup • orange zest
Cypress Mountain Tea – rooibos infused gin • okanagan spirits 'taboo' absinthe • blueberry juice • earl grey syrup
Xombie – vanilla infused dark rum • 151 bacardi rum • sweet & sour • pineapple juice • passion fruit syrup • cherry bitters
Blood Diamond – j & b scotch • okanagan spirits cherry liqueur • laphroaig quarter cask • sweet vermouth • cranberry juice
Tatanka – zubrowka bison grass vodka • drambuie • apple juice • pear juice • passion fruit syrup • angostura bitters
Vancouver Fog – earl grey infused whisky • stoli vanil vodka • simple syrup • half & half
The Perfect Gin & Tonic – long table gin • fever tree naturally light tonic • orange essence
I didn't get the opportunity to try them all, as despite not driving and having the afternoon off, these were strong drinks, and I wanted to still be vertical and enjoying them when I left Grain, so I could respectfully show my face there another day. (yes, there are indeed situations in which I care what other people think, and besides which, cocktails are only enjoyable, while you still have your senses about you.)
So which did I try? I started with the Eastern Sunrise as the Bar Manager, Mitchell Kerr (who has been involved in the creation of the unique list of cocktails on the menu), described it as their most unusual drink.  And unusual it was. I very much enjoyed it, but it is definitely a drink you have to be in the right mood for, as it is quite bitter. Had a bit of the feel of an Old Fashion to me, probably in part due to the orange, so am thinking it might make a nice late night, night cap.
Next I tried the Blood Diamond, a much sweeter scotch drink, and I do love my scotch! Without having the menu right in front of me, it took me some time to place the striking fruit taste in this drink. Turns out it contained both okanagan spirits cherry liqueur and cranberry juice, the perfect blend of sweet and sour, and a celebration of summer!
As I mentioned, these drinks were strong, so to tease my taste buds with the wider array of luscious cocktails, I began to share a few sips of my seat mates' beverages ~ Ariane Colenbrander, Louisa Chan, Kim Bosco Mo, and my apologies to our 4th seat mate, whose name escapes me. Ariane was drinking a Lychee Martini, which was a bit of Heaven. Tend to avoid martinis as they often go straight to my head, and have had the odd (or not so odd) indiscretion on a martini or two. This Lychee Martini had all the makings of my version of Kryptonite. I considered ordering one, before reminding myself that I did not know these people well, and that a bit of discretion was a good thing on this first meeting. Louisa was nursing a Cypress Mountain Tea, which was certainly my style of afternoon tea ~ cool and refreshing with a few agents of relaxation to calm the nerves. Kim, meanwhile was luxuriating in a Vancouver Fog, which I quite enjoyed, and took more than one sip of, being quite tempted to steal it from him. This was a most mellow and relaxing beverage, which had all the makings of liquid dessert. I am looking forward to trying a winterized hot version of this, when the actual Vancouver fog rolls in this winter.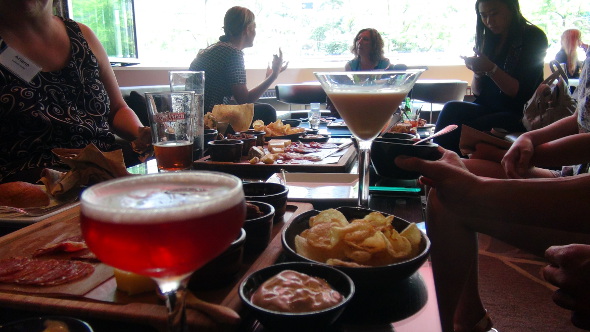 To cap off a delightful afternoon of sips and nibbles, I was presented with a Tatanka, which instantly became my favourite cocktail of afternoon, tantalizing my tongue with a polish vodka, drambuie, apple juice, pear juice (which I am an absolute sucker for), passion fruit syrup (yum!) and angostura bitters. Just sad I didn't snap a photo of that golden bit of bliss!
Now seeing as there are still more to sample, I shall have to make a point of revisiting Grain Tasting Bar!
Sultry Summery Kisses,
Emme   xoxo