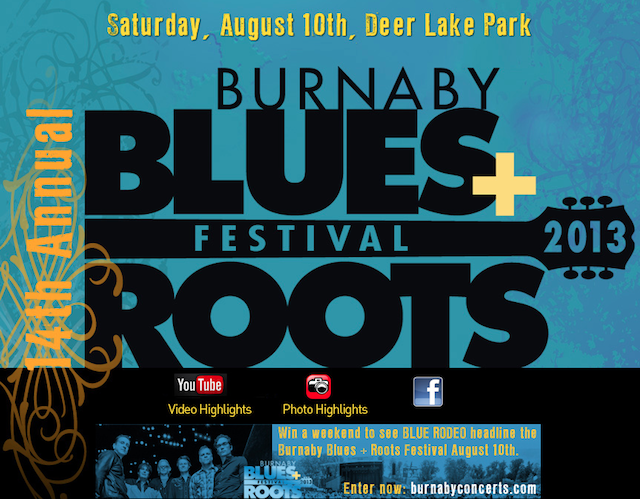 The 2011 Burnaby Blues and Roots Festiva has become one of my favourite things about summer. This year in 2013 was no exception.
The festival represents more than just a world-class outdoor festival celebrating folk music, rock music, country, the blues, and every blend of music in that spectrum. It's a chance for me to see my friends Emme and Erica, and a chance to meet new people too, since Emme is constantly making new connections.
That's helpful to a shy, retiring fellow like me, although one who can still appreciate the energy of a crowd that loves to witness some great performances. I'm talking about the music, now, although Emme has her moments when it comes to performance, too.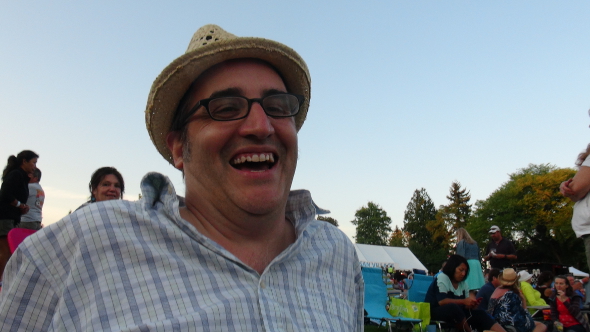 Another aspect of the festival is that it seems to go from strength to strength each year, getting bigger and bigger, and yet still feeling like the community building and community inclusive event that it is. Children, teens, seniors, couples, hipsters, the curious, and middle-aged music geeks are all at home. And the line-up is always a delightful mix of the big names you know, and the names you didn't know that you needed to hear.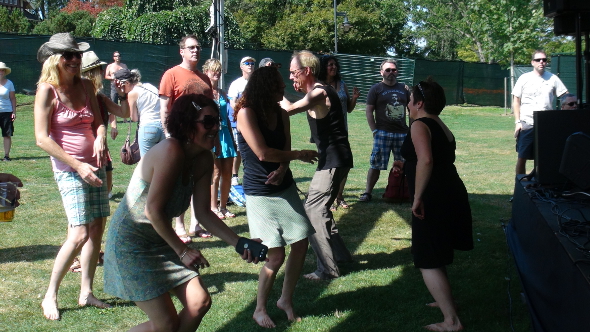 This year, the festival was expanded, adding another stage to make things more flexible, and to give more acts a chance to wow the crowds. This meant that this year, my friends and I had a choice on which acts to catch. It was hard to choose. But, I think we chose well. Here are some of the highlights for us, although since the extra stage presented some choices, I'm sure you'll hear a different story depending on who you talk to. We love stories here! And here's ours.
***
He's a blues-rock guitarist who's been on the scene for many years here on the West Coast, and then subsequently all points east too. He won points with me by opening the festival with a storming version of The Faces' 'Bad N' Ruin', one of my favourites. Also, his take on Muddy Water's 'Hoochie Coochie Man' was a sight, and sound to remember.
Shaun Verreault
You know him from his work with Wide Mouth Mason (a canning term, not a blues term as I learned …). But, a big highlight was his ability to take the musical letters from the names of members of an audience (in this case, ACE), and make a live improvisational song out of it using those respective chords. This was a phenomenal showcase for his band, and their almost psychic ability between them to deliver music from the ground up and in the moment.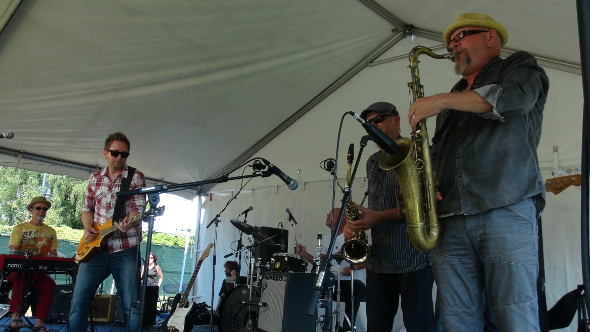 A singer with divine pipes who's worked with the legendary blues singer Ruth Brown and soul-jazz architect Jimmy Smith, S'Aida was aided and abetted on this occasion  by a crack band of pros including a lead guitarist who shredded her axe to pieces – in a good way, of course. S'Aida's song 'That Ain't Right' is a must-hear tune. In fact, listen here.
One of the things that the Burnaby Blues & Roots Festival helps to do is to remind people that these strains of music are living, breathing artistic avenues being explored by up-and-coming writers and performers. This was embodied this year at the festival by ZZ Ward, who takes the blues traditions of the past and repositions them for modern audiences, referencing Etta James, Son House, and many other influences. When ZZ Ward sings, none of the power of what we love about the blues is lost. It's alive, and ready to mess with you. Her song 'Charlie Ain't Home' was a true stand-out.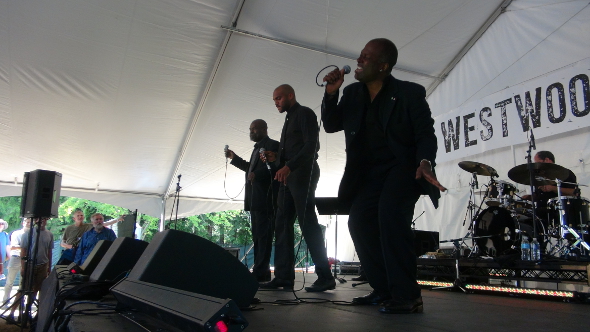 "Yes, people it's true; we are black folks". It was the tongue-in-cheek quip that this trio of singers included in an introduction to one song called 'Keep Your Eyes on the Prize', an anthem to the civil rights movement, a time when gospel music of the southern churches met with what was being called 'message' music. This is where the Sojourners live, as an active connection to this tradition. Their voices melded perfectly, matching the sacred with the secular with ease. And as they sang this tune, we were all connected.
Transplanted from Lou'siana to Vancouver of all places, John Lee Sanders laid down the fonk of the New Orleans variety. And connected with what the Sojourners had said about how the history of black America informed the development of the music, Sanders talked about how Louisiana was a bastion of musical culture from its very early history, with cultures mixing and exchanging ideas in a way that was unique. As we rocked to the R&B of the deep south, with Sanders playing piano and saxophone with equal aplomb, we were reminded how far the music has come since that melding of ideas began.
Charles Bradley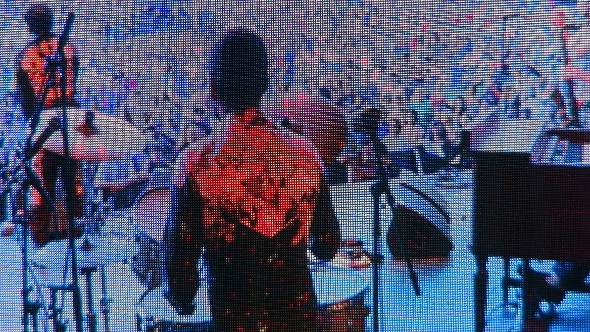 In the traditions of James Brown and Wilson Pickett, Bradley carries the torch. And quite simply, it was all about the sanctified version of Neil Young's 'Heart of Gold' for me. Class!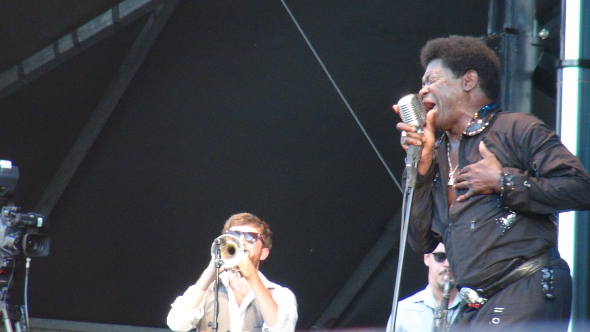 What can be said of this band who forged a path into what would become known as alt-country many years later. Although it must be said, this band is beyond a single scene, and certainly of a single musical label. Since their formation on Toronto's Queen Street scene in the early to mid-80s, they've built up an incredible catalogue of songs to match any pop songwriting standard you'd care to name. Live, they are a force of nature. Every song was an event, I suppose. But hearing 'Diamond Mine' being performed by the guys who wrote it was a thrill to beat them all.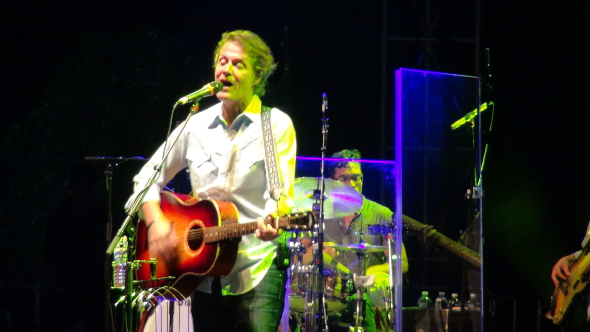 ***
There were other cool acts that we didn't catch. And of course, there were food wagons, craft booths, kids' activities, giveaways, and other cool stuff that happened, too. That's the beauty of the Burnaby Blues & Roots Festival. There are all kinds of avenues of possibility to explore. No festival is the same twice, good people – even if it's the same one!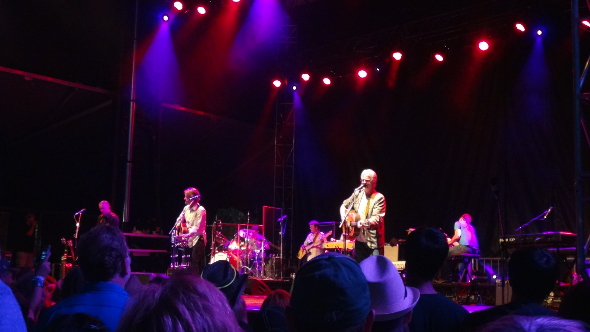 Thanks to Emme for letting me tag along once again!