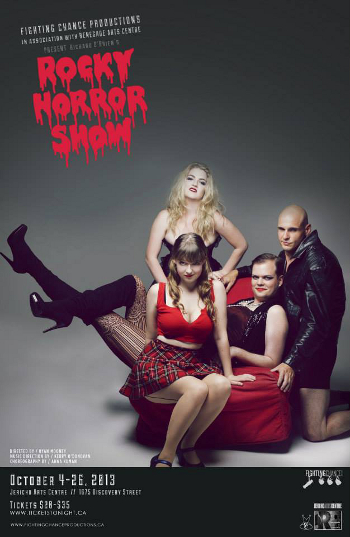 For anybody familiar with the Rocky Horror Show and Fighting Chance Productions, you'll know that Fighting Chance Productions is the ideal theatre company in Vancouver to put on the Rocky Horror Show, as they always bring a tonne of energy, enthusiasm and fun to their Shows! And they are definitely not afraid to interact with the audience and ad lib a little, which is a definite must for the Rocky Horror Show.
Now for those of unfamiliar with the Rocky Horror Show, it is a somewhat bizarre musical in the form of a  humorous tribute to the Science Fiction and Horror B Movies of the late 1940s through early 1970s, which  attained cult fame from the 1975 film The Rocky Horror Picture Show, when the audience began to verbally and physically engage with the Show in the theatre. It is for this reason that I will explain a bit of what goes on in the story, so that you as the audience knows how to respond in the theatre.

The musical tells the story of a newly engaged couple getting caught in a storm and coming to the home of a mad transvestite scientist alien unveiling his new creation, a muscle man named Rocky Horror. I did mention the word bizarre earlier, did I not.
Okay, so the cast of characters to know about … the Narrator (played by Sean Allen) for whom you are encouraged to listen to intently for cues and talk back to, Brad (played by Will Hopkins) who is our super straight edged groom-to-be, Janet (played by Erika Thompson) is our rather proper straight laced bride-to-be, brother-sister duo of creepiness Riff Raff (played by Ray Boulay) the handyman and Magenta (played by Jessa Brynn) the maid, Columbia (played by Kelli Ogmundson) a groupie of Frank's, and of course Dr. Frank N. Furter the pansexual, cross-dressing mad scientist (played by Seth Gordon Little). And now for the …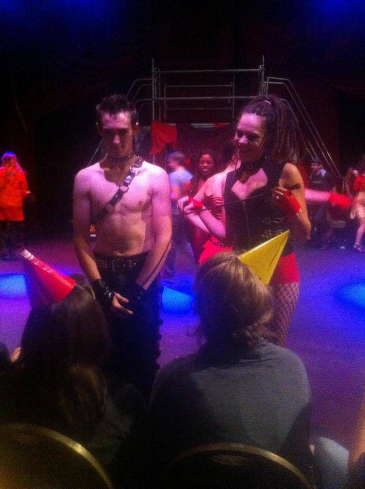 Rocky Horror Virgin Cheat Sheet:
Wear Party Hat throughout in whatever fashion you see fit.
When you hear the name "Brad", yell "ASSHOLE!"
When you hear the name "Janet", yell "SLUT!"
Toss Confetti when Brad and Janet enter for the first time after "Science Fiction Double Feature".
Throw Playing Cards when you hear the line, "Cards for Sorrow, Cards for Pain" during "I'm Going Home".
Blow your Noisemaker when Frank is bringing Rocky to life!
Toss Rice when Frank and Rocky get married.
Don't be shy, get up and do the Time Warp at the Show's end!
Finally one of the most crucial ingredients to a rockin' Rocky Horror Show is all in your date for the evening!  Mine was a new Brit friend, Jai!  Great gal and a lot of fun!  Find out for yourself … just go and ask her about her rubber cock!
For your convenience and the cast's safety, all props thrown in the production must be from the $5 Rocky Horror Prop Bags that Fighting Chance Productions is selling on site, before the Show. I highly recommend you purchase one.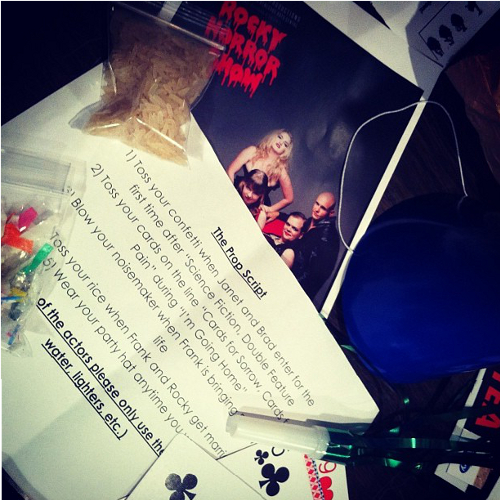 Now I must blow a few kisses of amour to the cast who had me smiling all night.  I was especially taken in by Sean Allen (the Narrator) for his witty repartee; Seth Gordon Little (Dr. Frank N. Furter) who made a mighty fine pansexual, cross-dressing mad scientist, who could really strutt his stuff; Ray Boulay (Riff Raff) and Jessa Brynn (Magenta) for being outstandingly creepy; Kelli Ogmundson (Columbia) for her sweet earnest; Erika Thompson (Janet) and Will Hopkins (Brad) for playing dorkily oblivious so well; and Hal Rogers (Rocky) for … well … all of him!!!  mmm … mmm … mmm!!!  Thoroughly enjoyed the band under the musical direction of Kerry O'Donnovan. Would have love to have been a fly on the wall for rehearsals for this. Ryan Mooney really outdid himself on directing this one.  And the choreography! Oh the choreography! Anna Kuman ~ you did a great job with the dancers.  I think this was perhaps my favourite part, and oh how I wanted to join them!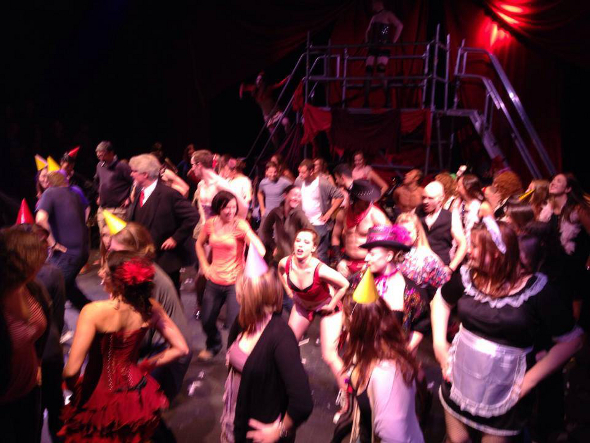 Thank you Fighting Chance Productions for another fun night!
If you too wish to partake in the bizarrely absurd, you can catch the Rocky Horror Show in Vancouver at Jericho Arts Centre now until Saturday October 26th, thanks to Fighting Chance Productions in Association with Renegade Arts Centre, with performances MIDNIGHT TONIGHT, at 8 pm Tuesday – Saturday night, and a special additional performance MIDNIGHT on Friday October 25th. Get your tickets by clicking here!
Enjoy!
Kisses,
Emme  xoxo