"Delightfully funny!"  That my friends is how I'd describe The Foreigner at Vancouver's Pacific Theatre.
It is so funny that despite the fact that I was rather perturbed with my date for showing up late (leaving me sitting alone in the theatre and embarrassed at what the theatre must think of my date showing up late), I was soon laughing out loud. Good thing too, as it kept me from growling at my date during intermission, as the play had just put me into too good a mood, although I certainly did shoot the odd dig at him, asking him (ever so innocently, of course) if the floor at the back of the theatre had been comfortable.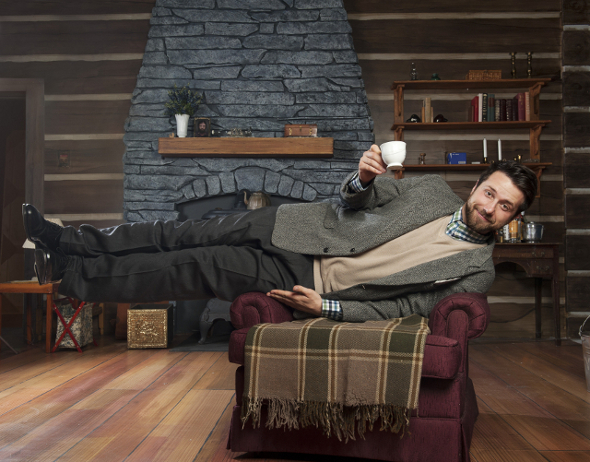 Given such circumstances, and what good spirits this play had put me in, I'd say The Foreigner at Pacific Theatre is most definitely a worthy pick for one of my Van Sexy Date Picks. Especially as it will help you (or me at least) double check your date for a few Must Haves (for me in my mind at least) …
Sense of Humour (if they are not laughing, something is clearly wrong with them)
Accepting (watch out if they sympathize with David or Owen, and want to join in with them in mocking Ellard or Charlie)
Worldly (if they think it is perfectly acceptable to run the foreigner out of town and are cheering on David and Owen, then I'd be high tailing it out of that relationship)
I would, however, forgive my date for not laughing if some of the content hit too close to home.  Fortunately in Canada, we can laugh at a story that takes the piss out of the time and the types of people that would treat women, foreigners, and those that are different from ourselves as less. Things like the Klu Klux Klan for most of us in Canada, seems like a thing of the past that is limited to bygone days deep in the Southern States, but the sad truth of it is, is that there are still people that think this way. I saw this more openly written on the washroom walls of gas stations on a road trip a year and a half ago, going on a bit of a music pilgrimage.  And just now I googled Klu Klux Klan to make sure I had the spelling right … much to my disgust … no, horror … I found that that truly evil entity still existed and were proudly boasting a website, making me want to be quite sick.
Such recognition and realization, also make me want to applaud the Playwright of The Foreigner, Larry Shue, and in this case the Cast and Crew of the The Foreigner at Pacific Theatre for telling a fantastically well told and funny story that explores and celebrates relationships, character, fears, desire; while reminding us that evil can walk amoung us, cloaked in a cloth of deception.  I also applaud this play for openly mocking the Klu Klux Klan.  Bravo!
It does make you ponder, however, what people would say and how they would behave around you, if they thought you didn't understand …
So by now, some of you are probably wondering what exactly The Foreigner is about. Without giving away the full story, but to at least satiate some of your questions, here is a synapses of the play:
Charlie is visiting from England, painfully shy and very much in need of rest. His friend has the perfect solution – he leaves him at a rural fishing lodge, telling his hosts that Charlie is from an exotic foreign land and speaks no English. All is well until "the foreigner" overhears more than he should.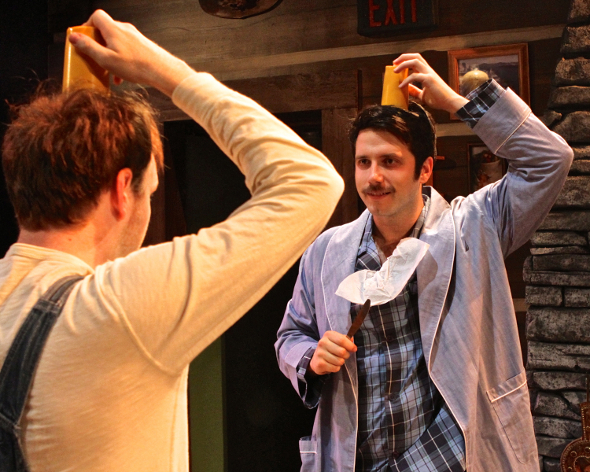 As I mentioned above, this play was an absolute delight and hysterically funny.  The entire cast was superb!  I do need to give a special shout-out to John Voth and Peter Carlone, who did absolutely brilliant jobs of playing the parts of Charlie and Ellard, respectively.  I especially loved the scene when Charlie playacted a made-up story from his part of the World.  Kept thinking if Erica had been with me, she would have loved to have filmed that element of the play for a Case Study or Exercise for her Interactive Storytelling Course. Would also make for an awesome Scene Study or Improv for an Acting Class. Again, Bravo!
Tipping my hat (or shades, in my case) to the cast and crew of The Foreigner at the Pacific Theatre. The Cast: Peter Carlone as Ellard, Mack Gordon as David, Erla Faye Forsyth as Betty, Byron Noble as Owen, Ryan Scramstad as Froggy, John Voth as Charlie, and Kaitlin Williams as Catherine. The Crew: Director Evan Frayne, Set Designer Lauchlin Johnston, Lighting Designer Matt Frankish, Costume Designer Sydney Cavanagh, Composer / Sound Designer James Coomber, Stage Manager Laura McLean and Assistant Stage Manager Shelby Bushell. For those of you that have yet to see a play at Pacific Theatre, the audience sits opposite each other with the stage in the middle of the room. With this set-up, this theatre and the performances there, often feel much more intimate, much in part due to the exceptional blocking that the Director creates with the actors on the stage.  Evan did an excellent job of this in The Foreigner.  And might I add, WOW – Lauchlin!  I think that was the most elaborate set I've ever seen on the stage at Pacific Theatre.  I enjoyed taking it all in!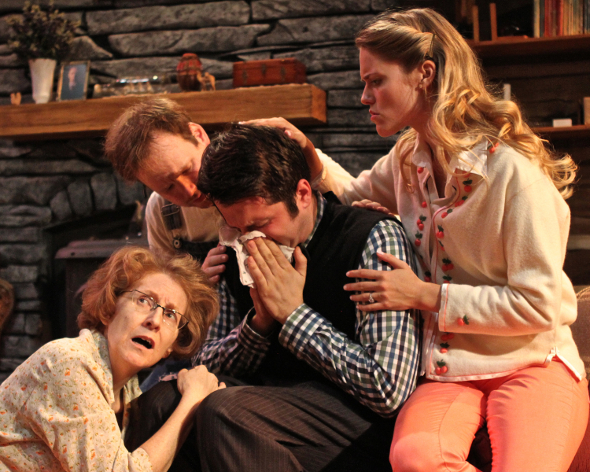 Catch The Foreigner at Pacific Theatre, now until Saturday October 12th, with performances at 8 pm Wednesday, Thursday, Friday and Saturday nights, and matinees on Saturdays at 2 pm. Find your tickets at the Box Office by Clicking Here!
Enjoy!
Kisses,
Emme   xoxo