With the rain showering down on Vancouver, it turns me back into a Chesire Cat. Craving weekends filled good books, writing in my PJs, and scrumptious brunches!  Chesire Cat does not necessarily mean unhealthy, however.  And luckily, in addition to the eggs and cheese that I am craving, I am also craving healthy things like beet greens.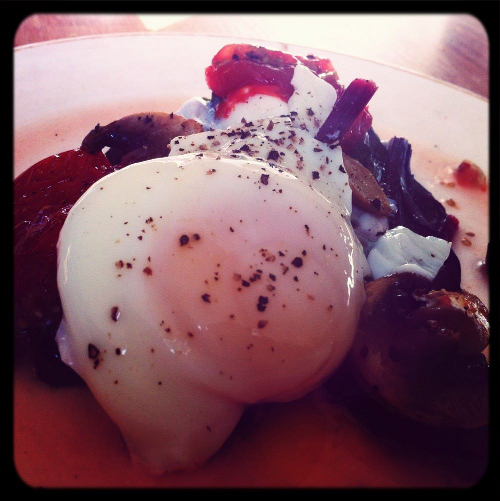 As I often do, I decided to turn those cravings into a culinary experiment. Here is what I came up with:
Ingredients
Eggs
Beet Greens
Tomatoes
Mushrooms
Olive Oil
Lemon Juice
Pepper
Recipe
Stewed Tomato & Mushroom
Turn oven to 325 degrees.
Cut tomato into large bite size chunks.
Slice mushrooms.
Stick tomatoes and mushrooms in a small baking dish.
Drizzle tomatoes and mushrooms in a small amount of olive oil and lemon juice.
Sprinkle tomatoes and mushroom with pepper.
Stick in a 325 degree oven for 15-20 minutes.
Poached Eggs & Beet Greens
Place a small pot of water on the stove and bring the water to a simmer.
Add a handful of beet green to the simmering water.
Crack 2 eggs over the beet greens and leave them to poach.
Final Poached Healthy Brunch
Carefully remove the bed of beet greens with the poached eggs from the pot and place on a plate.
Arrange the stewed tomatoes and mushrooms around the beet greens and poached eggs.
Enjoy!