I am really missing the good Samaritans of Canada.  Unfortunately, here in the United States, people sue each other so much that the possible repercussions of helping out prevent people from lending a hand.  Last night I suffered because of that.
I got a flat tire while driving on a busy road.  With nowhere to pull over, I drove up the street a bit to a cultural center where I knew I'd be out of harms way.  It was 5:30 pm, but the center was already closed. The security guard came running right over to find out what I was doing there.  I told him I had a flat tire and he told me to call my roadside assistance.  I very sweetly asked him if he would help me change the tire, but alas, he had rounds to do and there was only one other person inside working.  I started to unload my truck to do it myself, then he yelled, "Stop!", threw his arm in front of me and said, "You have to call your roadside assistance!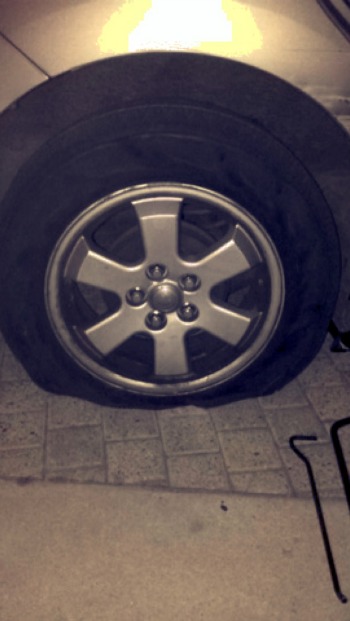 I spent half an hour on hold waiting for my service provider to answer.  I then spent another half an hour while they tried to find a company with somebody available to come change my tire, with no success.  At that point my phone died, but luckily my son had his phone on him so I had given them his number right before hand.  Of course, during this whole time the 2 cultural center workers were just nice and cozy inside looking at us. We were parked right outside their front doors. They even ordered themselves a pizza!
Feeling totally fed up I just started changing the tire myself.  This of course brought the security guard running back outside.  He said he wanted to help me, but had to go get his supervisor's permission. He came back with his supervisor who told me he was not allowed to help me! This whole thing came down to them not wanting to be liable for anything, and I couldn't do it myself because they couldn't have me hurting myself or messing up my car on their property!
It was 2 hours after getting the flat tire that my roadside assistance finally called back on my son's phone and a truck arrived to help us.  Of course, they changed the tire in under 2 minutes.  When I told them my story they said people even try to sue them if there's even any tiny thing wrong with their service. People try to blame scratches and dents in their car on them.
I seriously miss the giving without hesitation in Canada!