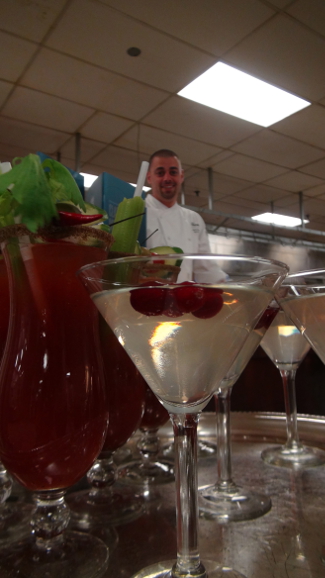 I'll admit it, I am a bit of a foodie, although I do find the term slightly pretentious. Reality is I like good food, quality ingredients, and quite frankly I'm a good cook.
Most of what I do, however, is quite simple, using quality ingredients and intuitively knowing what will taste good together.  I don't spend hours over recipes, and often find the tastiest things I create are the simplest things.
As a result I have very little time for seemingly fancy cookbooks with obscure ingredients, and where everything needs to be measured out exactly and be perfectly presented on the plate.  This is simply not enjoyable to me.
So when I was lead down to the kitchen of the Fairmont Chateau Laurier, I was not quite sure what to expect.  I do love a good kitchen party, but what would the chef be like?  Would he be uptight and pretentious about his cooking?  Quite the contrary!  He was a delight, fun to flirt with (for whatever reason men that create tasty morsels tend to illicit my overly flirtatious side), and got it as far as I am concerned with food. Executive Chef Louis Simard's attitude towards creating culinary delights, as he informed us, was selecting choice fresh local ingredients (for which the Chateau Laurier is well situated, just steps away from Ottawa's Byward Market) and putting them together in simple ways that would tantalize the tastebuds.  And that is exactly what he did with me! Flushing just thinking about it!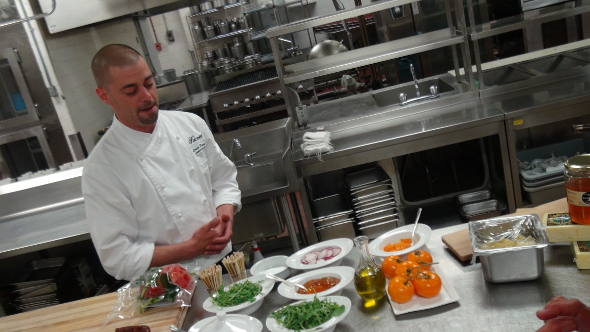 Here were a few of the ways Executive Chef Louis Simard teased and tantalized …
Basil Infused Watermelon Appetizers
Ingredients
watermelon
fresh basil
heirloom tomatoes (ideally yellow ones, to create a colour contrast to the watermelon)
espelette pepper
olive oil
Preparation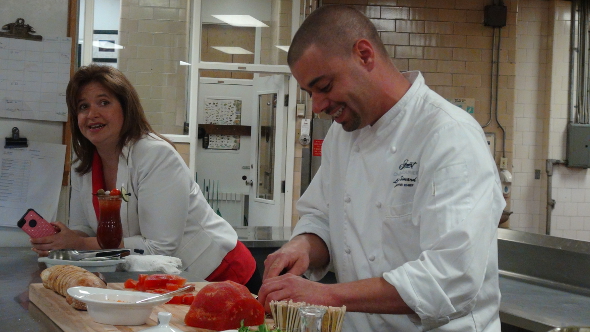 First Executive Chef Louis Simard prepared the basil infused watermelon by:
Placing a large chunk of watermelon (rind removed) into a bag with fresh basil and vacuum sealing it.
I'm am not sure how long he vacuum sealed the basil and watermelon, but my understanding is that the vacuum seal accelerates the marination process, so this should not take long, and will give you a fun home experiment in determining the perfect marination time.
* This also works with vodka and watermelon, if you want to pack some tasty boozy snacks for that music festival next summer!
Meanwhile Executive Chef Louis Simard had whisked a pinch of espelette pepper in olive oil and was marinating hearty bite size chucks of heirloom tomatoes in the espelette pepper and olive oil.
Just prior to serving, he:
Removed the watermelon from the vacuum sealed bag and cut it into sturdy bite sized chunks;
And on top of each chunk, he placed a marinated tomato chunk;
Securing the two layers together with a toothpick.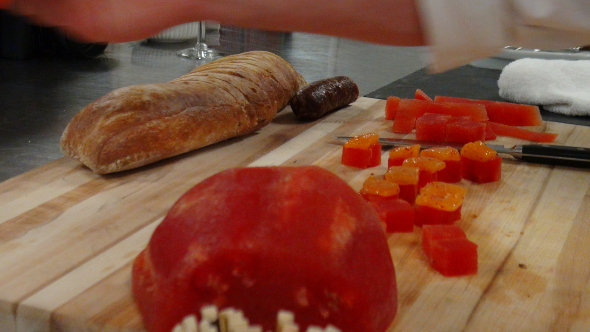 Enjoy!
Locally Cured Chorizo & Homemade Ricotta Crostinis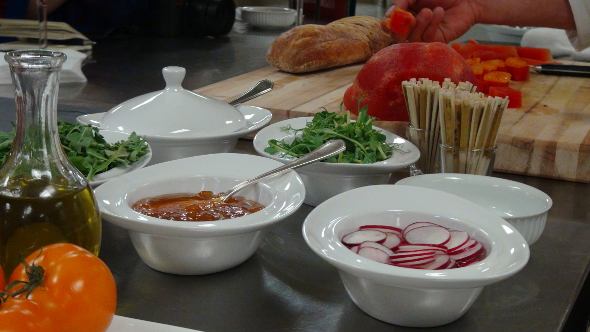 Ingredients
fresh slices of ciabattas or crostinis (slices of ciabattas lightly brushed with oil and toasted)
ricotta (sadly I don't have the recipe for the Chateau Laurier's homemade recipe, but ricotta from the store will do)
mango chutney
chorizo (definitely recommend finding some locally cured chorizo)
radishes
pea tendrils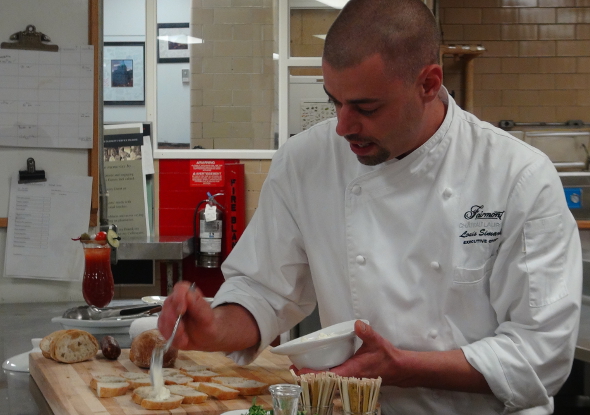 Preparation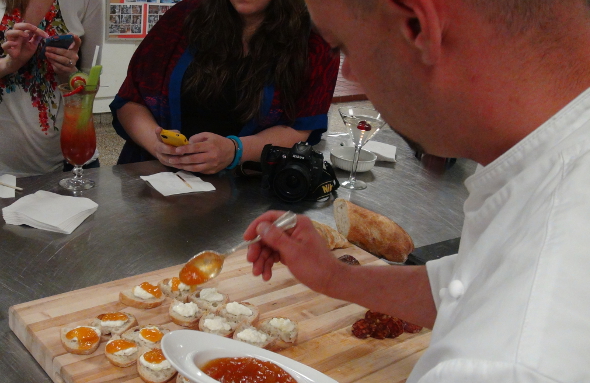 This simple hors d'oeuvres is all about using choice ingredients.  To put it all together, simply:
Place an evenly distributed dollop of ricotta on the crostini;
Add a dollop of mango chutney on top of the ricotta;
Cover the mango chutney with a slice of chorizo;
On top of the chorizo place a radish slice;
And finally top the whole thing off with fresh pea tendrils.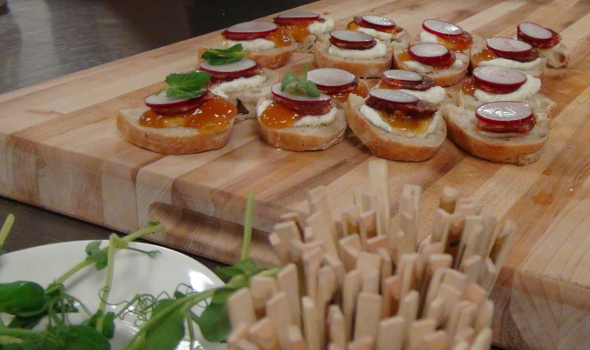 Bite in and enjoy!
Honey Cured Balderson Cheddar Flamed on a Cedar Plank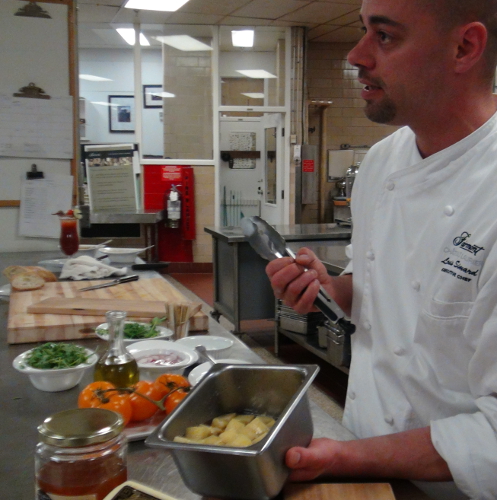 Ingredients
3 year aged Balderson cheddar
local honey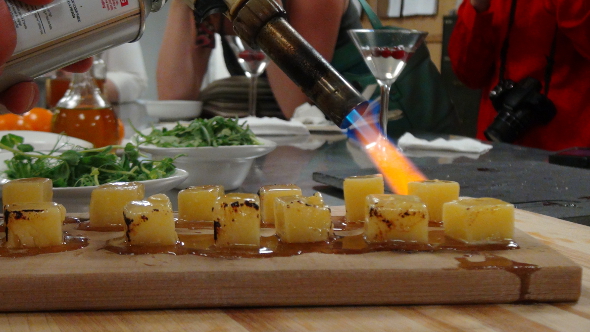 Preparation
Fell in love with Executive Chef Louis Simard as I watched him prepare this:
Prior to us arriving, he had soaked chunks of the Balderson cheddar for 24 hours in local honey;
When we arrived, he placed the honey soaked chunks of cheddar on a cedar plank; and
Slowly smoked and caramelized all of the honey soaked cheddar with a culinary blow torch!!!
Serving them up on toothpicks, so we could pop the ooey gooey goodness in our mouths!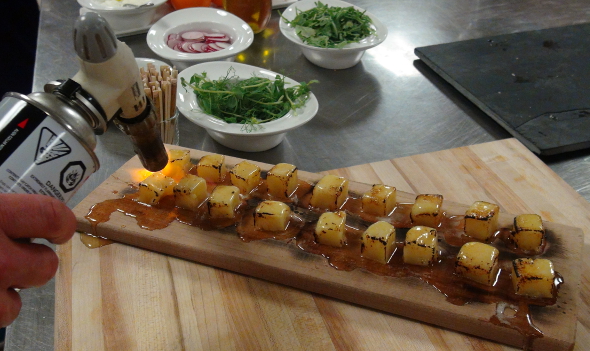 This was bar none, my favourite, but then who wouldn't be swooped off their feet by flaming hot cheese soaked in honey!  And I had no idea that Balderson Cheddar came from the Ottawa area.  Drooling just thinking about it! My only regret … that no one let me get my mitts on the blow torch, to take it for a spin.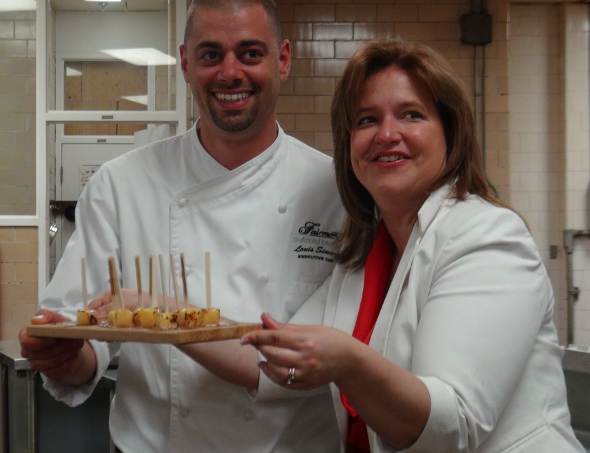 Now while these were all the tasty tidbits that Executive Chef Louis Simard demonstrated his culinary prowess with, I did do a bit of culinary sleuthing and heard a few rumours on how the chefs at the Chateau Laurier make their drool worthy maple butter!  It is quite simple from what I understand – an equal part maple syrup to butter, whipped together.  It was served over their scrumptious crepes warm, so I suspect they heat up the maple syrup a bit and then whip in the butter.  Will most definitely have to try my own experiment with this in the kitchen!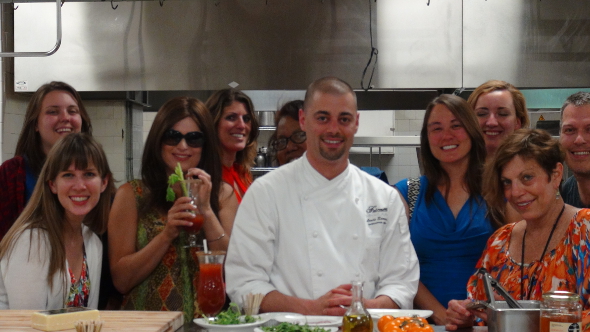 Kisses,
Emme  xoxo
PS. In Full Disclosure: As always, the opinions and thoughts shared here are my own and honest ones. I am bought out by no one. In the spirit of disclosure, it should be noted that on this trip I was a guest of Ottawa Tourism.